ASIAN FUSION SAUSAGE WONTONS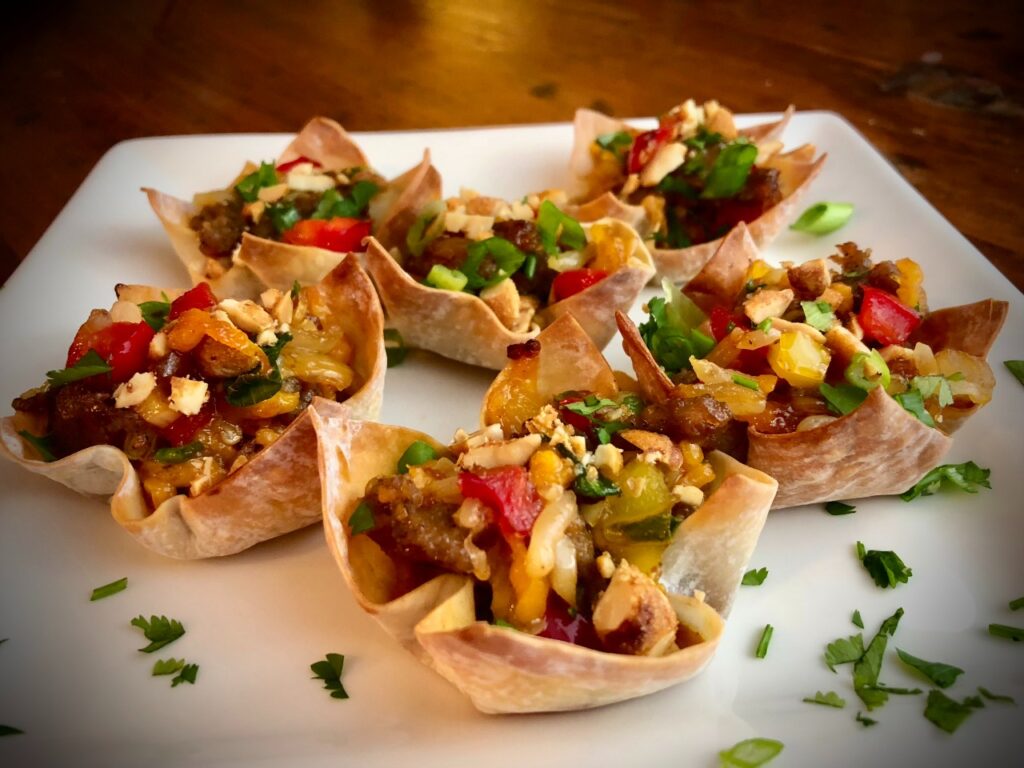 1 package wonton wrappers
1 pound bulk breakfast sausage (Jimmy Dean, Johnsonville, etc…)
1 onion, chopped
3" piece of fresh ginger root, peeled and chopped fine (about ⅓ cup)
8 garlic cloves, chopped fine
1 small red pepper, diced
1 small yellow pepper, diced
¾ cup Apricot preserves
¼ cup Hoisin sauce
1 ½ cups shredded cheddar jack
½ cup roasted peanuts, chopped fine
½ cup scallions, chopped
½ cup cilantro, chopped
Push wonton wrappers into regular size muffin tins to form cup shapes.  Bake at 350° for 5-6 minutes until they are lightly browned.  Remove them from the tins and place on a foil lined cookie sheet.  You can also make the cups in advance and store in a brown paper bag until you are ready to prepare appetizers.
Cook sausage in a large skilled with sides, breaking it up with the spatula, until almost cooked through.  Add the onion, ginger, and garlic to the pan and continue cooking until onions are soft.  Add red and yellow peppers and sauté for 2 more minutes.  Add apricot preserves and hoisin to the pan and stir to combine, cooking for another 2 minutes until bubbly.  Stir in the shredded cheese and remove from heat.
Fill the wonton shells with the sausage mixture.  Sprinkle with chopped nuts and bake at 350° for 8-10 minutes. Garnish with chopped scallions and cilantro.  Serve hot.
Makes 40-50 wontons
Select multiple categories to narrow your search! Want appetizers made with chicken? Just select both Appetizers and Chicken!