SEAFOOD STUFFED ZUCCHINI BOATS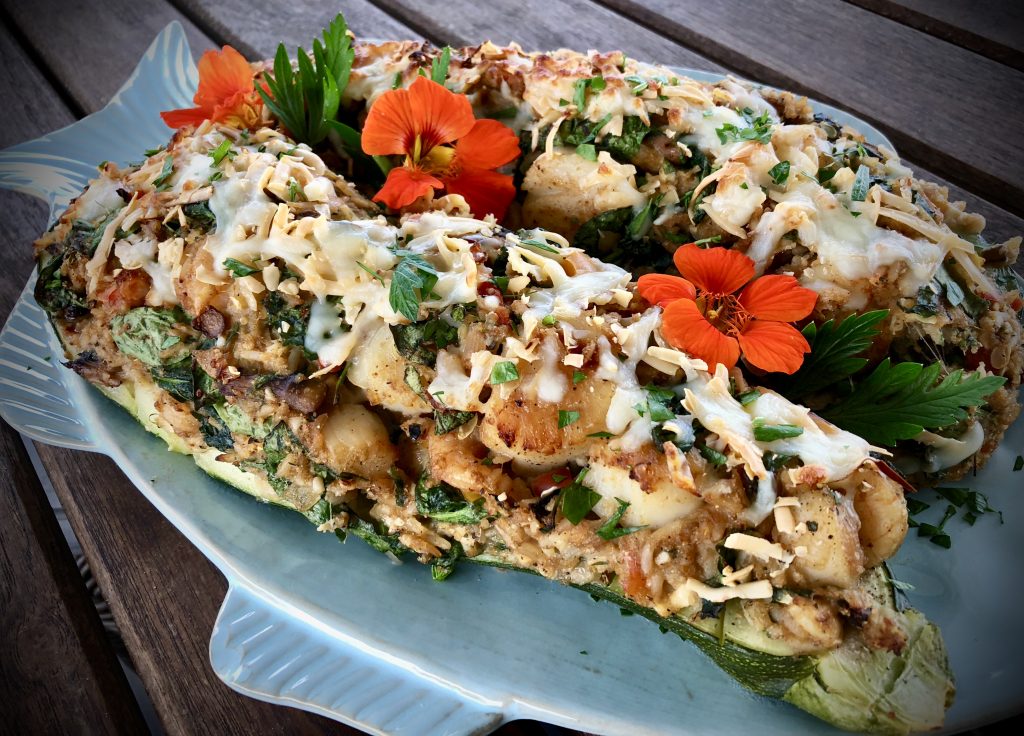 1 large (12-15") or 1 medium (8-10") zucchinis
4 tablespoon butter
1 pound sea scallops
2 teaspoon salt
2 teaspoon black pepper
1 small onion, chopped
5 large garlic cloves, chopped
1 small red bell pepper, chopped
1 cup mushrooms, chopped
1 cup white wine
1 tablespoon fresh thyme leaves
1 pounds raw medium shrimp (U16/20)
2 cups cooked rice
3 cups baby spinach leaves, packed
½ cup parsley, chopped (plus more for garnish)
1 cup smoked gouda cheese, shredded
1 cup Italian flavored breadcrumbs
½ cup shredded mozzarella cheese
Fill a large pot with water and bring to a boil (the water should be deep enough to cover the length of the zucchini).  Slice zucchini (s) in half lengthwise and immerse in the boiling water.  Let cook until tender when poked with a fork, about 15-20 minutes depending on the size.  Remove from water and let cool, cut side down on paper towels.
When cool, use a spoon to scoop out the pulp from each zucchini half, leaving enough inside so the shell keeps its shape.  Drain the pulp and press with paper towels to remove most of the moisture.  Chop pulp into bite size pieces and place in a large bowl.  Set aside.
Melt 2 tablespoon of the butter in a large skillet.  Heat the pan to searing hot and butter starts to lightly brown.  Season the scallops with 1 teaspoon each of the salt and pepper and place in the hot pan.  Let cook about 1 ½ minutes per side until golden.  They will not be completely cooked through which is fine because they will cook through again in the stuffing.  Remove from pan and set aside.
Reduce heat to medium and add the remaining 2 tablespoon butter to pan.  Add onions and garlic and sauté until soft, about 1 minute, scraping up the brown bits in the pan.  Add the peppers, mushrooms and wine, continuing to scrape up the brown bits.  Bring to a simmer and let cook, stirring occasionally until most of the moisture is absorbed, about 5 minutes.  Add the thyme, shrimp, any juices produced by the scallops and cook until shrimp just start to turn pink, about 2 minutes.  Add the rice and spinach tossing until the well combine and the spinach is wilted.
Remove from heat and add the parsley, gouda, and breadcrumbs.  Mix well and set aside to slightly cool.
Preheat oven to 350 degrees.
Place the zucchini shells on a cookie sheet lined with foil and sprayed with non-stick cooking spray.  Using a paper towel, press into the shells to absorb any excess moisture.  Season the insides of each shell with remaining salt and pepper.  Using your hands, mound the stuffing into the shells.  Place scallops in a line along the top of the stuffing, pressing in so that the tops are only visible.  Sprinkle with mozzarella cheese.
Bake for 30-40 minutes until cheese is melted and stuffing is browned and heated through.
Cut into slices and devour.
Select multiple categories to narrow your search! Want appetizers made with chicken? Just select both Appetizers and Chicken!