CHILEAN SEA BASS AND SHRIMP IN EASY NEWBURG SAUCE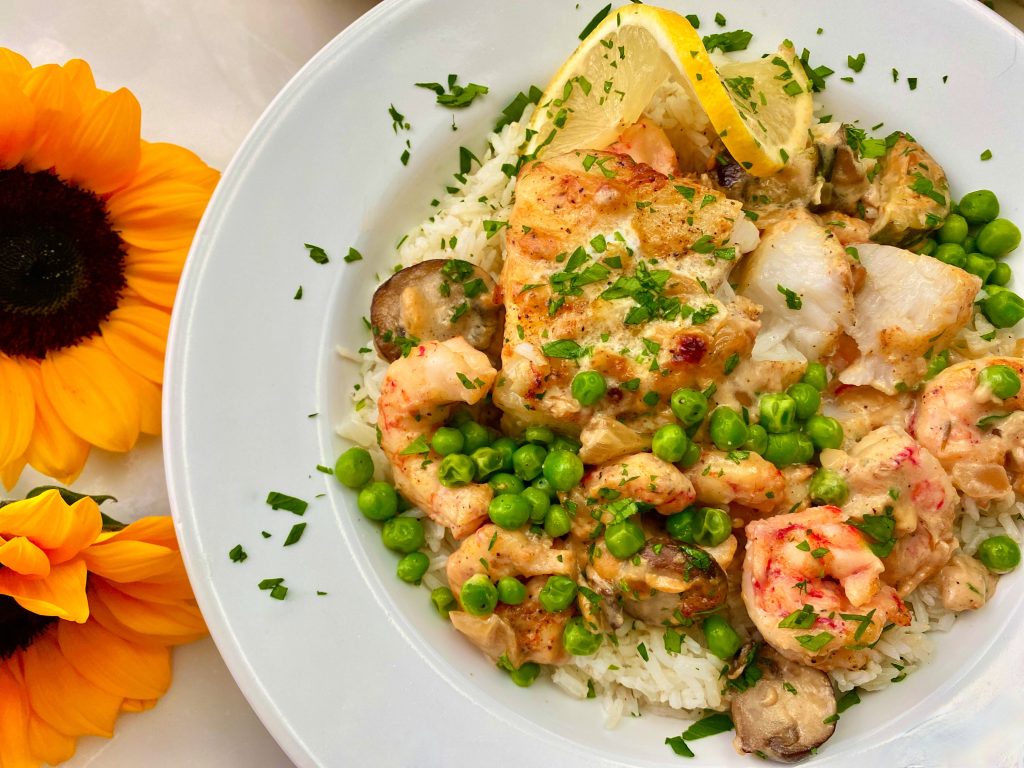 2 tablespoons olive oil
1 small onion, chopped
6 garlic cloves, chopped
1 cup button mushrooms, sliced
1 small zucchini, cut into ½" thick half moons
½ cup dry white wine
1, 10.5-ounce can Campbell's Cream of Shrimp soup
½ cup heavy cream
2-pounds Chilean sea bass filets, skinned (or any flaky white fish like halibut, cod, haddock, etc….)
1 teaspoon salt
½ teaspoon black pepper
2 teaspoons Dish off the Block Superbly Herby Spice Blend
1-pound raw medium size (16/20) shrimp
1 lemon, cut into sliced
2 tablespoons fresh parsley, chopped
Heat the olive oil in a large deep skillet over medium high heat.  Cook the onions and garlic until soft and fragrant, about 2 minutes.  Add the mushrooms and zucchini to the skillet and cook, stirring frequently until the veggies are soft, about 3-4 minutes.
Add the wine the pan and cook until reduced by half.  Add the cream of shrimp soup and the heavy cream to the pan.  Cook for 2 more minutes, stirring until the sauce is thickened.  Remove from heat and set aside while you prepare the fish.
Preheat your oven to 375 degrees and coat a 9" x 13" baking dish with non-stick spray.
Season the fish on both sides with the salt, pepper, and 1 teaspoon of the Superbly Herby seasoning.   Place the fish in the prepared baking dish and surround it with the shrimp.  Sprinkle the remaining teaspoon of Superbly Herby seasoning over the shrimp.
Pour the shrimp sauce over the fish and the shrimp and spread to cover.  Bake for 20-30 minutes until a fork slides easily in and out of the fish and it flakes easily.  Timing will vary depending on the thickness of the filets.
I love this dish served over jasmine rice with peas, garnished with lemon and chopped parsley!
Select multiple categories to narrow your search! Want appetizers made with chicken? Just select both Appetizers and Chicken!