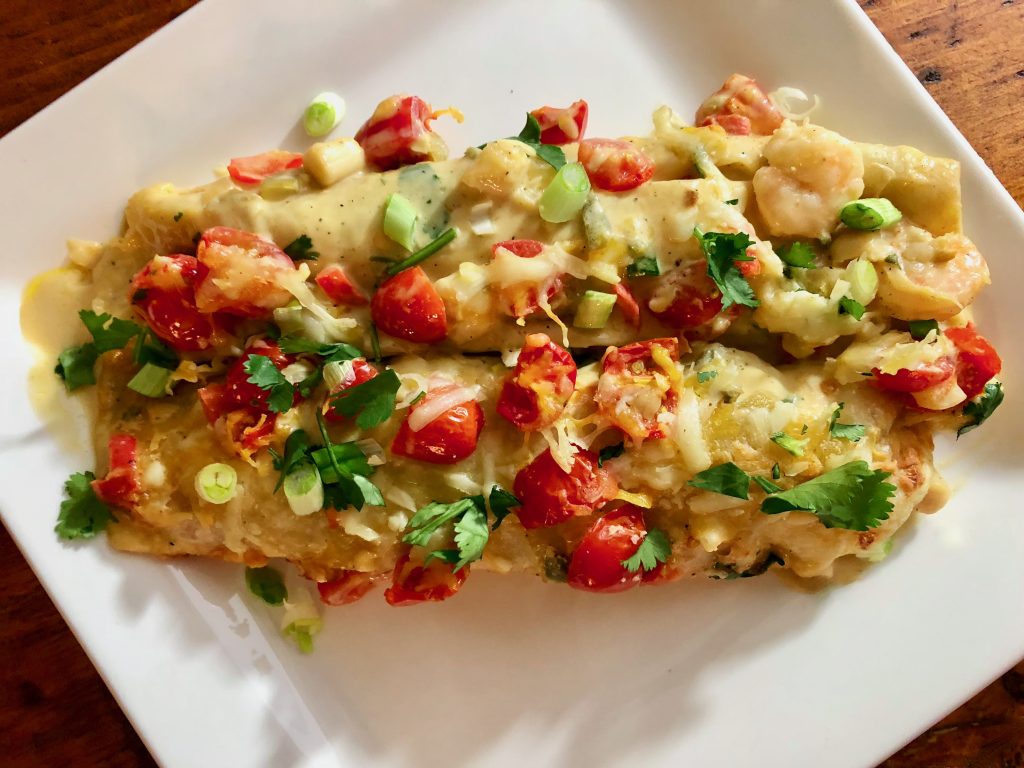 2 tablespoons butter
1 large onion, chopped
1 red bell pepper, chopped
5 large garlic cloves, chopped
1 jalapeño, chopped
4-ounces cream cheese
¼ cup white wine
½ cup heavy cream
1 teaspoon salt
1 teaspoon black pepper
1 teaspoon Old Bay Seasoning
1, 4.5-ounce can chopped green chilies
1-pound bay scallops
1-pound shrimp, peeled and deveined (U20-24 or, if large, chop into bite size pieces)
2 ½ cups Mexican blend or cheddar jack shredded cheese
½ cup fresh cilantro leaves, rough chopped
8, large flour tortillas (8-10")
1 ½ cups chopped tomatoes
½ cup shredded parmesan cheese
3 large scallions chopped, white and green parts
Melt the butter in a large skillet with sides over medium heat.  Add the onions, red pepper, garlic, and jalapeño and sauté until soft, fragrant, and onions begin to lightly brown.  Add the cream cheese and white wine, cooking until cream cheese is melted and combined.  Add the heavy cream, salt, pepper, Old Bay, and green chilies and cook for 3 more minutes to let sauce thicken and flavors meld.
Add the scallops and shrimp to the pan and cook until shrimp just turn barely pink, about 3 minutes.  Add 2 cups of the Mexican cheese and cilantro.  Remove from heat and stir just until cheese melts.  Let the filling cool for 20-30 minutes (or if you live in New England in the winter you can put it outside for 10 minutes!!).
Preheat oven to 375.
Spray a 9" x 13" casserole dish with non-stick spray.  Scoop a good portion of the seafood filling down the center of each tortilla, wrap, and place seam-side down in the casserole dish.  You will end up with some extra filling (usually about a cup).  Spread this over the top of the casserole evenly using a rubber spatula.  Top with the chopped tomatoes, remaining ½ cup of Mexican blend cheese, and the parmesan.  Bake for 30 minutes until lightly browned, hot and bubbly.   Remove from oven and let rest for 15 minutes.
Top with remaining cilantro and scallions.  Devour!!
Select multiple categories to narrow your search! Want appetizers made with chicken? Just select both Appetizers and Chicken!