SAUSAGE, KALE, AND BEAN SOUP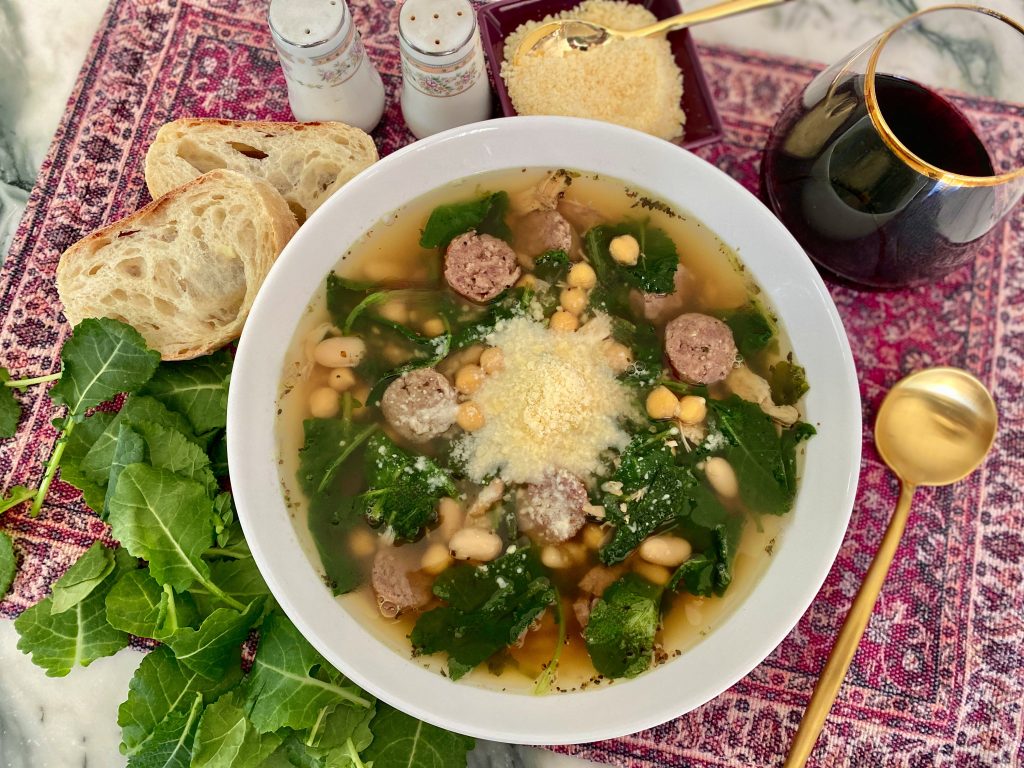 1 large chicken breast, bone-in and skin-on (or 1 leftover chicken carcass)
1 large onion, chopped
4 garlic cloves, chopped
1 teaspoon salt
½ teaspoon black pepper
2 teaspoons Dish off the Block Ciao Bella Italian Spice Blend
5 cups chicken stock
4 cups water
1 tablespoons olive oil
4 sweet Italian sausages, about ¾-1 pound
1, 15.5-ounce can cannellini beans, drained and rinsed
1, 15.5-ounce can garbanzo beans, drained and rinsed
5-ounces baby kale leaves
½ cup grated parmesan cheese
Place the chicken breast (or chicken carcass) in a 5-quart Dutch oven or soup pot with the onions, garlic, salt, black pepper, Italian spices, chicken stock, and water.  Bring to a boil and then reduce to low.
Heat the olive oil in a skillet over medium high heat.  Sear the sausages until golden brown on all sides.  They do not need to be completely cooked through.  Remove to a cutting board and slice them into ½" thick rounds. Add them to the pot.
Cover the pot leaving a small opening for some steam to escape.  Cook on simmer for 2 hours, stirring occasionally.
Remove the chicken breast (or carcass from the pot).  When it is cool enough to handle, take the meat off the bones and break it into bite-size pieces and add them back to the pot along with both cans of the beans and the kale.
Cook for another 20 minutes until the kale is wilted.  Serve hot in bowls and place sprinkle with the parmesan cheese.
Select multiple categories to narrow your search! Want appetizers made with chicken? Just select both Appetizers and Chicken!