SALISBURY STEAK WITH MUSHROOM GRAVY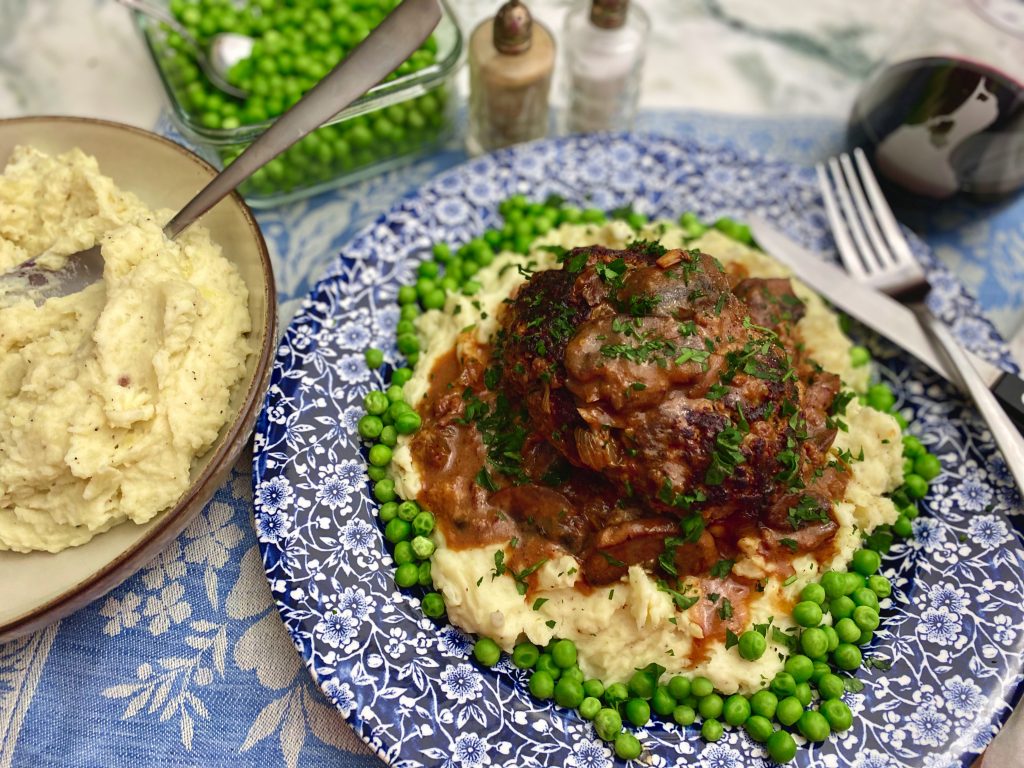 The 'Steaks':
1 onion, grated
2 slices white bread, torn into small pieces
¼ cup milk
2 eggs, beaten
2 tablespoons ketchup
1 tablespoon Dijon mustard
2 teaspoons Worcestershire
1 teaspoon prepared horseradish
1 teaspoon salt
1 teaspoon black pepper
¾ cup Italian breadcrumbs
1 ½ teaspoons Dish off the Block Ciao Bella Italian Spice Blend
2 pounds 85/15 ground beef
3 tablespoons olive oil
The Gravy:
1 onion, chopped
4 cloves garlic, chopped
8 ounces mushrooms, sliced
1 tablespoon Dijon mustard
1 tablespoon Worcestershire sauce
2 teaspoons prepared horseradish
2 ½ tablespoons corn starch
2 cups beef stock
¼ cup light cream
Chopped parsley for garnish
To make your hamburger steaks, grate your onion into a large bowl and mix it with the bread and milk.  Let sit for 10 minutes so all of the milk can absorb.  Add the eggs, ketchup, Dijon, Worcestershire, horseradish, salt, pepper, and Italian seasoning to the bowl and mix with a fork to combine.  Add the breadcrumbs and ground beef to the bowl.  Massage everything together with your hands until well combined, but do not overmix.  Form this mixture into 6 oval shaped patties, about 1-1 ½" thick.
Heat the olive oil in a large, deep non-stick skillet over medium high heat.  When the oil is hot, add the patties and sear on each side to make a mahogany crust, about 2-3 minutes per side.  Remove the patties to a plate.  They will not be cooked through and will continue cooking in the gravy later.
Add your onions and garlic to the pan drippings and cook, stirring, until fragrant about 2 minutes.  Add the mushrooms to the pan and cook for another 3-4 minutes until the mushrooms have released their moisture begin to brown.  Whisk in the Dijon, Worcestershire, horseradish, and corn starch.  Cook for 1 minutes.  Pour in your beef stock and cream.  Continue whisking until the gravy thickens and gets glossy.
Turn the heat to medium and add the patties back into the pan.  Ladle the gravy over the tops of the patties and cover the pan.  Cover and cook for 4-5 minutes, occasionally basting the patties with the gravy, until they are cooked through.
Serve over mashed potatoes or rice with peas.  Garnish with parsley and devour.
Select multiple categories to narrow your search! Want appetizers made with chicken? Just select both Appetizers and Chicken!