ROSEMARY CHICKEN THIGHS WITH SUPERBLY HERBY GINGER AND MUSHROOM CREAM SAUCE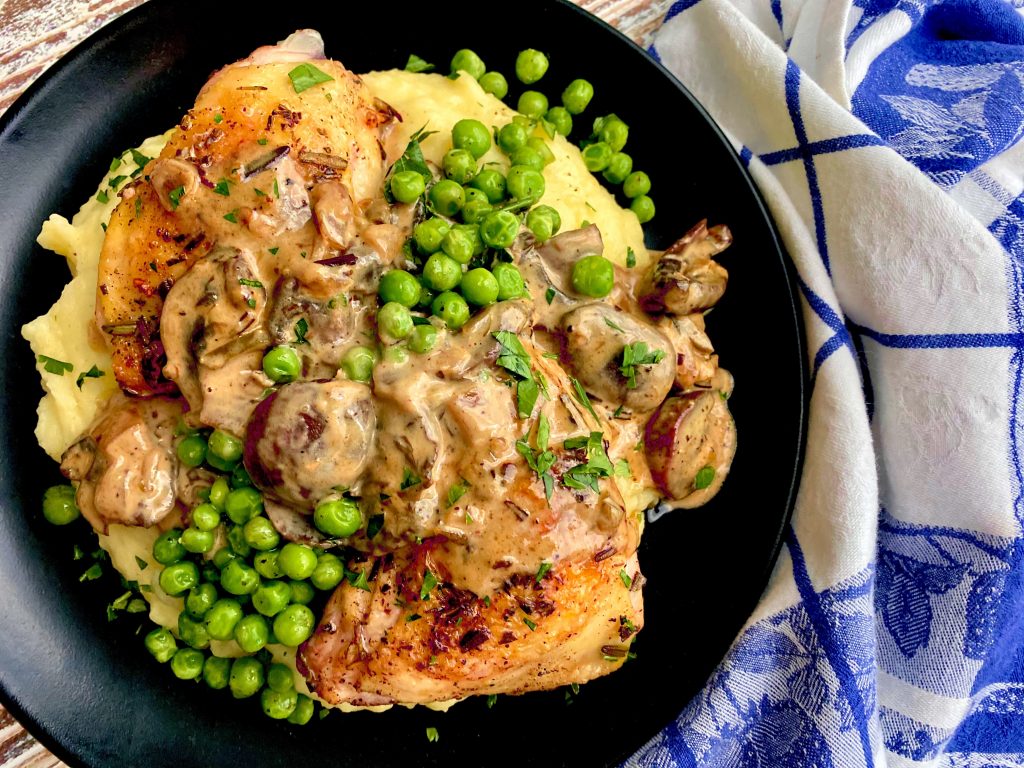 3-3 ½-pounds chicken thighs, bone-in and skin-on
1 teaspoon salt
1 teaspoon black pepper
3 tablespoons fresh rosemary leaves, chopped
2 tablespoons olive oil
1 large onion, chopped
1 jalapeño, chopped
2 tablespoons fresh ginger root, minced
20 ounces cremini mushrooms, thickly sliced (about ½")
1 tablespoon Dish off the Block Superbly Herby Spice Blend
½ teaspoon salt
1 cup dry white wine
2 cups heavy cream
Preheat oven to 375 degrees.
Trim the chicken thighs of any excess fat.  Season on both sides with the salt, pepper, and rosemary.
Heat the olive oil in a large deep skillet over medium high heat.  When the oil is very hot, add the chicken thighs, skin-side down.  Cook for 4-5 minutes until the skin is browned and very crispy.  Flip the thighs over and cook for 3-4 minutes more.  Remove the thighs and place, skin-side-up, on a foil-lined, rimmed baking sheet.  Place in the oven to finish cooking while you prepare the sauce.
Add the onions, jalapeño, and ginger to the pan drippings and cook, stirring frequently, until the onions are soft and fragrant, about 2-3 minutes.  Add the mushrooms and Superbly Herby Spice Blend to the pan and continue cooking, stirring frequently, for 6-8 minutes until the mushrooms are soft and begin to lightly brown.
Add the salt and wine to the pan and cook on a low boil until most of the liquid is absorbed.  Add the heavy cream to the pan and cook for 5-6 minutes until the sauce has reduced by about one third and is thick and rich.
Check your chicken thighs in the oven. Cooking time will vary depending on the size of the thighs, but they are done when juices run clear when pierced with a knife and internal temperature of the meat is 160-165 degrees.
Serve the chicken over mashed potatoes or rice with peas or asparagus.  Ladle loads of that delicious sauce over the top and devour!
Select multiple categories to narrow your search! Want appetizers made with chicken? Just select both Appetizers and Chicken!