PORK CHOPS AND APPLESAUCE POT PIE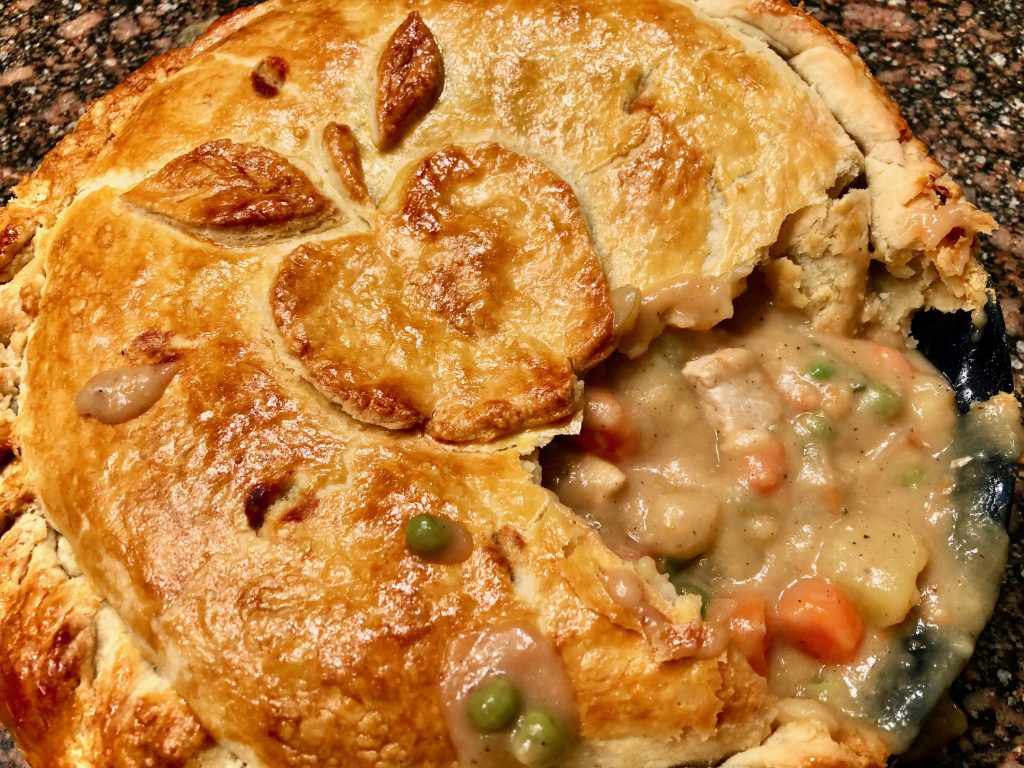 1 stick butter
1 small onion, chopped
3 teaspoons fresh ginger, minced
5 large carrots, chopped into ½" dice (about 2 cups)
2 large potatoes, chopped into ½" dice (about 2 ½ cups)
½ teaspoon salt
1 teaspoon fresh ground black pepper
½ cup flour
2 ½ cups chicken stock
1 cup milk
2 cups pork loin, cooked and chopped into ½" dice (great use for leftover pork roast)
1, 21 ounce can apple pie filling
1 ½ cups frozen peas, defrosted
1, 14.1 ounce package refrigerated pie crusts (crusts for 2 9" pies)
1 egg yolk + 1 teaspoon water, beaten
Preheat oven to 400 degrees.
In a large skillet with sides, melt the butter and add onion and ginger. Sauté over medium heat until onion begins to soften, about 2 minutes. Add carrots, potatoes, salt, and pepper to the pan. Cover the pan but continue to sauté for about 10 minutes, stirring frequently, until potatoes and carrots are just fork tender.
Add flour to the pan and stir to coat, cooking for one minute over medium-low heat. Gradually add the chicken broth and milk. Stir gently as sauce thickens. Add pork to the pan.
Add apple pie filling and peas to the pan and stir to combine. Remove from heat and let cool.
Remove one crust from the package. Lightly flour the counter top and roll to 13" width (this can be done while filling is cooking). Fold in half and place in the bottom of a 10" pie plate. Put the filling in the bottom crust.
Roll out the second crust to 12"and place on top of filling. Roll in the edges and crimp to form a crust. Brush with egg wash and bake for 30-40 minutes until crust is browned and filling is bubbling.
Let rest for 10 minutes and DEVOUR.
Select multiple categories to narrow your search! Want appetizers made with chicken? Just select both Appetizers and Chicken!