PORK CHOPS AND APPLE SAUCE OVER SMOKED GOUDA POLENTA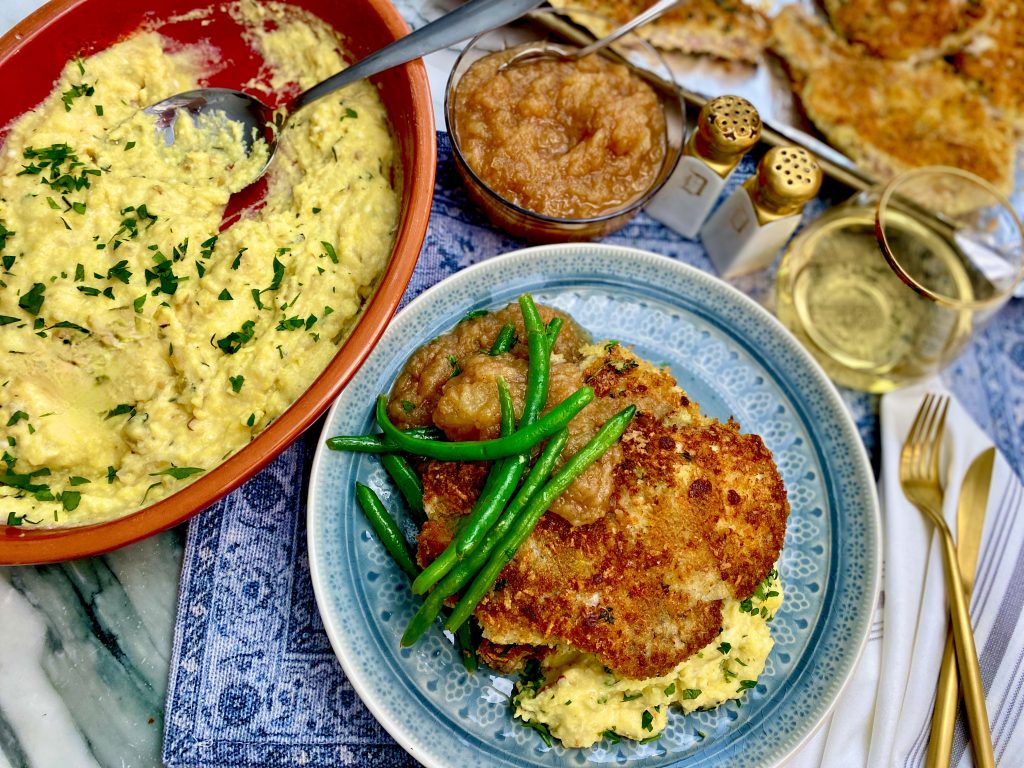 The Applesauce:
8 medium/large apples
1 cup apple cider or apple juice
2 tablespoons sugar
1 heaping teaspoon cinnamon
1 teaspoon salt
The Polenta:
3 cups water
¾ cup polenta or yellow cornmeal
1 teaspoon salt
1 tablespoon butter
1 small onion, chopped fine
2 teaspoons fresh thyme leaves
2 teaspoons fresh rosemary, chopped
1 tablespoon fresh parsley, chopped
½ cup smoked gouda cheese, shredded
½ cup parmesan, shredded
¼ cup heavy cream
The Chops:
3 tablespoons olive oil
2 ½ – 3 pounds center cut, bone-in pork chops about 1" thick
1 teaspoon salt
½ teaspoon black pepper
2 eggs
1 ½ cups panko breadcrumbs
¾ cup grated parmesan cheese
¾ cup shredded smoked gouda cheese
1 tablespoon fresh thyme leaves, stemmed
1 tablespoon fresh rosemary leaves, stemmed and chopped
To make the apple sauce, peel the apples and rough chop into 2-3" pieces.  Place in a large saucepan with the cider, sugar, cinnamon, and salt.  Cook, covered, for 20 minutes over medium heat.  Remove cover and continue to cook for another 15-20 minutes mashing the apples with a potato masher and stirring occasionally until most of the moisture is cooked off and mixture has apple sauce consistency.
I like a chunky sauce but if you prefer smooth sauce, let the mixture cool slightly and then place into a food processor and pulse until smooth.  Set aside.
Preheat oven to 350 degrees.
To make the polenta, pour the 3 cups of water into a 8" x 8" baking dish.  Whisk polenta and salt into the water and bake uncovered for 40 minutes.
While the polenta bakes, melt the butter in a small skillet and sauté the onions, thyme, and rosemary until fragrant and the onions are soft.  Remove from heat.
Remove polenta from the oven and stir in onion and herb mixture, fresh parsley, and cheeses until smooth and cheeses are completely melted.  Stir in heavy cream until well-combined and velvety.  Let set for 10 minutes.
To make the chops, heat the olive oil in a large skillet over medium high heat.  Season the chops on both sides with the salt and pepper.
Create a breading station. Beat the eggs in a shallow baking dish or pie plate.  Combine the panko, parmesan, gouda, thyme, and rosemary in another dish.
Dip the chops in the egg, letting the excess drip off, and then press into the breading mixture on both sides to coat.  Place the chops in the hot oil and cook about 3-4 minutes per side until golden brown and just cooked through.  If the chops are very thick, you can finish them in a 350-degree oven until they reach 145 degrees in the center.
Serve the chops over the polenta, topped with apple sauce.  Green beans, asparagus, and peas make great sides!
Select multiple categories to narrow your search! Want appetizers made with chicken? Just select both Appetizers and Chicken!