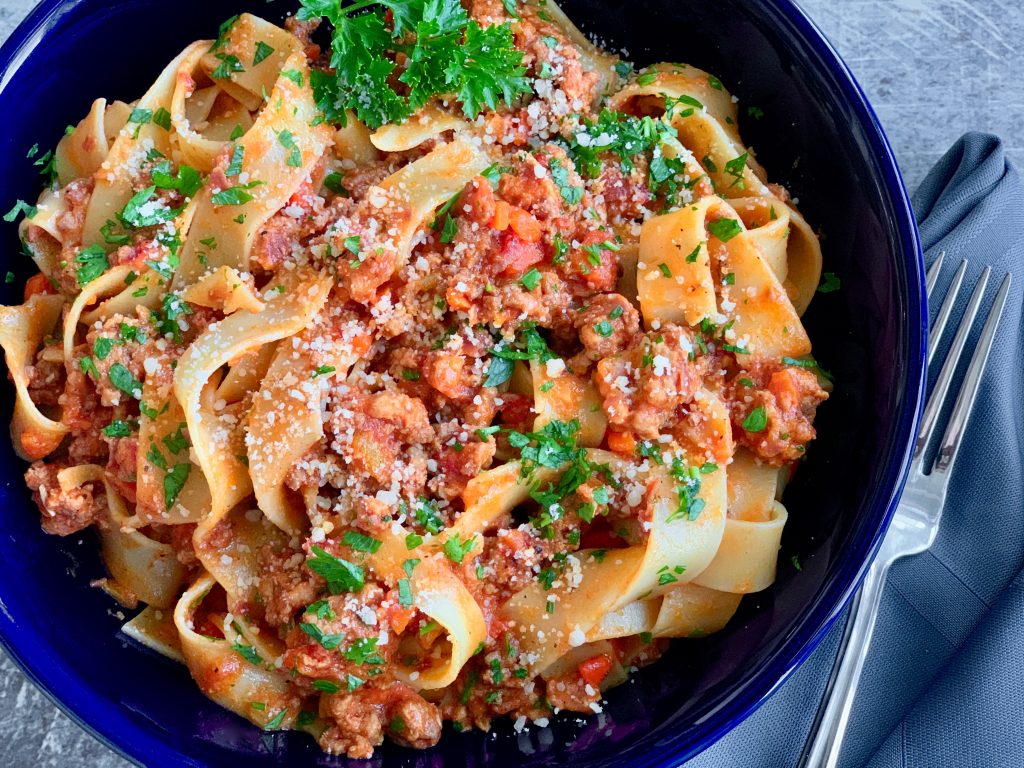 1 ½-pounds plum tomatoes, cut in half
5 tablespoons olive oil
2 teaspoons salt
2 teaspoons black pepper
4 tablespoons butter
1 onion, chopped
2 cups carrots, peeled and chopped into a small dice
2 cups celery, chopped fine
12-ounces pancetta, chopped
2 ½-pounds 80/20 ground beef
15 cloves garlic, chopped (½ cup)
1 cup red wine
1, 28-ounce can San Marzano tomatoes
1, 28-ounce can chopped tomatoes
1 tablespoon anchovy paste
2 tablespoons brown sugar
2 teaspoons Dish off the Block Ciao Bella Italian Spice Blend
4 bay leaves
1, 6-ounce can tomato paste
2 cups water
1-pound tagliatelle pasta, cooked al dente
Parmesan on the side for sprinkling
Chopped basil and parsley for garnish
Preheat oven to 400 degrees.
Place the tomatoes on a foil lined baking sheet and toss with 3 tablespoon of the olive oil and ½ teaspoon each of the salt and pepper.  Roast for 45-50 minutes until tender and lightly browned.
Combine the butter and remaining 2 tablespoon olive oil in a large deep skillet over medium high heat.  Add the onions, carrots, and celery and sauté until fragrant and tender, about 8-10 minutes, stirring frequently.  Add the pancetta and cook another 2-minutes until fat begins to render.
Add the ground beef and garlic and cook another 10 minutes, breaking the meet up with a spatula, until beef is mostly cooked through.  Add the wine, both cans of tomatoes, anchovy paste, brown sugar, Italian seasoning, and remaining 2 teaspoon each of the salt and pepper.  Cook for 15 minutes, breaking up the tomatoes with the spatula and stirring frequently.
Add the bay leaves, tomato paste, water, and roasted tomatoes to the pot and bring to a boil. Stir to combine until tomato paste is fully incorporated and sauce begins to thicken slightly.  Cover and reduce heat to simmer.  Cook for 2-3 hours, stirring occasionally.
Serve over pasta, garnished with parmesan and chopped basil and parsley.
Select multiple categories to narrow your search! Want appetizers made with chicken? Just select both Appetizers and Chicken!