PARMESAN CRUSTED CHICKEN OVER PASTA WITH ZUCCHINI PARMESAN CREAM SAUCE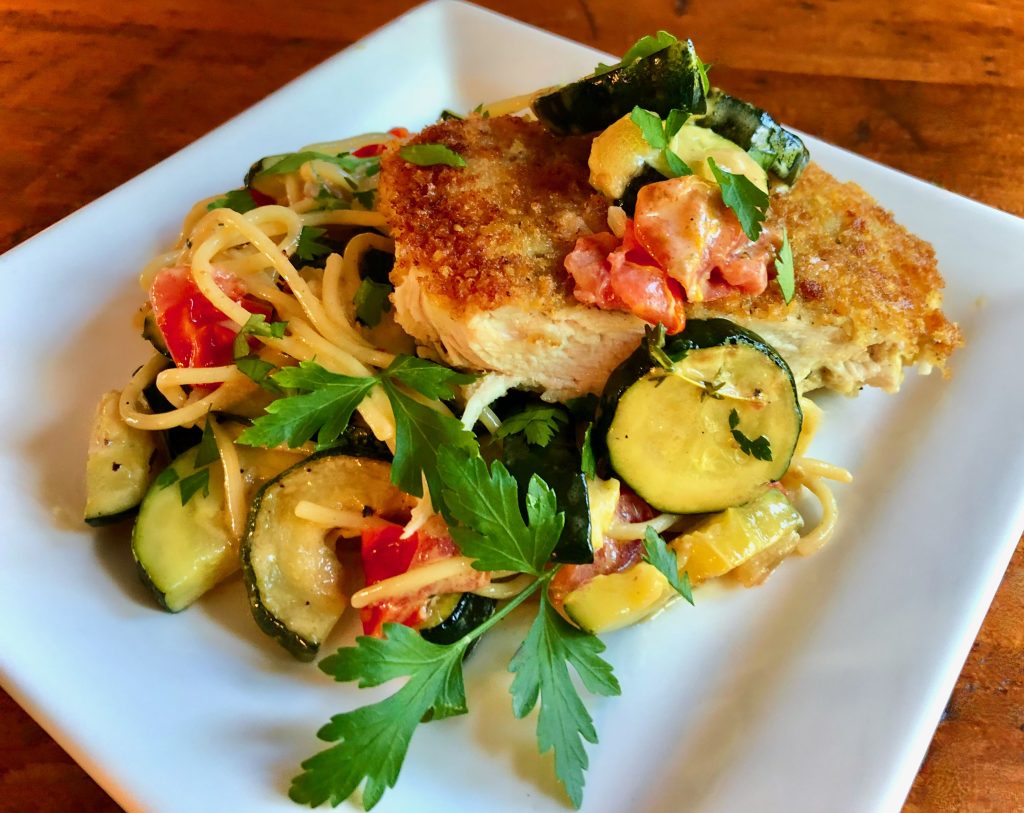 4 large chicken breasts (approx. 2-pounds )
2 teaspoons salt
2 teaspoons black pepper
1 ½ cups panko breadcrumbs
1 ½ cups fresh grated Parmesan cheese
2 eggs
4 tablespoons olive oil
4 tablespoons butter
1 small onion, chopped
4 small zucchini squashes, chopped into ¼ slices or half moons
1 tablespoon fresh thyme leaves
1 cup cherry or grape tomatoes, cut in half
½ cup vermouth (or dry white wine)
1 ½ cups heavy cream
½-pound pasta, cooked according to package directions to al dente
Preheat oven to 325 degrees.
Place chicken breasts, one by one, in a large Zip-lock bag and pound until 1" thick all over.  Season the chicken on both sides using 1 teaspoon of the salt and 1 teaspoon of the pepper.
Combine the panko and 1 cup of the parmesan in a shallow dish or pie plate.  Beat the eggs in another shallow dish.
Heat oil and 2 tablespoon of the butter in a large frying pan with sides over medium high heat.  When butter is melted and sizzling, dip each chicken breast in the egg and then press in the panko-parmesan crumbs to coat.  Place in the pan and cook until golden brown, about 2-3 minutes per side. Place chicken on a baking sheet and place in the oven to finish cooking through while you make the sauce.
Using the same frying pan, add the additional 2 tablespoon of butter (and a little more oil if needed) and melt over medium high heat.  Add the onions to the pan and cook until translucent.  Add the zucchini and thyme to the pan and sauté, stirring frequently, until tender and they begin to lightly brown, about 5 minutes.  Add the tomatoes and remaining salt and pepper; stir to combine.
Add the vermouth and cream to the pan and let boil until sauce is reduced and coats the back of a spoon, about 5 minutes.  Stir in the remaining ½ cup parmesan cheese and pasta.
Check chicken for 160-165 degrees for doneness.  Serve over zucchini pasta and garnish with parsley.
Select multiple categories to narrow your search! Want appetizers made with chicken? Just select both Appetizers and Chicken!