ONE MORE BITE! CURRIED CHICKEN SOUP W/ HOMEMADE RAMEN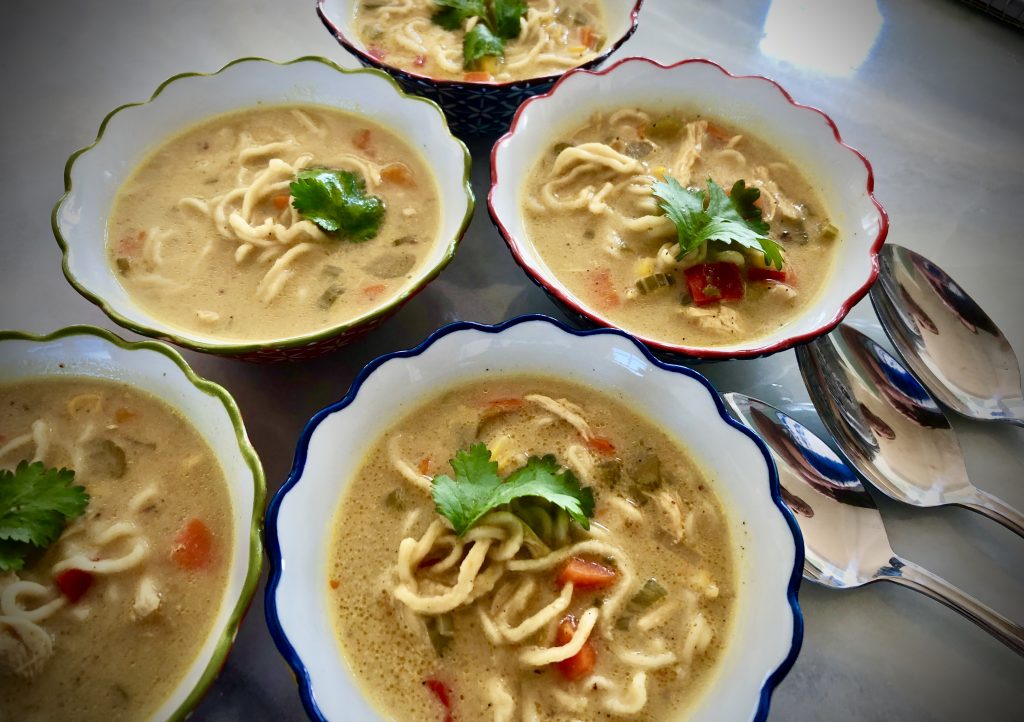 ¼ cup olive oil
1 whole chicken cut into pieces
3 cups celery chopped (with leaves)
1 medium onion, chopped
1 large leek, chopped (both white and tender green parts)
4 large carrots, diced
4 large soft chicken bouillon cubes
1 jalapeño pepper, chopped (including seeds)
1 small red bell pepper, chopped
1 small orange bell pepper, chopped
1 teaspoon salt
1 teaspoon black pepper
2 tablespoon curry powder
½ teaspoon red pepper flakes
1, 13.5 ounce can coconut milk
2 cups frozen corn kernels
½ cup fresh cilantro, chiffonade
1 cup shitake mushrooms, caps thinly sliced
Ramen:
3 cups flour
1 teaspoon salt
1 teaspoon baking soda
2 eggs, beaten + ½ cup warm water
In a 5-6 quart stock pot or Dutch oven, heat olive oil over medium high heat.  Season chicken parts liberally with salt and pepper on both sides and set in hot oil to sear, about 3 minutes per side.  Add the celery, onion, leeks, and carrots to the pot.  Continue sautéing until the vegetables are fragrant and start to brown.
Add bouillon cubes and enough water to cover the chicken and bring to a low boil.  Let cook for about 20 minutes until fragrant and the chicken is cooked through.  Remove the chicken and set aside to cool.  Skim any excess fat off the top of the stock with a large spoon.
Add the jalapeño, red and orange peppers to the stock and let cook on a low boil for another 10 minutes until carrots are fork tender.
While the soup is bubbling away, prepare the ramen dough.  Mix flour, salt and baking soda on the counter and create a 'well' in the flour.  Place egg and water mixture in the well and slowly incorporate into the flour with a fork until dough begins to come together.  Knead until smooth.  Let rest in the refrigerator for 20 minutes.
Flour the dough generously and roll it out to the 3 setting on your pasta roller. Cut the dough in half so you have two sheets of dough a little over 1 foot long and flour generously again.  Use the spaghetti attachment to cut the pasta into long thin noodles, dusting them with flour as they are cut to keep them from sticking together.
Shred the chicken into bit size pieces and add to the pot along with salt, pepper, curry powder, red pepper flakes, coconut milk, and corn.  Continue to cook over medium heat allowing all of the flavors to combine and meld into the broth.  About 3 minutes before serving add the cilantro, reserving 2 tablespoon for garnish and add the ramen.
Serve steaming hot in bowls garnished with cilantro and shitake mushrooms that have been fried in olive oil and lightly salted.
This delicious chicken soup has a deeply flavored broth with notes of curry, coconut and jalapeño to add just the right amount of heat.  Fresh flavors and colors of carrots, red and yellow peppers, and corn make you eat with your eyes first and then add sweet pops of flavor to the rich broth.  The homemade ramen is light and delicious and makes this soup the essence of comfort food that keeps drawing you back for one more bite.  Garnished with cilantro and shiitake mushrooms for a bright finish and beautiful presentation, this soup is going to wow all of your senses and make you crave another bowl!
Select multiple categories to narrow your search! Want appetizers made with chicken? Just select both Appetizers and Chicken!