OCEANS 97 SHRIMP PATE CORN BREAD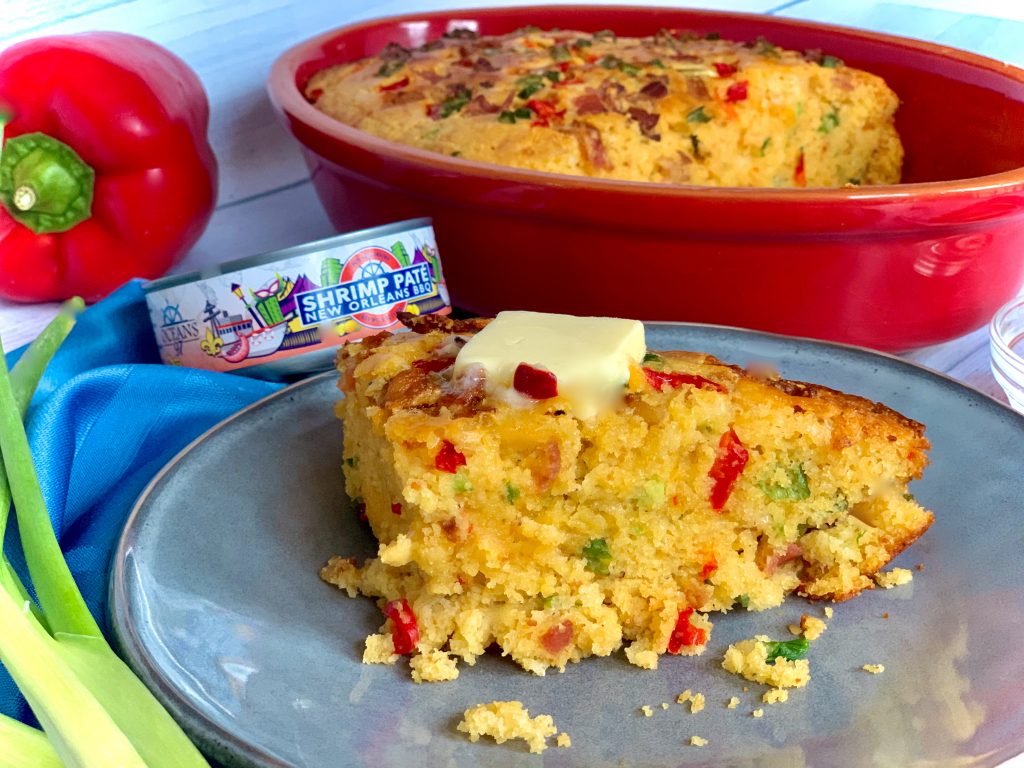 1 ¼ cups yellow cornmeal
1 cup flour
½ cup sugar
1 tablespoon baking powder
1 teaspoon salt
1 ¼ cups milk
⅓ cup vegetable oil
3 large eggs
1, 5-ounce can Oceans 97 New Orleans BBQ Shrimp Pate
1 jalapeño pepper, minced (seed included)
½ cup red bell pepper, chopped
¼ cup scallions, chopped
1 cup shredded cheddar cheese
5 slices bacon, cooked and chopped (about ½ cup)
Preheat oven to 350 degrees.  Coat 9" x 9" baking pan (or similar size) with non-stick spray.
In a large bowl, whisk together cornmeal, flour, sugar, baking powder, and salt.
In a second bowl, whisk together milk, oil, eggs and shrimp pate until mostly blended (there may be some small pate lumps).  Add this mixture into the cornmeal.
Reserve 1 tablespoon each of the  jalapeño, red pepper, and scallions for the top of the cornbread and put the remainder in the bowl with eggs.  Add the cheddar cheese and mix everything until just blended.  Pour into prepared baking dish.
Top with the remaining jalapeño, red pepper, scallions, and the chopped bacon.
Bake 40-45 minutes or until tester comes out clean and top is golden.  Serve warm with butter.
Select multiple categories to narrow your search! Want appetizers made with chicken? Just select both Appetizers and Chicken!