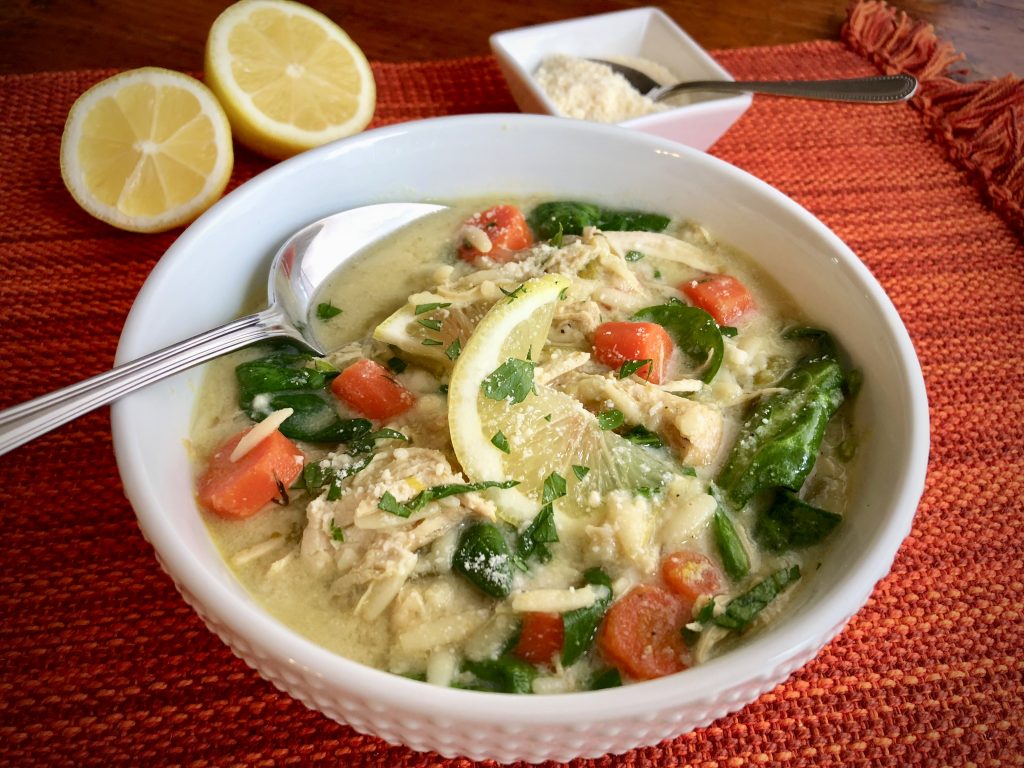 2 tablespoons olive oil
2-2 ½-pounds chicken breasts (bone in and skin on)*
1 ½ teaspoons salt
1 ½ teaspoons black pepper
1 large onion, chopped
3 cups celery, chopped into ½" pieces
5 garlic cloves, chopped
6 slices of ginger root, ⅛" thick
2 ½ lemons, cut in half crosswise (5 halves total)
12 sprigs of thyme, bunch tied together with kitchen string
8 cups chicken stock
2-3 cups water
2 cups carrots, sliced about ¼" thick
¾ cup uncooked orzo pasta
5-ounces baby spinach/baby kale combo
½ cup flat leaf parsley, chopped (plus more for garnish)
3 eggs
Parmesan cheese, served on the side
Heat olive oil a large Dutch oven or stock pot over medium high heat.  Season the chicken breasts with 1 teaspoon each of the salt and pepper.  Place them skin side down into the hot oil.  Let cook for about 2 minutes per side until golden and fragrant.
Add the onions and celery to the pot and continue to cook, stirring frequently, until the onions begin to soften.  Add the garlic and ginger to the pan and cook for 2 more minutes, stirring frequently.
Squeeze 4 of the lemon halves into the pot and then place the squeezed rinds into the pot and continue to cook for 3 more minutes.  Add the thyme, chicken stock, and water to the pot.  Bring to a boil, reduce to a simmer and cover.  Cook for 1 hour.
Remove the chicken from the pot and let cool.  Discard the lemons. Bring the soup back to a low boil.  Add the carrots and orzo to the pot and cook for 20-30 minutes until carrots are tender.
Shred the chicken into bite size pieces and add back into the soup (discard skin and bones) along with the greens, parsley, and remaining ½ teaspoon each of salt and pepper.
Squeeze the juice from the remaining lemon half into a large bowl.  Add the rind to the soup pot.
Add the 3 eggs to the bowl with the lemon juice and whisk the eggs until well beaten.  Take ½ cup of the hot stock from the pot and VERY SLOWLY add to the beaten eggs, whisking constantly.  This will 'temper' the eggs so that you can add them into the soup they do not scramble.
As soon as stock is incorporated into the eggs, add the contents of the eggs and stock into the soup and continue to stir constantly for 3 minutes until a creamy broth forms and the eggs are completely incorporated.  The soup will look light yellow, creamy, and luscious!
Serve immediately garnished with more parsley and parmesan cheese.
*Note – you could also use a chicken carcass for this soup.  Just skip the searing of the breasts and add the carcass at the same time as the stock.  If there is not a lot of meat left on the carcass, you may want to add a couple of chicken breasts for extra meat.
Select multiple categories to narrow your search! Want appetizers made with chicken? Just select both Appetizers and Chicken!