LEFTOVER LEG OF LAMB SHEPHERD'S PIE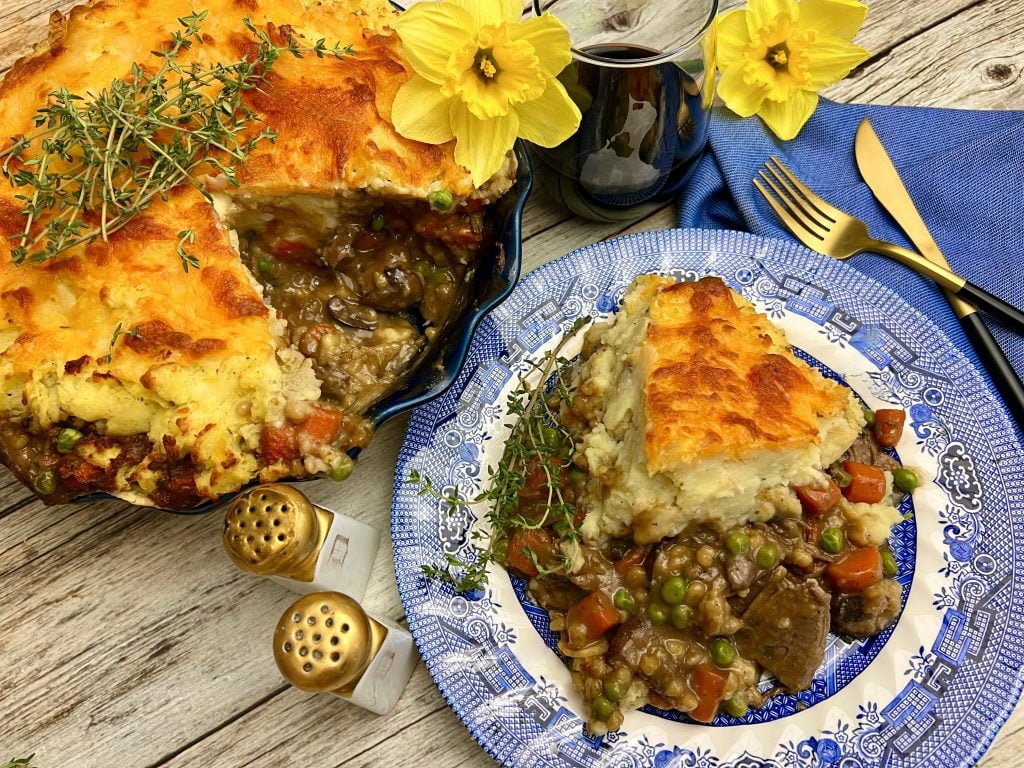 4 cloves garlic, chopped (if you have a lot of garlic in your leftover lamb, you can leave this out)
2 cups carrots, peeled and cut into ½" slices
2 ½-3 cups leftover leg of lamb meat, rough chopped into bite-size pieces
½ cup leftover lamb gravy (if you have it)
1 tablespoon fresh thyme leaves, stemmed
1 cup frozen peas, thawed
4-5 cups mashed potatoes (did someone say leftover?), room temperature
1 ½ cups freshly shredded cheddar cheese
Chopped parsley for garnish
Preheat oven to 375 degrees.
Heat olive oil over medium heat in a large deep skillet.  Cook onion and garlic until fragrant, about 2 minutes.  Add the carrots and mushrooms to the pan along with ¼ cup of water and cover the pan.  Cook for 5-6 minutes, stirring occasionally, until the carrots are tender when pierced with the tip of a steak knife.
Add the lamb, Italian seasoning, salt, and pepper to the pan and cook for 3-4 minutes, stirring frequently, and allowing any fat to render and the lamb to get soft.  Add the red wine to the pan and cook for 3-4 minutes, stirring, until the wine is mostly boiled off.  
Add the flour to the pan and stir until it is all absorbed into the filling.  Add the beef stock, milk, gravy, and mint jelly to the pan.  Cook, stirring frequently until a thick smooth sauce forms.  
Stir in the thyme leaves and peas.  Remove from heat and let cool for 30 minutes to 1 hour.
Place the lamb mixture in a 10" pie plate (or you can leave it in the skillet if it is oven proof such as cast iron).
Layer the potatoes evenly on top of the lamb mixture and cover with the shredded cheese.  Place in the oven and cook for 30 minutes until bubbly and the cheese has melted.  Serve wedges, garnished with thyme sprigs.  DEVOUR!
Select multiple categories to narrow your search! Want appetizers made with chicken? Just select both Appetizers and Chicken!