JACQUES PEPIN SPINACH AND PARMESAN SOUFFLE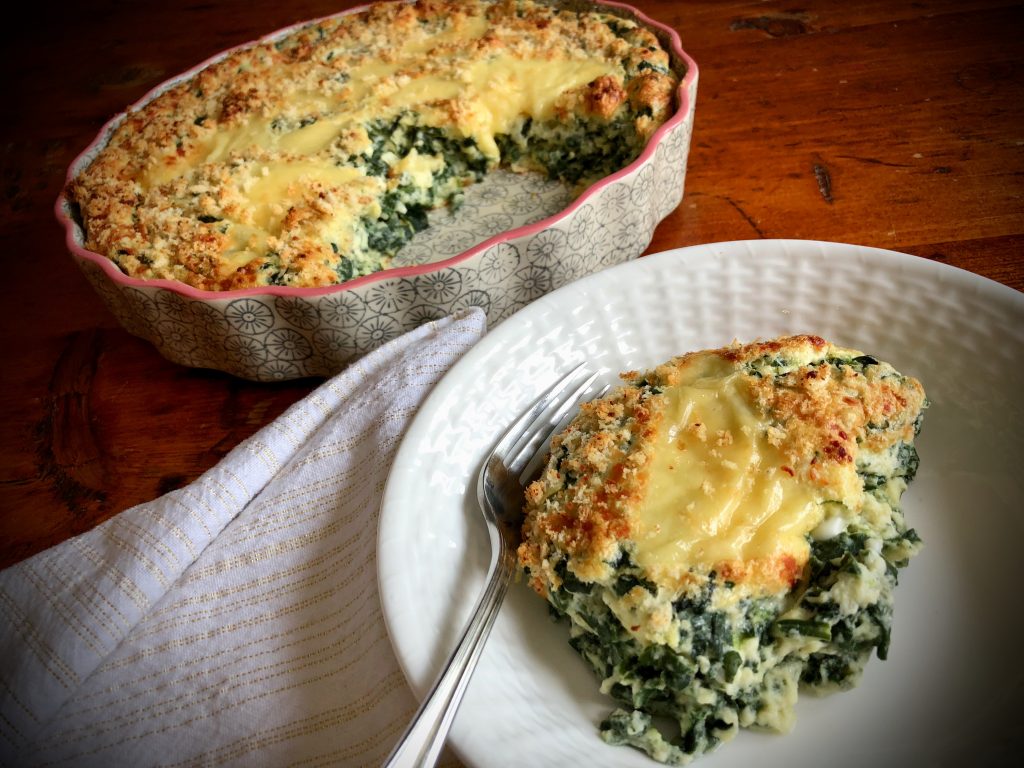 1, 10-ounce box frozen baby spinach, thawed and squeezed dry
1 slice white sandwich bread
½ cup freshly grated parmesan cheese
4 tablespoons butter
1 tablespoon canola oil (or olive oil)
3 tablespoons flour
1 ½ cups milk
¼ teaspoon salt
¼ teaspoon black pepper
3 large egg yolks
5 large egg whites
4 slices Swiss cheese
Optional – 4 ounces lean ham, diced
Preheat oven to 375 degrees.
Place the spinach and ¼ cup of water in a large skillet.  Cook, covered, over medium heat until spinach wilts.  Cool, squeeze dry, and chop.  Set aside.
Place the bread in the bowl of a food processor and process into fine crumbs (½ cup).  Mix the crumbs with 3 tablespoons of the parmesan cheese in a small bowl.  Using 1 teaspoon of the butter, grease the bottom and sides of a 6 ½ quart gratin pan (or pie plate) that is about 1 ½" deep.  Add half of the breadcrumbs and shake the dish until the butter is evenly coated with the crumbs.
Melt the remaining 3 teaspoons of the butter in a saucepan and then add the oil and flour.  Mix with a whisk and cook over medium high heat until bubbly, about 30 seconds.  Mix in the milk, salt, and pepper and bring to a boil, whisking constantly until the sauce is thick and velvety.  Remove from the heat and whisk in the egg yolks.  Add the spinach (and ham if desired) and mix thoroughly.
In the bowl of a stand mixer, beat the egg whites until they are firm with soft peaks.  Fold the egg whites and remaining parmesan cheese into the spinach mixture.
Pour the mixture into the prepared gratin dish and top with remaining bread crumb and cheese mixture.  Cut the Swiss cheese slices into strips and lay in a decorative pattern on top of the dish.  Bake for 30-40 minutes on a baking sheet until the soufflé is set in the middle, puffy, and browned.
Serve immediately.
Select multiple categories to narrow your search! Want appetizers made with chicken? Just select both Appetizers and Chicken!