ITALIAN CHICKEN SKILLET BAKE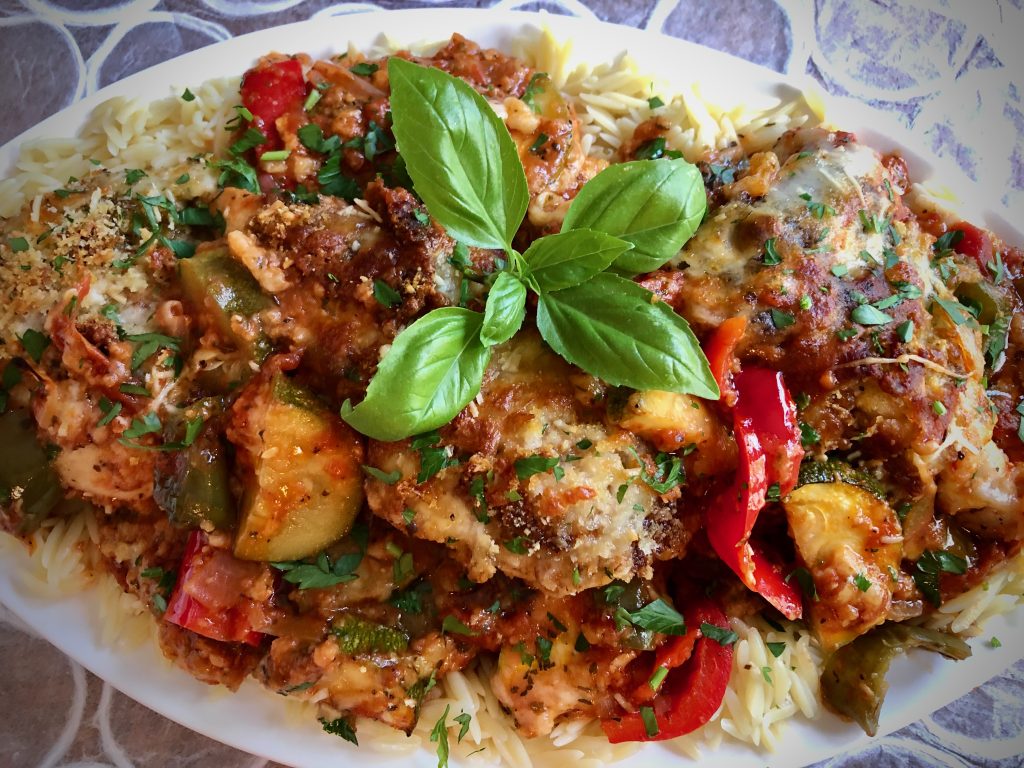 The Chicken:
2.5-3-pounds boneless chicken breasts
1 teaspoon salt
1 teaspoon black pepper
¼-½ cup olive oil
½ cup Hellmann's Light Mayonnaise
2 tablespoons Dish off the Block Ciao Bella Italian Spice Blend
¾ cup grated parmesan cheese
¾ cup panko bread crumbs
¼ cup olive oil
The Sauce:
1 large onion, chopped
1 small green pepper, chopped
1 small red bell pepper, chopped
2 small zucchinis, chopped into ½" thick crescents
½ cup dry red wine
1, 28-ounce can San Marzano tomatoes
1 tablespoon brown sugar
1 teaspoon salt
1 teaspoon black pepper
3 teaspoons Dish off the Block Ciao Bella Italian Spice Blend
The Cheese and Garnish:
1 cup mozzarella
½ cup fresh basil, chiffonade
¼ cup flat leaf parsley, chopped
1-pound orzo pasta, cooked according to package directions
Preheat oven to 375 degrees and heat ¼ cup of the olive oil in a large deep oven-proof skillet. (If you do not have an oven proof skillet, you can make the dish is a non-stick skillet and transfer to a baking dish).
Season the chicken breasts with the salt and pepper on both sides.  If they are very large, cut into portion size pieces.  Otherwise, they can remain whole.
Combine the mayonnaise with Italian seasoning in a small bowl and combine the parmesan and panko in a pie plate or shallow baking dish.
Using a pastry brush, coat the chicken breasts with the herby mayo and then press into the parmesan bread crumbs on both sides (reserve any remaining crumbs).  Place in the hot oil and cook about 2 minutes per side until golden brown.  Gingerly flip after the first side is browned so that the crumbs adhere to the chicken. You may need to work in batches and add more olive oil as needed.  Note – chicken will not be cooked through.  Set aside.
To the same pan, add more olive oil as needed to coat the bottom of the pan.  Add onion, green and red peppers to the skillet and cook until soft and fragrant, about 3 minutes.  Add the zucchini and cook another 3 minutes until tender and the veggies start to lightly caramelize.
Add the red wine, tomatoes, brown sugar, salt, pepper, and Italian seasoning to the pan.  Bring to a boil and crush the tomatoes with your spatula. Snuggle the chicken into the sauce leaving the tops exposed.  Sprinkle with any remaining parmesan crumbs and place in the oven.  Bake for 15 minutes.
Remove from oven and top with the mozzarella cheese.  Place back in the oven for 15-20 minutes until cheese is melted and lightly browned – and chicken is cooked through.   Remove and let rest for 10 minutes.  Serve over orzo, garnished with fresh basil and parsley.
Select multiple categories to narrow your search! Want appetizers made with chicken? Just select both Appetizers and Chicken!