HOISIN APRICOT GLAZED DUCK BREAST OVER SPICY PINEAPPLE FRIED RICE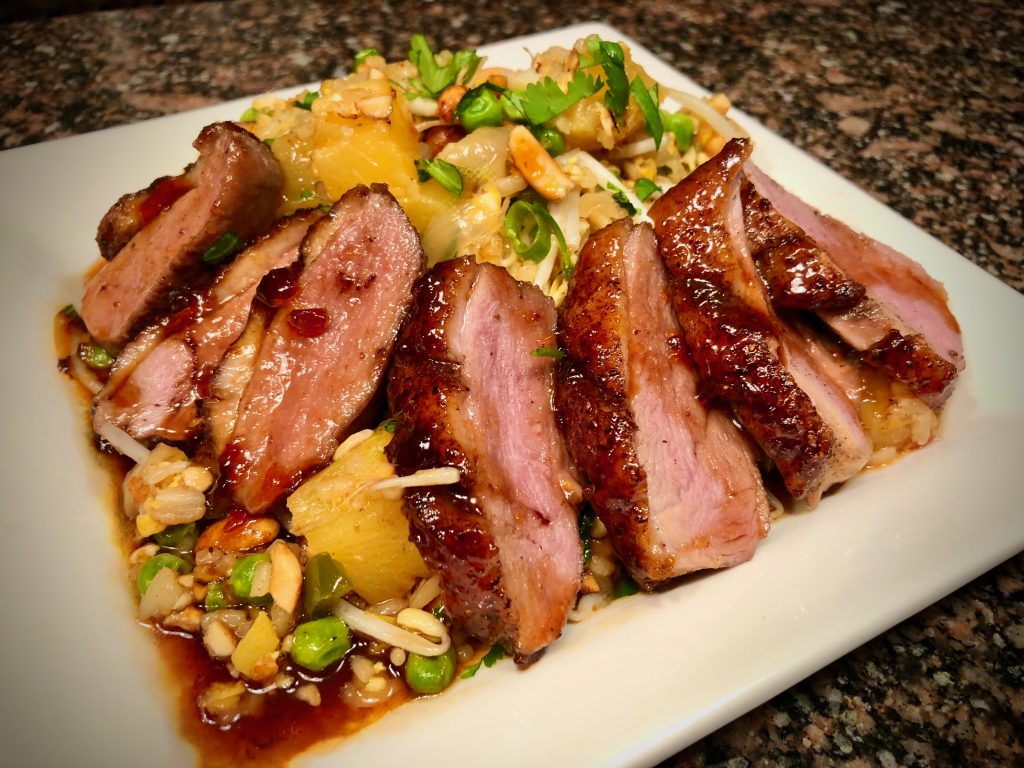 4, 7.5-ounce duck breasts
2 tablespoons olive oil
Rub:
1 teaspoon salt
1 teaspoon black pepper
1 teaspoon garlic powder
1 teaspoon granulated ginger
½ teaspoon cinnamon
Glaze:
½ cup apricot preserves
½ cup brown sugar
2 tablespoons soy sauce
2 tablespoons fish sauce
2 tablespoons Hoisin sauce
2 tablespoons honey
Juice and zest from 1 orange
Pineapple Fried Rice:
1, 20-ounce can pineapple chunks in syrup
1 cup long grain white rice
2 teaspoons salt
4 large eggs
1 large onion, chopped
1 jalapeño pepper, chopped
4 large cloves garlic, chopped
1" fresh ginger root, peeled and chopped (about 1 tablespoon)
1 cup frozen peas
2 tablespoons soy sauce
2 tablespoons Asian fish sauce
6 scallions, chopped
1, 12-ounce bag fresh bean sprouts (about 2 cups)
¼ cup fresh cilantro, chopped
½ cup honey roasted peanuts, chopped
Preheat oven to 325 degrees.
Dry the duck breasts thoroughly with paper towels and trim any excess fat, leaving skin intact.   Using a sharp knife, score the skin of the duck breast in parallel diagonal slashes about 1" apart, taking care, not to cut the flesh under the skin.  This will allow the fat to render and create a crispy skin.
Combine all of the 'rub' ingredients in a small bowl.  Rub each duck breast generously with the spices on both sides.  Place the breasts, skin-side down, in a cold cast iron skillet that has been drizzled with the olive oil.  Turn the heat to medium high and let the breasts cook until the skin is crispy brown and fat has rendered.  Flip to the flesh side and cook for 2-3 more minutes until the breasts register about 120 degrees.  Transfer to a baking dish and place in the oven while you prepare the glaze and the fried rice.  Reserve the rendered fat (liquid gold!).
Combine all of the glaze ingredients in a medium non-stick sauce pan.  Bring to a boil and let reduce by ⅓.   Pour the glaze over the duck breasts and turn to coat.  Check the internal temperature of the duck.  When it reaches 130 degrees remove from oven and cover with foil to keep warm.
To make the fried rice, drain the juice from the can of pineapple chunks into a measuring cup.  Add enough water to make a total of 2 cups.  Combine liquid with the rice and 1 teaspoon of the salt in a medium sauce pan.  Bring to a boil and then cover and let simmer until all of the moisture is absorbed and the rice is cooked through.
Place 2 tablespoon of the reserved duck fat into a large skillet over medium high heat.  When hot, add the eggs and remaining teaspoon of salt and scramble.  Remove from pan and set aside.
Add another 2 tablespoon of duck fat to the skillet over medium heat.  Add onions, jalapeño, garlic, and ginger root and sauté until onions are tender and mixture is fragrant.  Add pineapple chunks and sauté until lightly browned, about 5 minutes.
Add rice, scrambled eggs, peas, soy sauce and fish sauce and gently mix until thoroughly combined.
Just before serving, fold in scallions, bean sprouts, and cilantro and mix well.  Garnish each serving with 1 tablespoon chopped peanuts.
Slice duck breasts on the bias and fan over the rice.  Drizzle with the extra sauce in the pan.  DEVOUR!
Select multiple categories to narrow your search! Want appetizers made with chicken? Just select both Appetizers and Chicken!