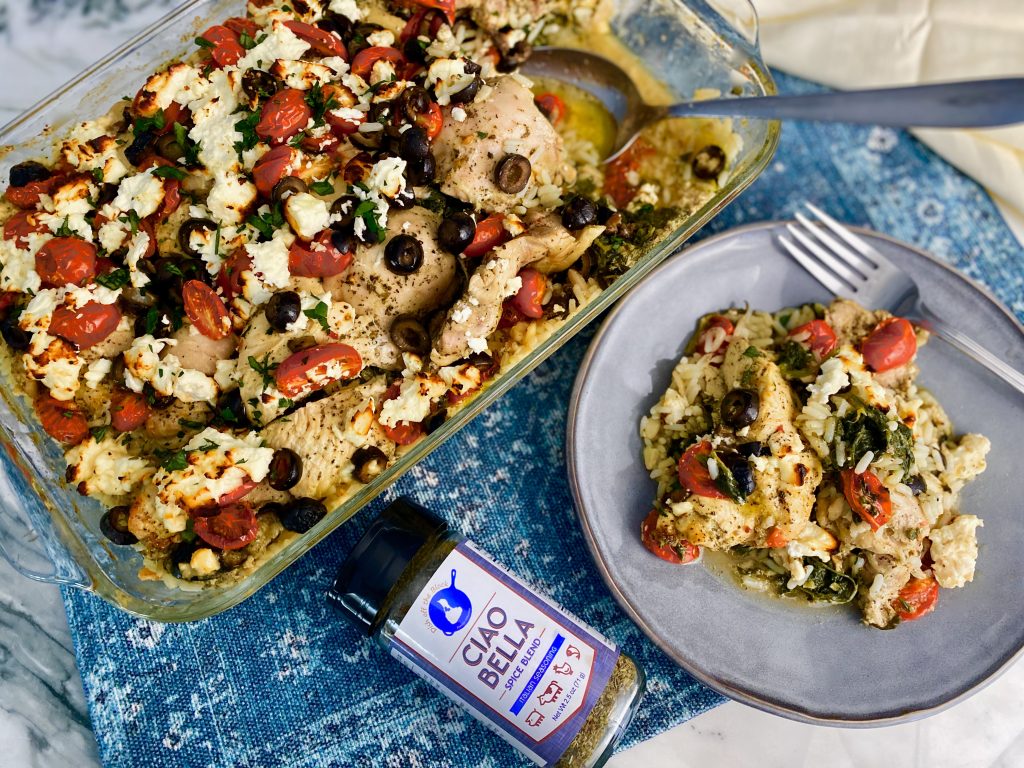 ½ cup olive oil
¼ cup red wine vinegar
¼ cup orange juice
2 tablespoons lemon juice
1 teaspoon Dijon mustard
3 teaspoons Dish off the Block Ciao Bella Italian Spice Blend
½ teaspoon salt
1 teaspoon black pepper
3 garlic cloves, chopped
3-3.5-pounds boneless, skinless, chicken thighs and/or breasts
1, 6.09-ounce box Near East rice pilaf mix
2, 10-ounce boxes frozen chopped spinach, thawed
½ cup chicken stock
1-pint grape or cherry tomatoes, cut into quarters or 3 large tomatoes, rough chopped (about 2 cups)
8-ounce feta cheese,
1, 2.25-ounce can sliced black olives (or ½ cup kalamata olives, chopped)
2 tablespoons chopped fresh parsley
Preheat oven to 375.
Combine olive oil, vinegar, orange juice, lemon juice, Dijon, Italian seasoning, salt, pepper, and chopped garlic in a large jar and shake vigorously to combine and emulsify.
Put the chicken thighs in a large ziplock bag with the dressing and massage to ensure the chicken is well coated all over.  Marinade for at least 1 hour or as long as overnight (the longah, the bettah!).
Sprinkle the contents of the box of rice pilaf , including spice packet, evenly over the bottom of a 9″ x 13″ baking dish.  Top the rice evenly with the thawed spinach, including the juices.  Pour chicken stock over the spinach.
Lay chicken pieces on top of spinach, including marinade.
Spread tomatoes over chicken, followed by feta cheese.  Cover with foil and bake for 40 minutes.
Remove from oven and sprinkle evenly with the olives.  Return to oven for 25-30 minutes until chicken is cooked through and cheese is lightly browned.  Garnish with parsley and serve.
Select multiple categories to narrow your search! Want appetizers made with chicken? Just select both Appetizers and Chicken!