FRIED GREEN TOMATOES WITH TWO DIPPING SAUCES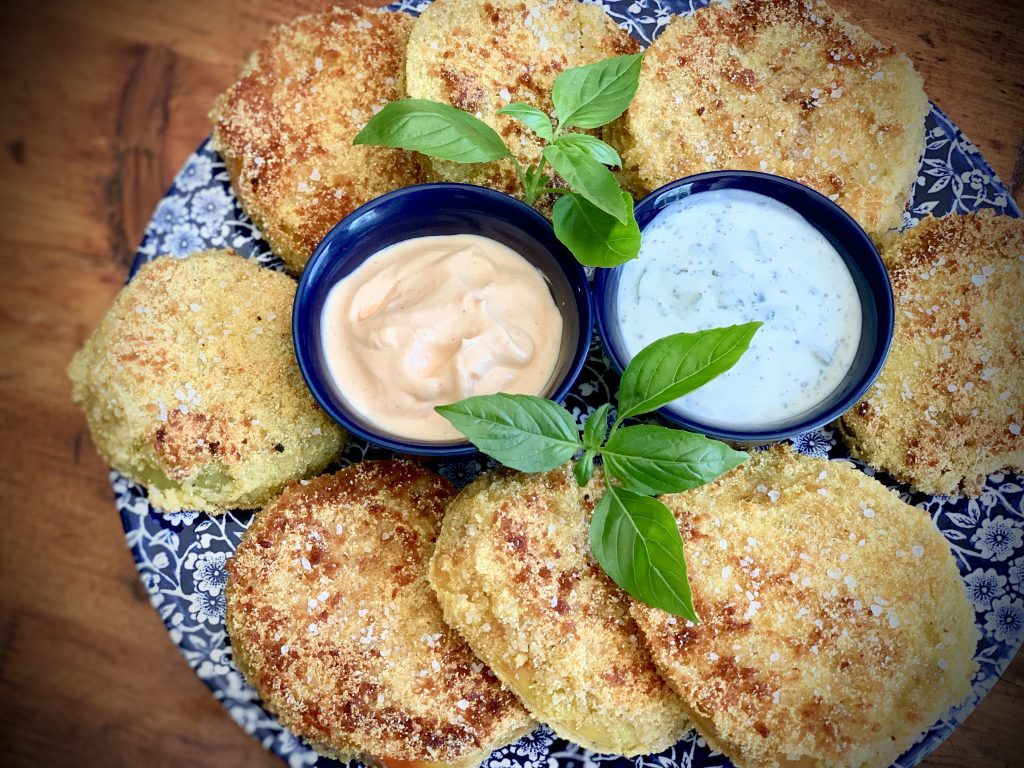 4 large green tomatoes, cut into ½" thick slices
½ cup of flour
2 teaspoon salt
1 teaspoon black pepper
½ cup buttermilk
1 large egg
½ cup panko breadcrumbs
¾ cup cornmeal
4 tablespoon butter
4 tablespoon olive oil
Sea salt
Ranch Dipping Sauce
½ cup Hellmann's Light Mayonnaise
½ cup sour cream
1 cup buttermilk
¼ cup chives, chopped
½ teaspoon salt
½ teaspoon black pepper
½ teaspoon dried dill
1 teaspoon garlic powder
1 teaspoon onion powder
¼ teaspoon celery seed
1 tablespoon lemon juice
Sriracha Crema Dipping Sauce
¾ cup sour cream
½ cup Hellmann's Light mayonnaise
2 tablespoon Sriracha sauce
1 tablespoon lemon juice
4 tablespoon milk
Preheat oven to 325 degrees.
Create a breading station. Combine the flour, salt and pepper in a pie plate or shallow baking dish.  Then beat the egg with buttermilk in another dish and, in a third dish, combine the panko and cornmeal.
Preheat the butter and olive oil in a large deep skillet over medium high heat.  Working in batches, dredge each tomato slice in the flour, shaking off excess.  Then dip in the egg mixture followed by pressing into the panko and cornmeal until well coated.  Place in the hot oil and cook about 3-4 minutes per side until golden brown and tender. Place on a cookie sheet lined with paper towels.  Season immediately with the sea salt and place in the oven to keep warm while you fry the rest of the tomatoes.
Serve hot with dipping sauces on the side.
Ranch Dipping Sauce
Combine all of the ingredients in a large jar and shake until fully combined (or whisk in a small bowl).  Let sit for at least one hour or overnight for flavors to meld.
Sriracha Crema Dipping Sauce
Combine all of the ingredients in a small bowl and whisk to combine.
Select multiple categories to narrow your search! Want appetizers made with chicken? Just select both Appetizers and Chicken!