DILLY DILLY CREAM OF WILD MUSHROOM SOUP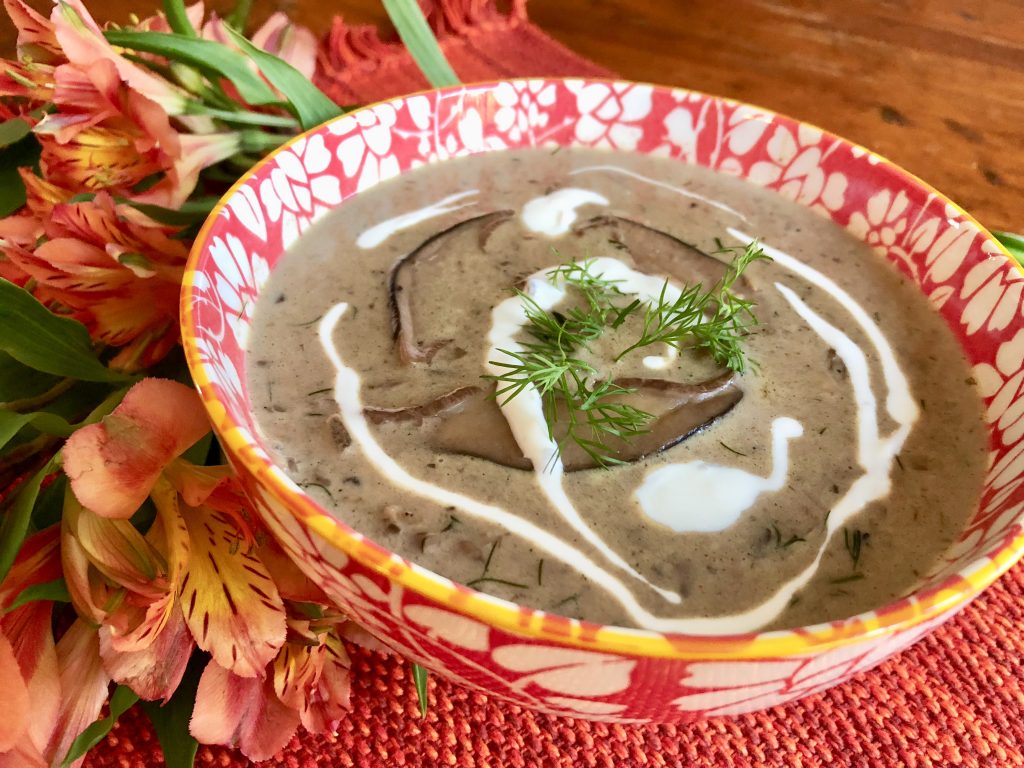 3 cups strong chicken (or vegetable stock)
1, ½ ounce package dried porcini mushrooms (or other dried variety)
4 tablespoon butter
1 large onion, chopped
5 garlic cloves, peeled and chopped
1 ½ pounds wild mushrooms, stems removed and sliced as needed per variety (mix of cremini, shitake, oyster, etc…)
1 cup dry red wine
2 cups heavy cream
1 teaspoon salt
1 teaspoon black pepper
¼ cup fresh dill, chopped
½ cup sour cream
½ cup heavy cream
½ teaspoon salt
Bring the chicken stock to a boil.  Turn off the heat.  Add the dried porcini, stir and let steep while you begin the rest of the soup.
Melt butter in a large Dutch oven or soup pot.  Add the onions and garlic and sauté until soft and fragrant, about 2 minutes.  Add the fresh mushrooms and cook until they release some moisture and begin to lightly caramelize and brown, about 5 minutes.
Add the red wine along with the porcini steeping in the stock to the pot.  Bring to a boil and reduce heat to a low.  Cook for 30 minutes, uncovered, letting the stock reduce.  Add the heavy cream, salt, pepper, and fresh dill to the pot and cook for 20-30 minutes more until thick and coats the back of a spoon.
Place half of the mushrooms and broth into a blender and blend until smooth .  Add this back into the pot.  This can be adjusted per your taste.  I like a lot of texture in my mushroom soup, but you could also puree the whole thing to be smooth.  Note – be very careful when blending hot liquids!!  Slowwww and lowww….!
Make a crema by whisking the sour cream with heavy cream and salt.  Serve the soup hot garnished with crema and fresh dill.  Yummmmmmmy!  Dilly Dilly!!
Select multiple categories to narrow your search! Want appetizers made with chicken? Just select both Appetizers and Chicken!