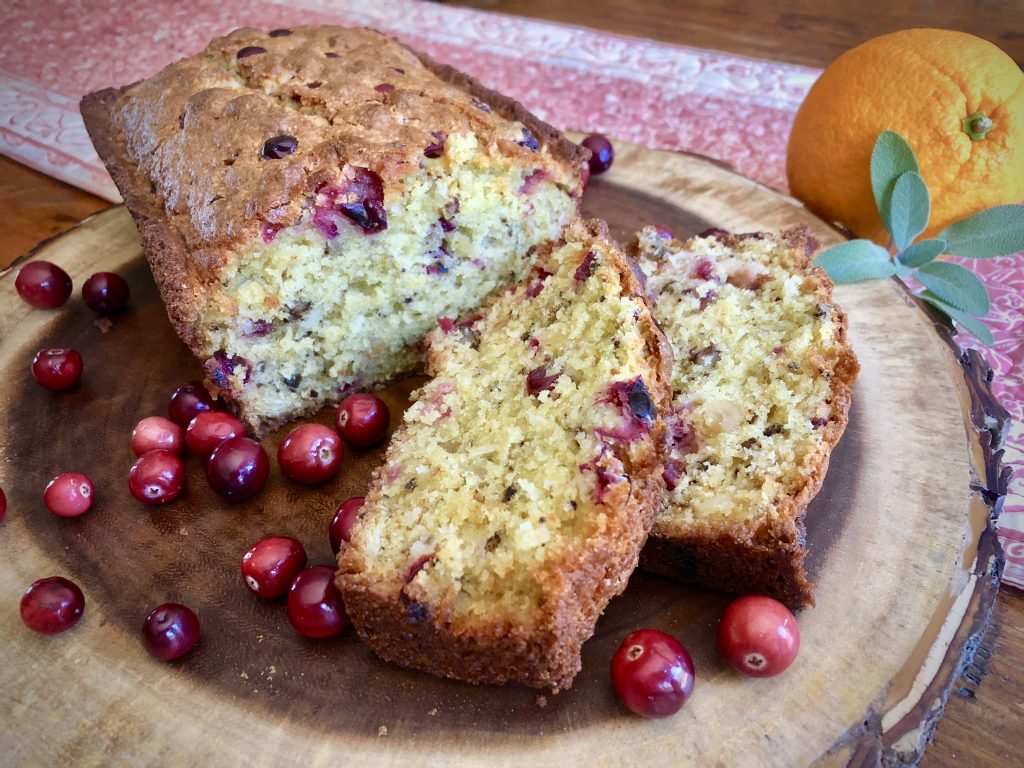 2 cups all-purpose flour
1 cup sugar
1 ½ teaspoons baking powder
1 teaspoon salt
½ teaspoon baking soda
1 stick (½ cup) cold unsalted butter, cut into bits
1 teaspoon freshly grated orange zest
¾ cup fresh orange juice
1 large egg, beaten
½ cup sweetened coconut flakes
1 cup coarsely chopped cranberries
½ cup finely chopped walnuts
Preheat oven to 350 degrees.
Combine flour, sugar, baking powder, salt, and baking soda in the bowl of a food processor.  Pulse a couple of times to combine.  Add butter and pulse until the mixture resembles coarse meal.  Transfer this mixture to a large mixing bowl.
Add the zest, orange juice, egg, and coconut to the bowl and mix until just combined.  Fold in the cranberries and walnuts.
Transfer the batter into a well-greased (butter or non-stick spray) loaf pan.  Optional – I like to cut a bunch of cranberries in half and place cut side down on top of the batter in the pan which makes for a pretty presentation after baking.
Bake for 1 hour or until tester comes out clean.  Let cool for 20 minutes and turn onto your plate.  Slice and devour.
Select multiple categories to narrow your search! Want appetizers made with chicken? Just select both Appetizers and Chicken!