BLUEBERRIES AND CREAM PIE WITH BLUEBERRY CRUST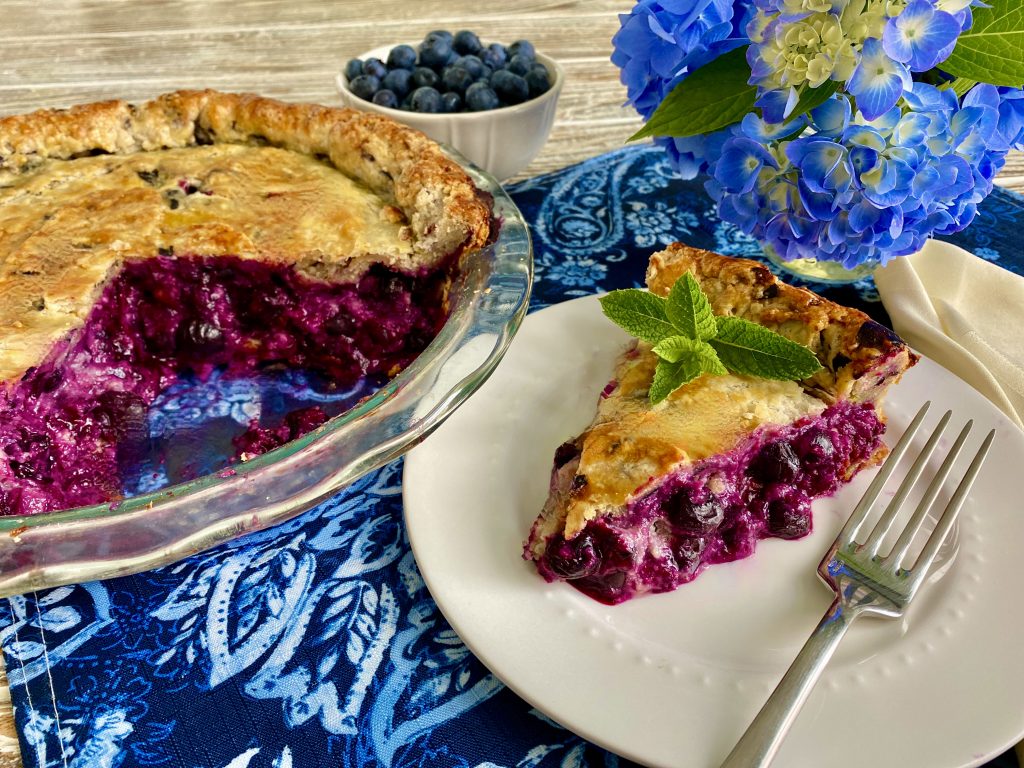 Blueberry-Infused Pie Crust:
3 cups flour
1 teaspoon salt
2 teaspoons sugar
½ cup cold vegetable shortening cut into very small pieces
½ cup cold butter, cut into very small pieces
1 cup fresh blueberries
1 egg, beaten
2 teaspoons white vinegar
Blueberry Filling:
1 cup sour cream
1 egg, beaten
1 teaspoon vanilla
½ cup sugar
¼ cup brown sugar, packed
3 tablespoons flour
½ teaspoon salt
1 teaspoon lemon zest
1 tablespoon lemon juice
½ teaspoon cinnamon
4 ½ cups fresh blueberries
1 egg yok
1 teaspoon water
To make the pie crust, combine the flour, salt, and sugar in a large bowl.  Add the shortening and butter pieces and, using a pastry blender, cut them into the flour until the mixture starts to resemble coarse meal.  Add the blueberries to the bowl and continue to process with the pastry blender, breaking up the blueberries.  When the mixture is broken up and begins to 'clump' together from the moisture in the blueberries, combine the egg and vinegar in a small bowl and then add to the larger bowl, mixing with a fork until the mixture start to hold together.
Turn the dough, which will still be a little crumbly, onto the counter and push it together with your hands, folding it over on itself a couple of times until it holds together.  Cut the dough into 2 even pieces, form into discs, and wrap with plastic wrap.  Place the dough discs in the refrigerator for 1 hour or longer to chill.  Note – depending on the amount of juice in your blueberries, you may need to add a few drops of water to aid the dough in coming together.
Preheat oven to 400 degrees.
To make the filling, combine all of the filling ingredients except the blueberries and egg yolk in a large bowl and whisk to combine.  Fold in the blueberries.  Set aside while you roll out the crust.
Take one of the chilled dough discs from the fridge and place it on a floured countertop.  Using a rolling pin, roll the dough into a 12-14" round, flipping the dough and adding more flour as needed to keep the dough from sticking.  You will use a little more flour than usual because the blueberries release moisture and can stick if there is not enough flour on the counter.  Gingerly transfer the dough to a 10" pie plate and place the filling inside.
Roll out the remaining dough disc into another 12-14" round.  Place the dough on top of the pie and crimp the edges together with the bottom crust.  Combine the egg yolk with the 1 teaspoon of water and brush the egg wash all over the top of the pie.
Bake for 45-50 minutes until the crust is golden brown and the filling is bubbly.  Let cool for 30 minutes before cutting.
Select multiple categories to narrow your search! Want appetizers made with chicken? Just select both Appetizers and Chicken!