COPY CAT KFC FRIED CHICKEN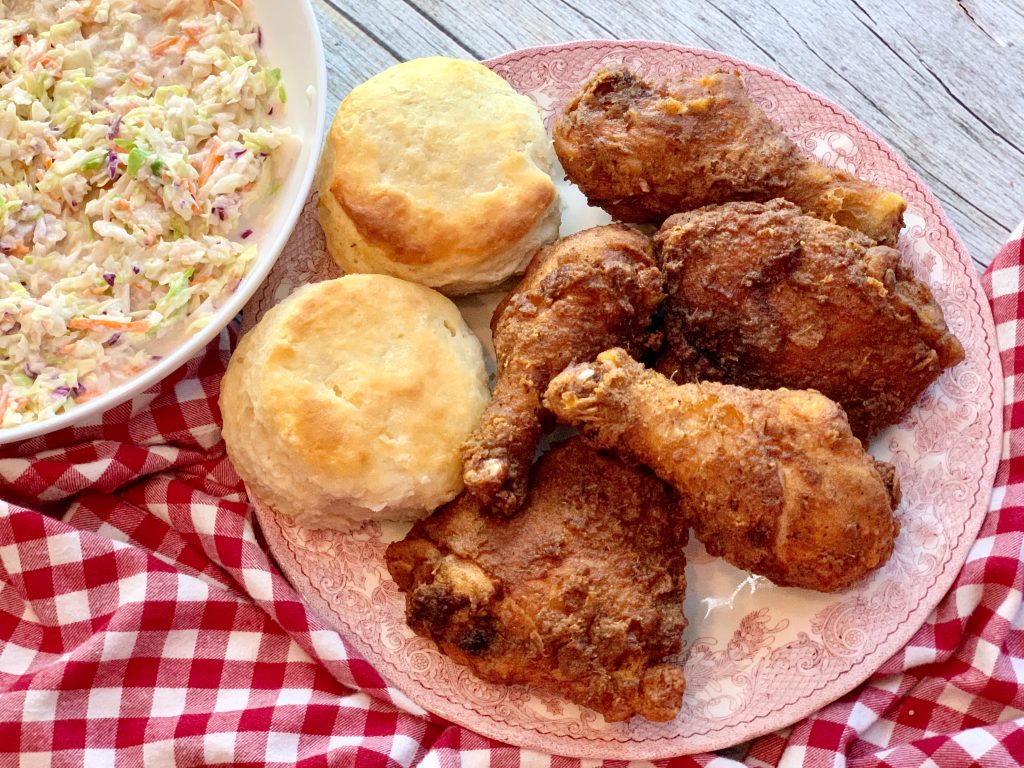 2 cups buttermilk
2 eggs
6-8 pounds chicken pieces (I like bone-in legs and thighs)
½ tablespoon dried thyme
½ tablespoon dried basil
⅓ tablespoon dried oregano
2 cups flour
1 tablespoon salt
1 tablespoon celery salt
1 tablespoon black pepper
1 tablespoon dried ground mustard
3 tablespoon paprika
2 tablespoon garlic powder
1 tablespoon ground ginger
3 tablespoon ground white pepper
Vegetable or canola oil for frying
Combine the buttermilk and eggs in a large bowl and whisk to combine.  Place the chicken pieces in the bowl and toss to fully coat and submerge in the buttermilk mixture.  Let sit for 30-40 minutes at room temperature while you prepare the seasoned flour.
Place the thyme, basil, and oregano in a spice blender or small food processor and pulverize into a powder-like consistency.
Place the pulverized herbs in a large bowl with the flour and the rest of the herbs and spices.  Whisk to thoroughly combine.
To bread the chicken, let the excess buttermilk drip off the chicken and dip each piece in the seasoned flour, turning to fully coat.  Place the pieces on a clean rimmed baking sheet and let rest for an additional 30 minutes.
Heat the oil in a large Dutch oven or fryer to 350 degrees.  You will need about 5-6" of oil so the chicken will be completely submerged when cooking.
Prepare a rimmed cookie sheet with 2 layers of paper towels and then top with a wire cooling rack for the chicken to drain and rest after cooking.
After the chicken has rested, cook in batches for 12-15 minutes until the internal temperature reaches 160-165 degrees.  Cook time will vary depending on the size and thickness of your chicken parts.
Generally speaking bone-in breasts take longer than thighs or legs.  Boneless parts are much quicker so keep an eye and be sure to use a thermometer to test for doneness.  Note the flour mix is spicy (peppery) so you probably don't want to use small cuts like chicken tenders as the spice will overpower the chicken.
Let the chicken rest for 15 minutes after cooking.  This will not only prevent you from burning your mouth, but allows the skin to soften a bit.  The longer it sits the more it tastes like the traditional KFC chicken we all love… and the next day, it's even better (if that's possible).
Select multiple categories to narrow your search! Want appetizers made with chicken? Just select both Appetizers and Chicken!