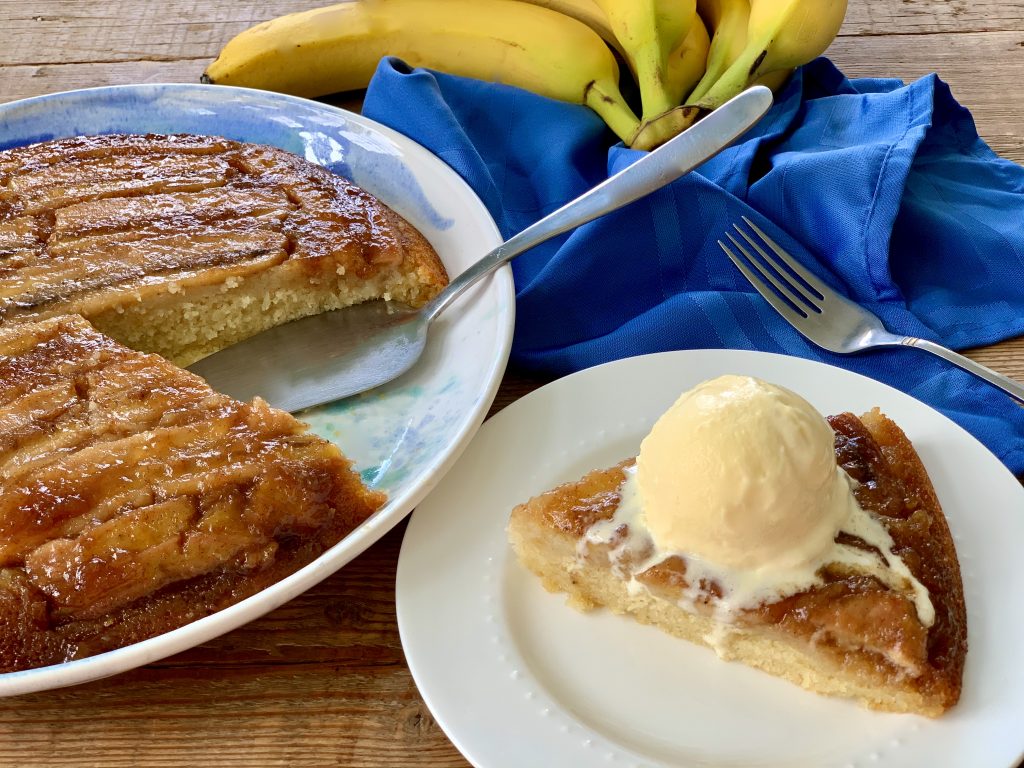 Topping (starts on the bottom!):
4 tablespoons butter
½ cup brown sugar, packed
½ teaspoon cinnamon
4-5 large bananas (ripe but not mushy)
Batter:
1 ½ cups flour
1 teaspoon baking powder
½ teaspoon baking soda
½ teaspoon salt
1 stick butter, softened to room temperature
⅔ cup sugar
1 teaspoon vanilla
1 large egg
1 cup buttermilk (*see tip below if you do not have this on hand)
Preheat oven to 350 degrees.
Melt the butter in a large cast iron skillet (about 12" in diameter).  Add the brown sugar and cinnamon to the pan and stir until sugar is dissolved and bubbly.  Turn off the heat and spread the sugar mixture into one even layer on the bottom of the pan.
Peel the bananas and cut each one in half lengthwise.  Lay them, cut side down, on top of the brown sugar caramel in a single layer to completely cover the bottom of the pan.  Cut the bananas to smaller pieces as need to fill any gaps around the edges.
Combine the flour, baking powder, baking soda, and salt in a small bowl and set aside.
Combine the butter and sugar in the bowl of a stand mixer and beat with the paddle attachment, scraping down the sides and bottom of the bowl periodically to ensure everything is incoprportated.  Then continue to mix until well blended and the butter is light yellow in color.  Add the vanilla and egg to the bowl and continue to mix until well blended.
Alternately add the flour mixture and buttermilk to the bowl in small amounts and beat until just mixed, periodically scraping down the sides to make sure everything is incorporated.
Pour the batter evenly over the bananas and bake for 35-40 minutes, until a tester inserted in the center comes out clean.
Let the cake cool for 10-15 minutes and then place a large serving plate, upside down, on top of the pan and flip the pan upside down to release the cake.  Serve warm with vanilla ice cream on top…. YUM!!
Select multiple categories to narrow your search! Want appetizers made with chicken? Just select both Appetizers and Chicken!