COCONUT CRUSTED CHICKEN WITH SPICY PINEAPPLE SAUCE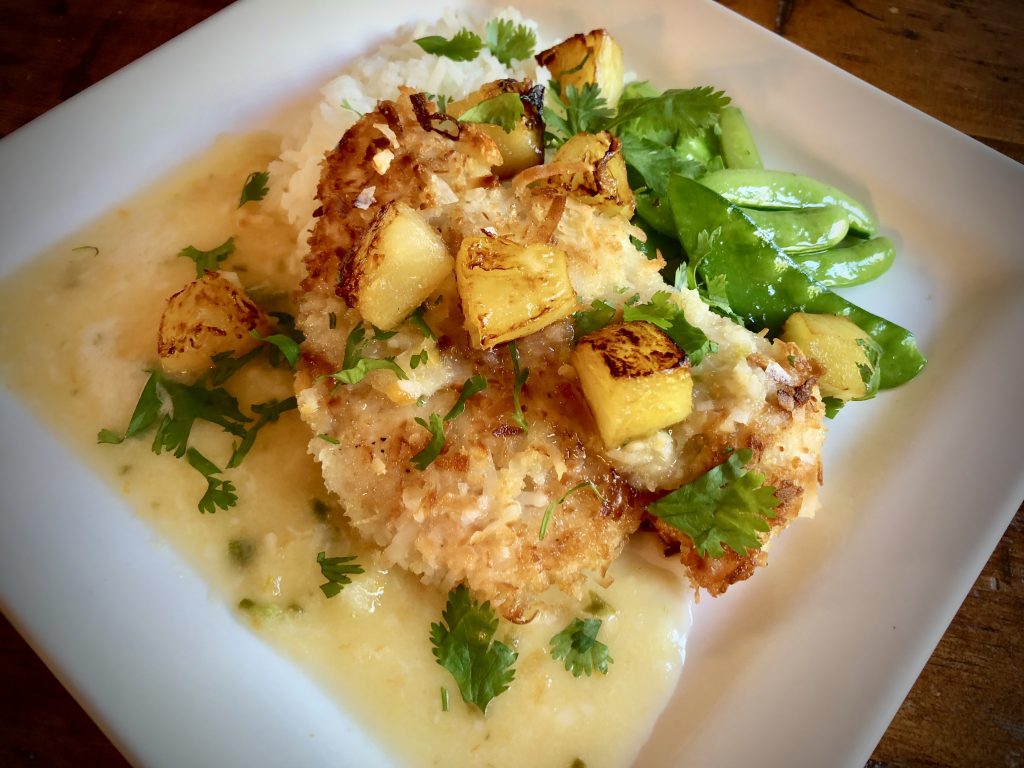 4-6, boneless, skinless, chicken breast halves, about 3 pounds
2 teaspoon salt
1 teaspoon black pepper
2 cups flaked coconut
1 cup panko bread crumbs
3 egg whites
½ cup vegetable oil
Sauce:
1, 20 ounce can pineapple chunks in thick syrup
¾ cup apricot preserves
1 jalapeño, rough chopped including seeds
½ cup sweetened coconut flakes
1, 13.7 ounce can coconut milk
1 teaspoon salt
2 tablespoon butter
1, 20 ounce can pineapple chunks, drained
3 cups jasmine rice, cooked to package directions (1 cup raw rice, 1 ¾ cup water, 1 teaspoon salt, 1 tablespoon butter)
¼ cup fresh cilantro, chopped
Preheat oven to 350 degrees.
Pound chicken breasts with a mallet to ½" thickness.  Season on both sides with salt and pepper.
In one shallow dish, combine the coconut flakes and panko crumbs.  In another shallow dish, whisk the egg whites until frothy.
Heat the oil in a large skillet over medium high heat until very hot (if you put a drop of water in the oil, it will bubble up).
Coat the chicken breasts into the egg whites first and then the coconut crumb mixture pressing to adhere.  Add the chicken to the pan in one layer, in batches if necessary.  Cook for approx..2-3 minutes per side until coconut is golden brown. You may need to turn the breasts in the pan for even browning (check with tongs after one minute).  Transfer the breast to a cookie sheet and bake in the oven while you make the sauce for 15-20 minutes until the chicken is just cooked through.
Combine pineapple in syrup, apricot preserves, jalapeño, flaked coconut, coconut milk, and salt in a blender and blend until smooth.  Place in a sauce pan over medium heat and cook for 3 minutes stirring frequently until hot and bubbly.
Melt the butter in a large frying pan over medium high heat.  Add drained pineapple chunks and cook until lightly browned and caramelized, about 3 minutes, stirring occasionally.
Serve one chicken breast over rice topped with sauce and garnished with pineapple chunks and cilantro.
Select multiple categories to narrow your search! Want appetizers made with chicken? Just select both Appetizers and Chicken!