CLAM AND POTATO BOIL STUDDED WITH KIELBASA AND SHRIMP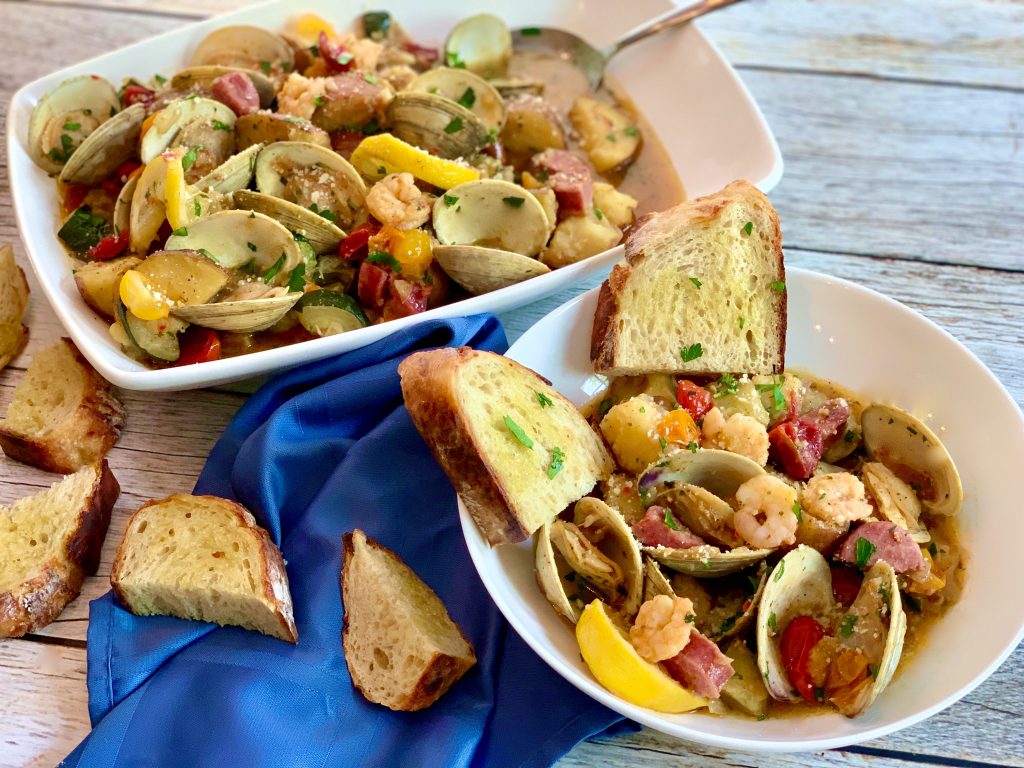 3 tablespoons olive oil
1 large onion, chopped
6 garlic cloves, peeled and chopped
2-pounds red bliss potatoes, quartered or cut into 2-3" chunks
1 teaspoon salt
1 teaspoon black pepper
½ pound kielbasa, cut into ½" rounds
1 small zucchini, cut into 1" thick half moons
20 littleneck clams
1 pint cherry or grape tomatoes, cut in half (or quarters if large)
1, 12 ounce package frozen SeaPak Shrimp Scampi
1 cup dry white wine
1 lemon
¼ cup grated parmesan cheese
¼ cup parsley leaves, chopped
Crusty bread
Heat the olive oil in a large deep skillet over medium high heat.  Add the onions and garlic and cook until fragrant.  Add the potatoes and season with the salt and pepper.  Press into a single layer and cover the pan.  Cook for 2- 3 minutes and then stir and repeat this process 3 times until the potatoes start to get a golden sear.  Season with the salt and pepper.
Add the kielbasa and zucchini and repeat this process 3 more times.  The potatoes should be almost cooked through but not completely.
Nestle the clams in between the potatoes with the 'hinge-side' down. Top with the tomatoes followed by the shrimp scampi which you can break into pieces with your hands.  Pour the wine over the top.  Cover and cook for 8-10 minutes until all of the clams have opened.  Squeeze the lemon juice over the top and garnish with the parmesan cheese and parsley.
Serve in bowls with crusty bread for dipping on the side.
Select multiple categories to narrow your search! Want appetizers made with chicken? Just select both Appetizers and Chicken!