CHICKEN CHOW MEIN (CHINESE-AMERICAN TAKE OUT STYLE)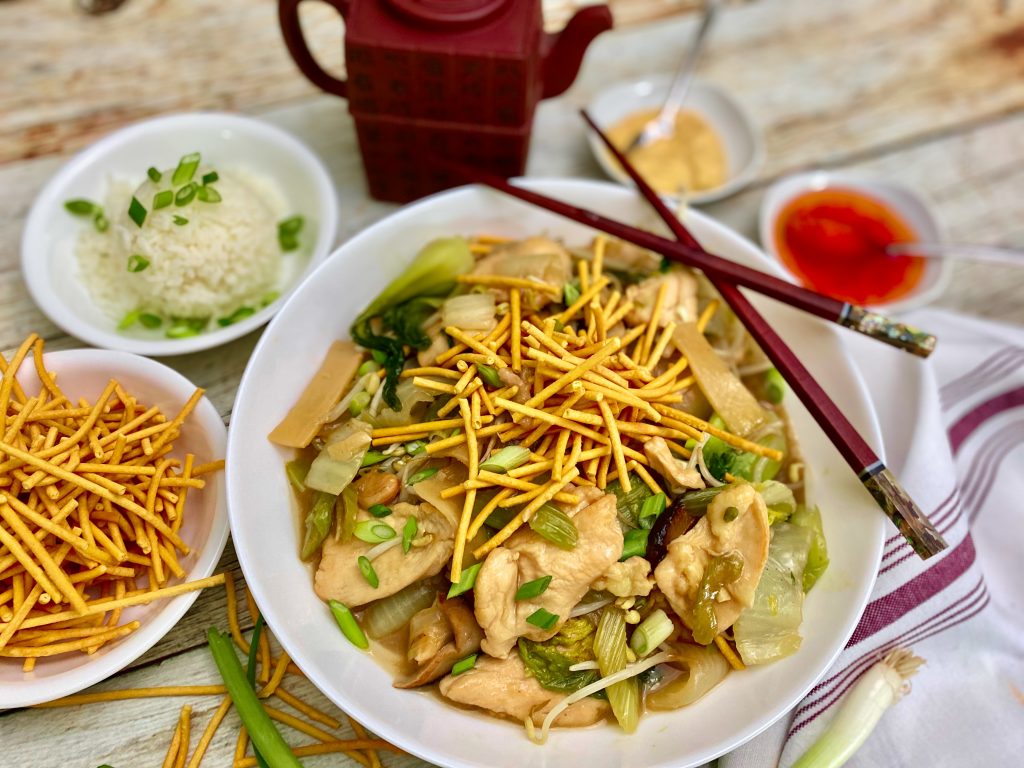 The Chicken:
1.5-pounds boneless chicken breast
1 tablespoon corn starch
½ teaspoon salt
2 teaspoons soy sauce
¼ teaspoon sesame oil
The Chow Mein:
3 tablespoons peanut oil, divided
1 large onion, sliced into wedges
8 garlic cloves, chopped
3 stalks of celery, thinly sliced on the diagonal (about 2 cups)
4-ounces shitake mushrooms, stems removed and caps sliced
3 cups Napa cabbage, chopped into 1-2" pieces
4 heads baby bok choy, cut into quarters
1 cup canned bamboo shoots, drained
1 teaspoon salt
1 tablespoon soy sauce
½ teaspoon sesame oil
1 ½ cups chicken stock
1 tablespoon corn starch
7-ounces bean sprouts
2-3 cups white rice or sushi rice, cooked to package directions
2-3 cups crunchy chow mein noodles
Slice the chicken breast into thin, bite-size strips, across the grain, and place in a medium bowl with the corn starch, salt, soy sauce and sesame oil.  Mix well and let marinade for 30 minutes to 1 hour.
You should prepare/chop all of your vegetables in advance of cooking to ensure everything cooks quickly and evenly. 
Add 2 tablespoons of the oil to a wok or large deep skillet and heat over medium high heat until almost smoking.  Add the chicken and cook, stirring frequently, until the chicken is white and just barely cooked through (it will continue cooking later in the sauce).  Remove from the pan and set aside.
Add the remaining tablespoon of oil to the pan and add the onions, garlic, and celery to the pan.  Cook, stirring frequently for 4-5 minutes until the vegetables start to soften.  Add the mushrooms and cook for 2 minutes more until they soften.
Add the Napa cabbage, bok choy, and bamboo shoots to the pan.  Cook for 2 minutes, stirring, allowing the cabbage to begin to wilt.  Add the salt, soy sauce, sesame oil, and chicken stock to the pan.  Cover and cook for 6-8 minutes until the vegetables are wilted but still slightly crisp.
Combine the corn starch with 2 tablespoons of water and stir to dissolve.  Uncover the pan and add the corn starch slurry to the pan along with the bean sprouts.  The sauce should be boiling.  Stir as the sauce thickens and becomes glossy, about 2-3 minutes.
Serve the chow mein over rice and top with the crunchy noodles!
Select multiple categories to narrow your search! Want appetizers made with chicken? Just select both Appetizers and Chicken!