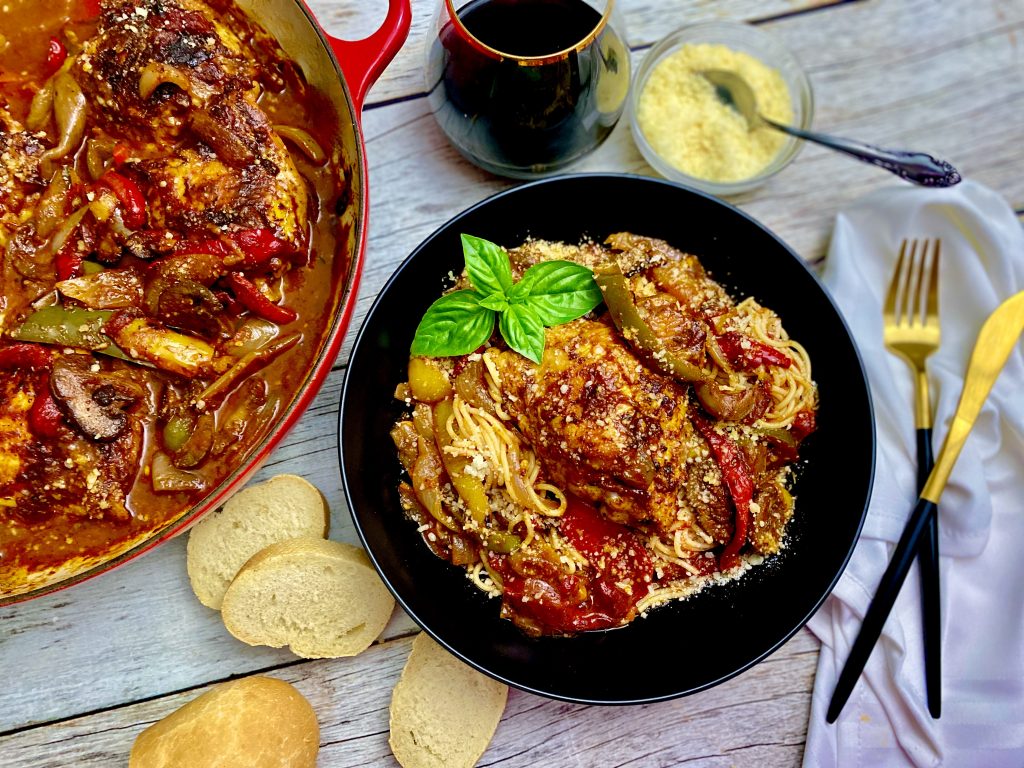 6 large chicken thighs, bone in and skin on (about 3.5 pounds)
3 teaspoons salt, divided
2 teaspoons black pepper
2 teaspoons paprika
2 teaspoons garlic powder
3 tablespoons olive oil
2 large onions, cut into ½" strips or wedges
2 medium green peppers, cut into ½" strips
8-ounces cremini mushrooms, sliced
10 garlic cloves, rough chopped
½ teaspoon red pepper flake (1 teaspoon if you like very spicy sauce)
1 ½ cups dry red wine
1, 28-ounce can San Marzano tomatoes
2 tablespoons tomato paste
1 tablespoon Dish off the Block Ciao Bella Italian Spice Blend
1 tablespoon sugar
Parmesan and fresh basil leaves for garnish
Trim the chicken thighs of any excess fat.
Combine 2 teaspoon of the salt, the black pepper, paprika and garlic powder in a small bowl to create a rub.  Liberally season both sides of the chicken thighs with the rub.
Heat the oil in a large Dutch oven or large skillet with sides (preferably so you can cook all of the chicken thighs in one layer in the pot).  When the oil is hot, place chicken thighs in, skin-side down.  Sear until golden brown and crispy, about 3-4 minutes.  Flip to the other side and cook for 2 minutes more.  Remove from pan and set aside.
Add the onions and peppers to the juices in the pot and sauté until they start to get soft and fragrant, about 2 minutes.  Add mushrooms, garlic, and red pepper flakes.  Cook for 5-7 minutes until juices release and mushrooms are soft.  Add the red wine and deglaze, scraping up any brown bits on the bottom of the pan.  Add the tomatoes, tomato paste, Italian seasoning, remaining teaspoon of salt, and sugar to the pot.   Crush the whole tomato pieces with a spoon to break up and bring the whole mixture to a boil. 
Place the thighs, skin side up on top of the sauce, slightly covering them.  Cover and cook on low heat for 45 minutes. 
Serve over pasta or rice with parmesan cheese on the side and garnished with fresh basil.
Select multiple categories to narrow your search! Want appetizers made with chicken? Just select both Appetizers and Chicken!