CHICKEN AND DELICATA COMFORT CRAVING CASSEROLE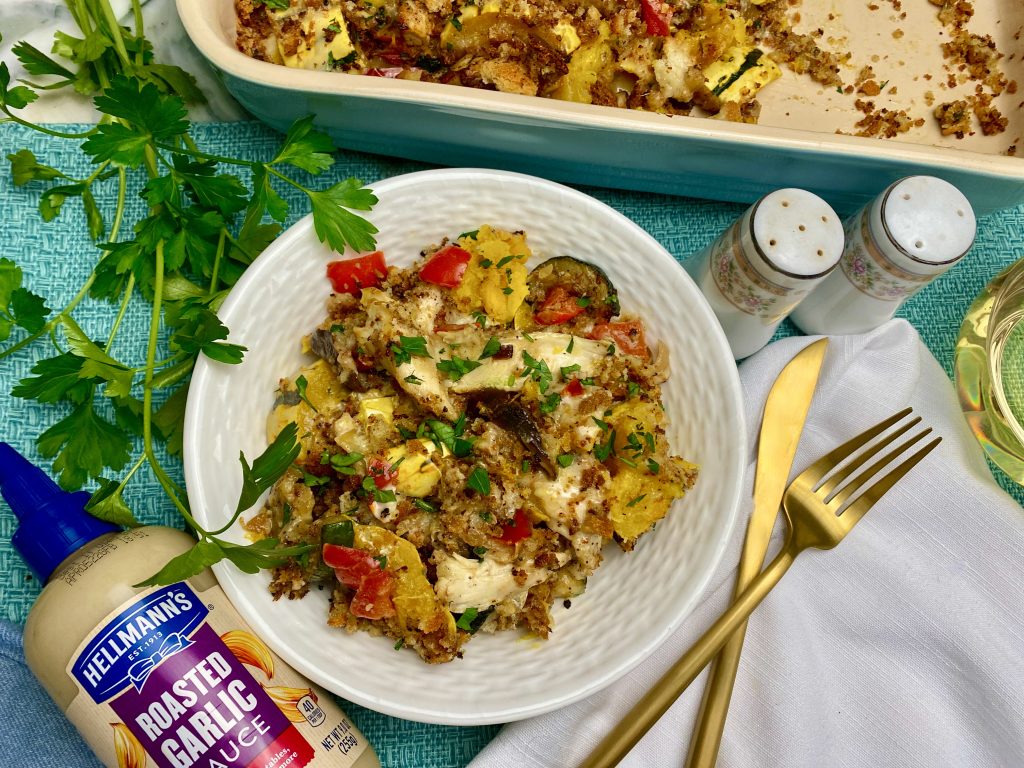 2 delicata squash, about 1 ½ pounds
1 tablespoon olive oil
1 ½ teaspoons salt
1 teaspoon black pepper
5 strips bacon
1 large onion, chopped
8-ounces mushrooms, sliced
1 small zucchini, cut in half lengthwise and cut into ½" thick half moons
1 red bell pepper, chopped
2 cups cooked chicken breast, shredded into bite size pieces (leftover chicken works well here!)
6 tablespoons butter
8-ounces dry herb seasoned stuffing
8-ounces pepper jack cheese, shredded
1 ½ cups heavy cream
½ cup Hellmann's Roasted Garlic Sauce
2 tablespoons flour
2 tablespoons flat leaf parsley, chopped
Preheat your oven to 400 degrees.
Cover a rimmed baking sheet with foil.  Cut the delicata squash in half lengthwise and scoop out the seeds and discard.  Place the squash, cut side up and drizzle with the olive oil and season with ½ teaspoon of the salt and ¼ teaspoon of the pepper.  Turn them over so the cut side is down and bake for 15-20 minutes until just tender when pierced with a knife.  Remove and let cool while you prepare the rest of the dish.
Place the bacon strips in a large deep skillet and cook over medium high heat until crispy.  Remove and chop into ½" pieces, set aside.  Add the onions to the bacon drippings in the pan and cook until soft, about 2 mintues.  Add the mushrooms, zucchini, and red pepper and continue cooking, stirring frequently, until the veggies are soft and begin to lightly brown. Season with the remaining salt and pepper.
Cut the stem and butt ends off the squash and discard.  Then, cut the rest into 2-3" pieces and add to the skillet along with the reserved bacon and the chicken.  Stir to combine and remove from heat.
Prepare a 9" x 13" baking dish with non-stick spray.  Melt the butter in a large saucepan and add the stuffing.   Toss to coat in the butter and lightly brown.
Place half of the stuffing in the bottom of the baking dish and top with half of the chicken and veggie mixture.  Top with half of the shredded cheese followed by the remaining chicken and veggies and the other half of the cheese.
Combine the cream, Hellmann's Roasted Garlic Sauce, and flour in a medium bowl and whisk until smooth. Pour this mixture over the top of the casserole, gently 'moving' the cheese and veggies with a fork, so the cream mixture can seep evenly into the casserole all over.  Top with the other half of the stuffing.
Bake for 20-30 minutes until bubbly, melty, and lightly browned.  Garnish with parsley and DEVOUR!
Select multiple categories to narrow your search! Want appetizers made with chicken? Just select both Appetizers and Chicken!