BUTTERNUT AND KALE CASSEROLE WITH SUNDRIED TOMATO CREAM, FETA, AND BACON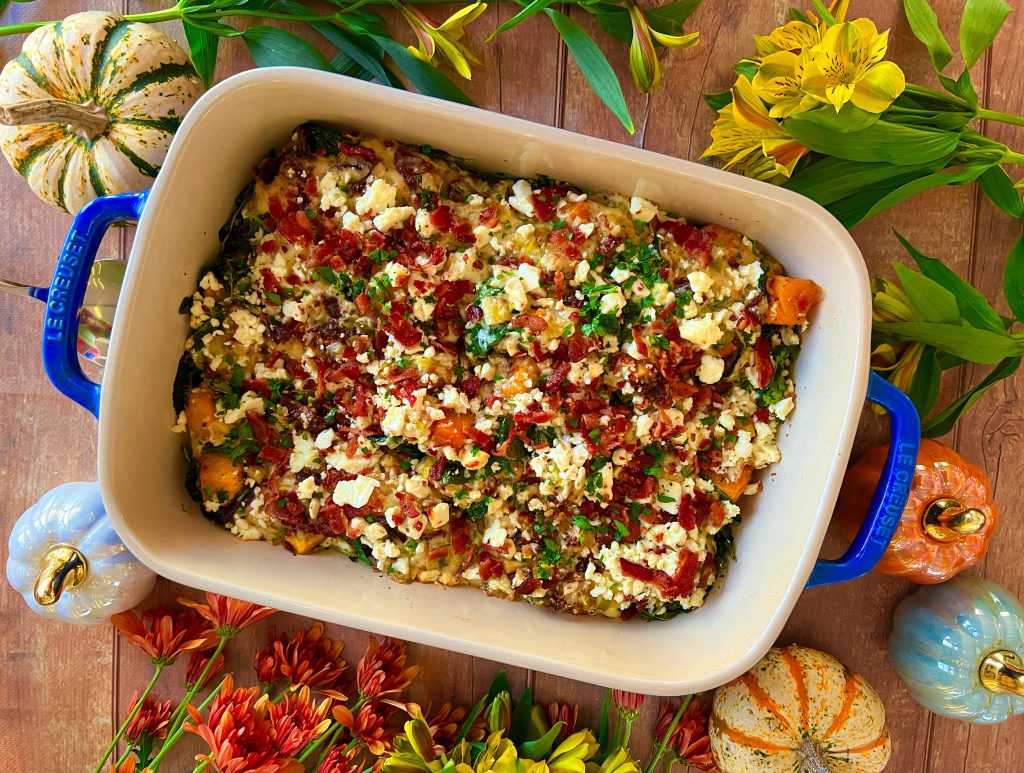 40 ounces butternut squash, peeled, seeded, and cut into 1" dice
1 ¼ teaspoons Whole Foods 365 Fine Sea Salt, divided
½ teaspoon Whole Foods 365 Ground Black Pepper, divided
1 teaspoon Whole Foods 365 Italian seasoning
¼ cup Whole Foods 365 Cold Pressed Olive Oil
5 slices Whole Foods 365 Uncured Center Cut Smoked Bacon
1, 4.9 ounce jar Whole Foods 365 Organic Sundried Tomatoes in Extra Virgin Olive Oil
2 cups leeks, white and light green parts chopped
8 garlic cloves, chopped
1 tablespoon Whole Foods 365 All Purpose Flour
1 pint Whole Foods 365 Organic Heavy Cream
⅓ cup Whole Foods 365 Grated Parmesan
5 ounces Whole Foods 365 Organic Triple Washed Baby Kale
6 ounces Whole Foods 365 Crumbled Feta Cheese
2 tablespoons fresh chopped parsley
Preheat oven to 400 degrees.  Line a rimmed baking sheet with foil.  Spray a 9" x 13" baking dish with non-stick spray.
Spread the cubed butternut squash on the baking sheet and season with ¾ teaspoon of the salt, ¼ teaspoon of the black pepper, and the Italian seasoning.  Drizzle the olive oil over the top and toss until the squash is evenly coated.  Bake for 15 minutes and toss again so the squash cooks evenly.  Bake for 10-15 minutes more until the squash is fork tender.  Set aside to cool slightly while you prepare the rest of the dish.
Place the bacon strips in a large deep skillet and cook over medium high heat until it is crisp.  Remove to a plate lined with paper towels and let cool.  Chop and set aside.
Add 1 tablespoon of the sundried tomato oil from the jar to the pan drippings.  Cook the leeks and garlic over medium high heat, stirring frequently, until soft and fragrant, about 3 minutes.  Stir in the flour and cook for 1 more minute.  Add the heavy cream and parmesan to the pan and cook for 3-4 minutes, stirring frequently, until the sauce coats the back of a spoon.
Drain the sundried tomatoes in a fine mesh sieve and chop them into ½" pieces or julienne.  Add them to the sauce along with ½ teaspoon salt and ¼ teaspoon of black pepper.  Stir to combine.
Combine the cooked squash the baby kale in the prepared baking dish and toss until the squash and kale are evenly distributed.  Pour the sauce evenly over the casserole.  Top with the crumbled feta followed by the chopped bacon.  Bake the casserole for 15-20 minutes until bubbly and the feta is lightly browned.  Garnish with chopped parsley and devour!
Select multiple categories to narrow your search! Want appetizers made with chicken? Just select both Appetizers and Chicken!