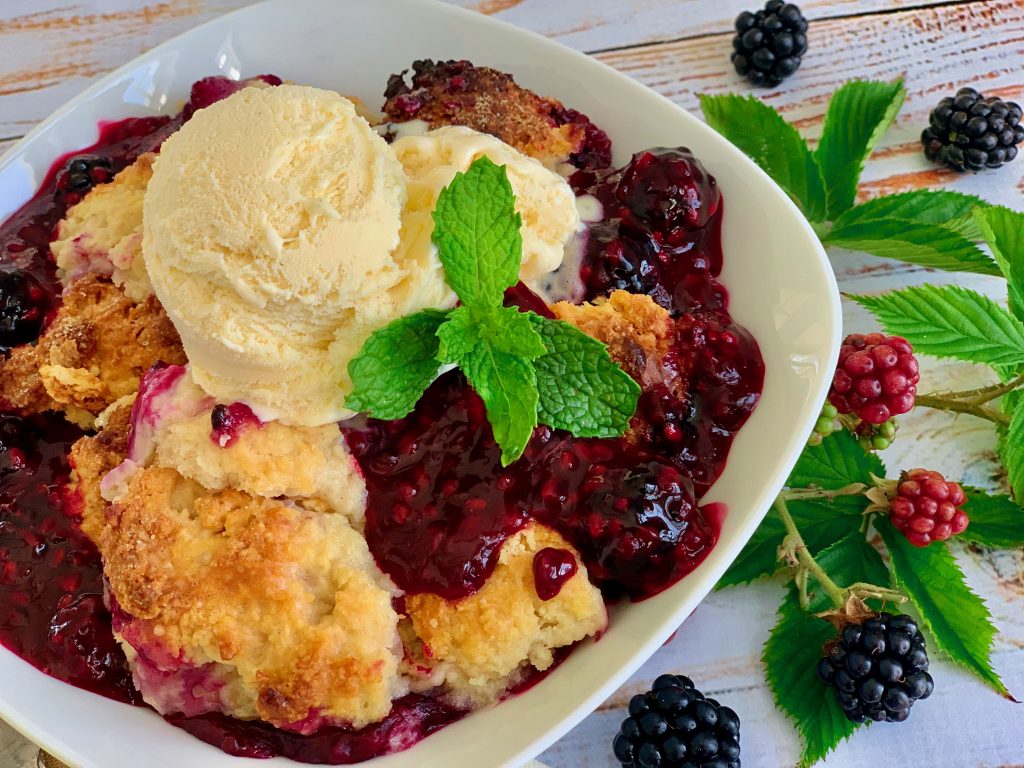 6-7 cups blackberries (or berry mix)
1 ¾ cups sugar + 5 tablespoon sugar (divided)
¾ cups flour
1 teaspoon salt
Juice of one lemon
3 ⅓ cups Bisquick
¾ cup milk
3 tablespoons melted butter
Preheat oven to 425 degrees.  Spray 9"x 9" baking dish or deep pie plate with non-stick cooking spray.
Mix berries with 1 ¾ cups sugar, flour, salt, and lemon juice.  Pour into the prepared baking dish.
Mix Bisquick, remaining 5 tablespoon sugar, milk and melted butter in a medium bowl.  Drop mixture in heaping spoonfuls on top of the berries.  Bake for 30-40 minutes until browned and bubbly.  Cut into the biscuit topping to make sure it is cooked through when you remove from the oven.  If not, put back in for 5 more minutes until fluffy to the berries!  If the top starts to get too dark, cover with foil.
Serve hot with vanilla ice cream on top.
This is one of my most favorite desserts!  It's best if you can pick the berries fresh yourself which is a tradition I have loved in August on Block Island every summer since I was a little girl!
Select multiple categories to narrow your search! Want appetizers made with chicken? Just select both Appetizers and Chicken!