BEEF TENDERLOIN STUFFED WITH LOBSTER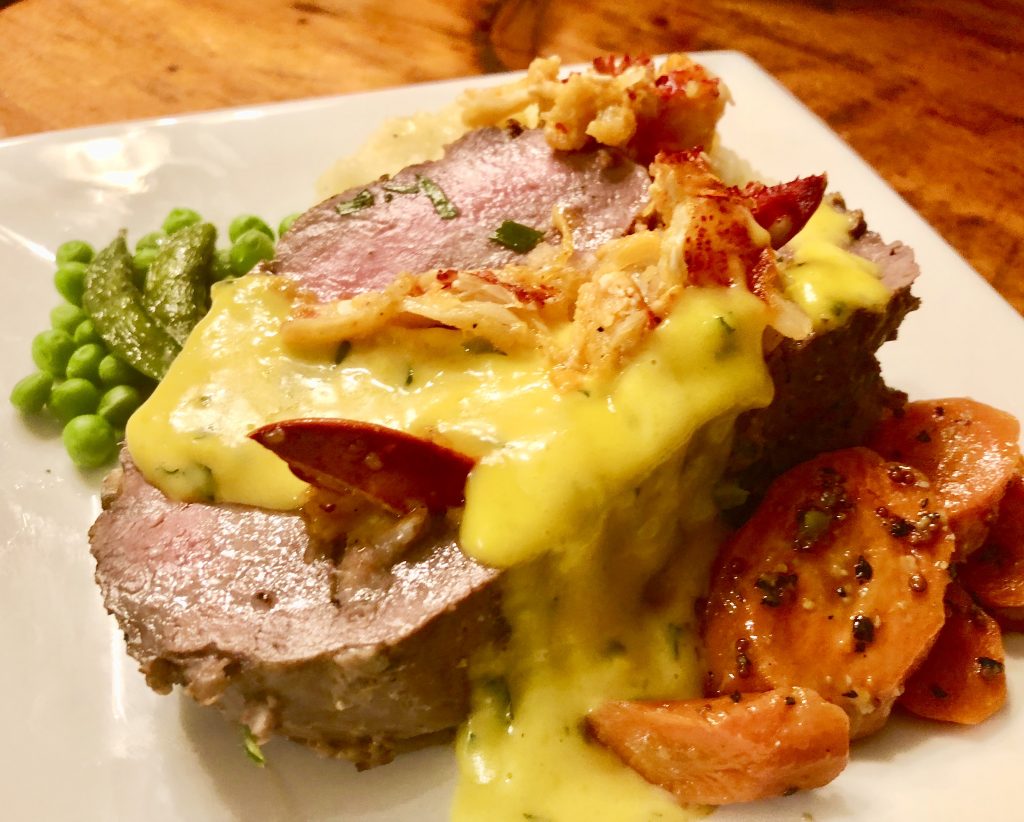 5 cups fresh lobster meat (about 5, 1 ½ pound lobsters)
2 sticks butter, melted
40 Ritz crackers, crushed
Salt and Pepper
1, 7 pound beef tenderloin
Olive oil
Bearnaise Sauce:
2 tablespoons chopped shallots
4 sprigs fresh tarragon
¼ cup dry white wine
¼ cup dry vermouth
4 large egg yolks
1 cup (2 sticks) melted unsalted butter or clarified butter
1 teaspoon fresh lemon juice
2 tablespoons chopped fresh tarragon leaves
½ teaspoon salt
⅛ teaspoon ground white pepper
Chop lobster meat in large pieces and combine with melted butter, cracker crumbs and 1 teaspoon each salt and pepper.
Refrigerate for 30 minutes or more so that butter congeals.
Butterfly the tenderloin (cut in half lengthwise). Season liberally with salt and pepper on the inside. Mound lobster stuffing evenly on one side of the tenderloin. Wrap the other side over the top of stuffing and tie with kitchen string every 2 inches.
Season all sides liberally with salt and pepper and drizzle with olive oil. Massage to distribute evenly.
Preheat oven to 400 degrees. Heat a large skillet or baking pan (large enough to hold the tenderloin – or cut roast in half) over medium high heat. Sear meat on all sides for about 3 minutes per side until browned.
Place in oven and cook for 30-35 minutes until temperature is 130-135 for rare-medium rare. Let rest covered with foil for 20-30 minutes before slicing.
To make the sauce: In a small saucepan, combine the shallots, tarragon, white wine, and vermouth. Bring to a boil and cook until reduced to 2 tablespoons. Remove from the heat, strain, and cool.
In the top of a double boiler, or in a metal bowl fitted over a pot of barely simmering water, whisk the egg yolks and reduced wine until ribbons start to form and eggs start to thicken up and the bottom of the pan can be seen while whisking, about 3-5 minutes. Whisking constantly, drizzle in the melted butter a bit at a time until all the butter is added and the mixture is thick.
Remove from the heat. Whisk in the lemon juice, chopped tarragon, salt, and pepper. Adjust the seasoning, to taste. Cover to keep warm until ready to serve.
Remove the string and slice tenderloin and serve topped with the béarnaise sauce.
Select multiple categories to narrow your search! Want appetizers made with chicken? Just select both Appetizers and Chicken!