BAKED RAGIN CAJUN STICKY WINGS WITH APRICOT SRIRACHA GLAZE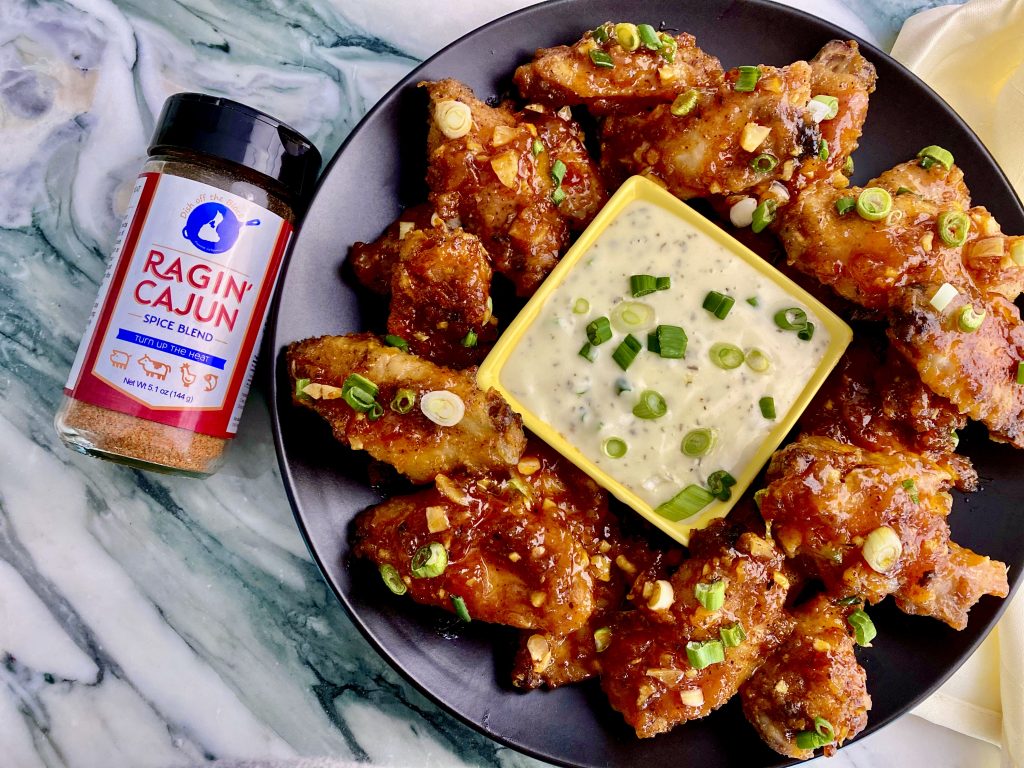 4-5-pounds chicken wings
½ cup flour
4 tablespoons Dish off the Block Ragin' Cajun Spice Blend
¼ cup olive oil
1, 18-ounce jar apricot preserves
1 tablespoon sriracha sauce
2 tablespoons fresh ginger root, minced
8 cloves garlic, chopped
¼ cup scallions, chopped
Ranch or Blue Cheese dressing for dipping
Lots of napkins
Preheat oven to 425 degrees.
Cut your wings into flats and drums (discard the tail end).  Pat dry with paper towels and place them in a large bowl.
Whisk the flour and Ragin Cajun seasoning together in a small bowl and pour it over the wings.  Toss to full coat all of the wings with the flour mixture.
Cover a rimmed baking sheet with foil and spray it with non-stick spray.  Spread the wings on the baking sheet in a single layer, evenly spaced.  Drizzle the olive oil over the wings.
Bake for 20-25 minutes until golden brown and cooked through with crispy skin.
While the wings bake, combine the apricot preserves, sriracha, ginger, and garlic in a saucepan and bring to a boil, whisking.  Reduce heat and cook on a low boil, whisking occasionally, until the wings are done.
Remove the wings from the oven and let rest for 10 minutes.
Pour the glaze evenly over the wings and toss with tongs to coat.  Transfer to a platter, making sure to cover with any sauce left on the baking sheet (that stuff is apricot gold!!).
Garnish with scallions and serve with ranch or blue cheese dressing on the side.  Get a huge pile of napkins ready and devour.
Select multiple categories to narrow your search! Want appetizers made with chicken? Just select both Appetizers and Chicken!