APRICOT SRIRACHA GLAZED CAULIFLOWER BITES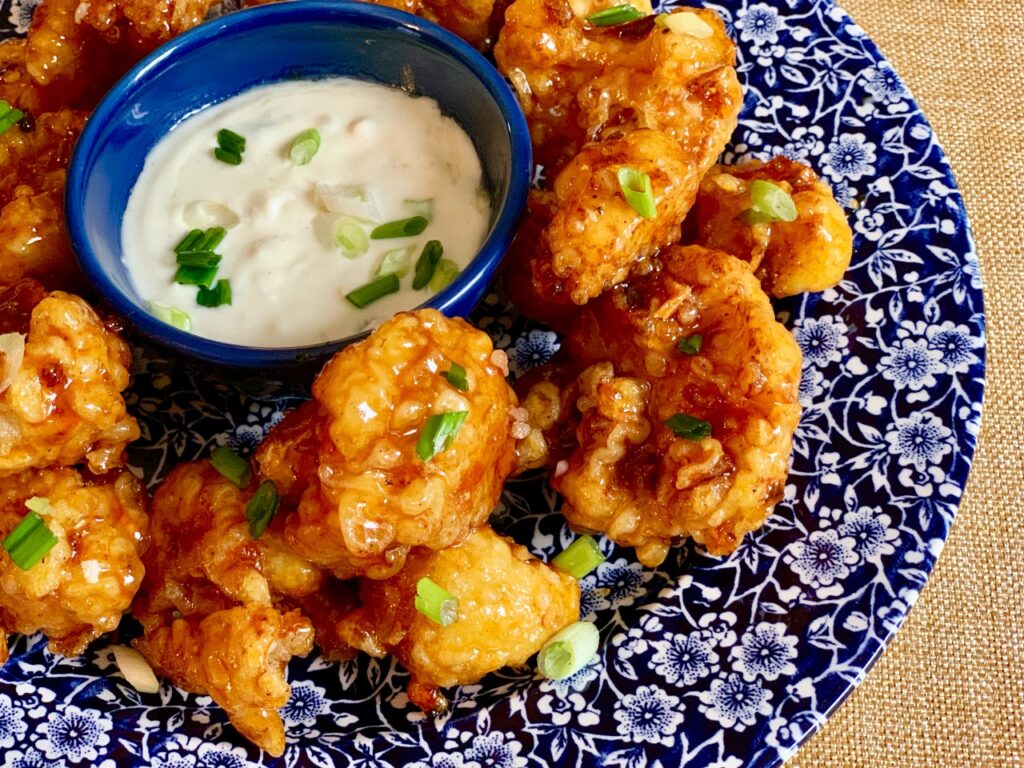 4-5 cups vegetable oil for frying
Glaze:
1, 18-ounce jar apricot preserves (or apple jelly)
1 jalapeño, chopped fine
3 large garlic cloves chopped fine
1" of fresh ginger root chopped fine
2 tablespoons sriracha sauce
2 tablespoons soy sauce
1 ½ cups brown sugar packed
Batter:
1 cup all-purpose flour
1 teaspoon baking powder
1 cup cornstarch
½ cup vodka
1 ½ – 1 ¾ cups water
1 large head cauliflower, broken up into bite-size florets
1 teaspoon salt
Heat oil in a large Dutch oven or fryer to 400 degrees.
Combine all of the glaze ingredients in a large saucepan and bring to a boil, whisking frequently. Reduce heat to low and let simmer, continuing to whisk occasionally while you prepare the cauliflower.
To make the batter, combine the flour, baking powder and cornstarch in a large bowl and mix to combine. Add the vodka and one cup of the water and whisk to combine.  Gradually add more water until you have a batter with the consistency of thick pancake batter.
Season the cauliflower with salt.  Dredge the florets in the batter and let excess drip off.  Holding by the stem, hold the florets in oil for 3-5 seconds before dropping into oil.  This will prevent them from sticking to the bottom of the pan.  Cook for 4-6 minutes until golden brown and tender when pierced with the tip of a steak knife.
Let drain on a wire rack (on top of a baking sheet covered with foil to collect drippings for easy clean up).  Season immediately with salt.
Using tongs, toss the bites in the hot glaze and place back on the wire rack to let excess drip off.
Serve with blue cheese or ranch dressing on the side for dipping.
Select multiple categories to narrow your search! Want appetizers made with chicken? Just select both Appetizers and Chicken!