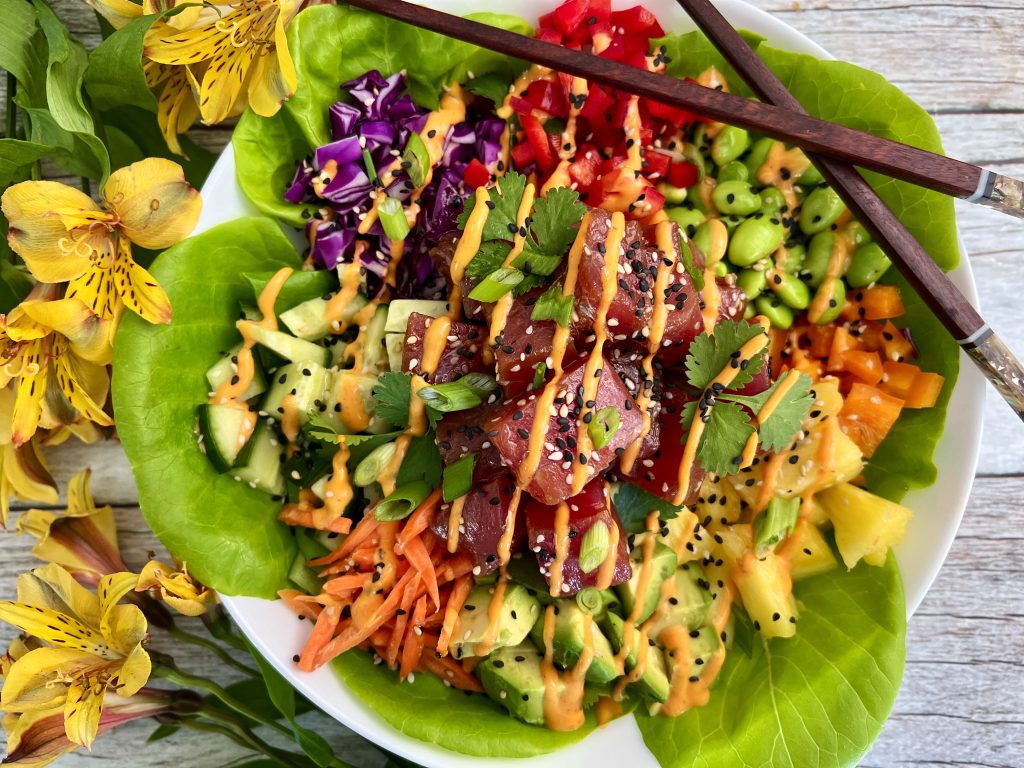 The Tuna:
1/3 cup soy sauce
2 teaspoons sesame oil
¼ cup rice wine vinegar
1 tablespoon olive oil
1 tablespoon fresh lime juice
2 tablespoons brown sugar, packed
1 tablespoons white and black sesame seeds (tuxedo), toasted
1-pound raw sushi grade ahi tuna steak, cut into ¾" dice
The Sriracha Mayo:
½ cup Hellmann's Light mayonnaise
2 tablespoons sriracha sauce
1 tablespoon rice wine vinegar
1 teaspoon sesame oil
2 teaspoons soy sauce
2 teaspoons lime juice
2 teaspoons sugar
The Salad:
1 cup red bell pepper, chopped
1 cup yellow or orange bell pepper, chopped
1 cup purple cabbage, chopped
1 cup English cucumber, chopped
1 cup fresh pineapple, chopped
1 cup edamame beans, shelled
1 cup carrot, peeled, julienned and chopped
1 cup avocado, chopped
¼ cup cilantro leaves for garnish
2 teaspoons black and white sesame seeds, toasted for garnish
Combine the soy, sesame oil, vinegar, olive oil, lime juice, brown sugar, and sesame seeds in a small bowl and whisk vigorously for 1 minute.  Add the tuna and toss to combine.  Set aside.
Combine all of the sriracha mayo ingredients in a small bowl and whisk until smooth and well combined.
Arrange all of the salad ingredients in sections (like pie wedges) in serving bowls.  Place a mound of marinated tuna in the center of the bowl and drizzle several tablespoons of the tuna marinade over the veggies.
Pour the sriracha mayo into a squirt bottle (if desired) and drizzle the top of the salad with the mayo.  Garnish with cilantro leaves and more sesame seeds.
Select multiple categories to narrow your search! Want appetizers made with chicken? Just select both Appetizers and Chicken!