CHINESE SAUSAGE AND YAKISOBA NOODLE FUSION QUICHE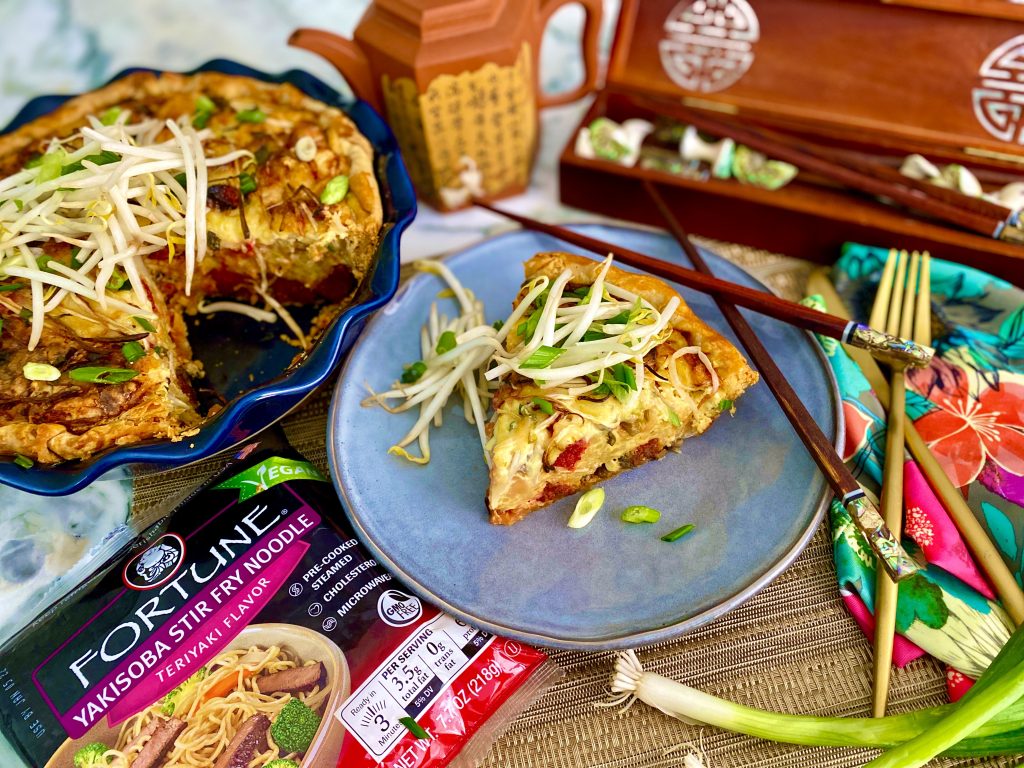 2 tablespoons olive oil
12-ounces Chinese red sausage links
1 small onion, chopped
4 garlic cloves, chopped
1 cup button mushrooms, sliced
1 cup scallions, chopped
6 eggs
1 ½ cups heavy whipping cream
1 teaspoon salt
¼ cup cilantro, chopped
1, 7.7-ounce package Fortune Yakisoba Stir Fry Noodles – Teriyaki Flavor
Refrigerated pie-crust for 1, 9-10" pie
1 ½ cups Gruyere cheese, grated
2 cups bean sprouts
Preheat your oven to 350 degrees.
Heat the olive oil in a large deep skillet over medium heat and add the sausages.  Cover the pan and cook the sausages, turn every couple of minutes until they are seared on all sides.  Add ½ cup of water to the pan and immediately recover, so the sausages can steam and cook through the center.  Cook for another 3-4 minutes, shaking the pan occasionally to turn the sausages.  Remove the sausages from the pan and set aside to cool slightly.
Add the onions, garlic, and mushrooms to the pan drippings and cook, stirring frequently, until soft and fragrant, about 2-3 minutes.  Cut the sausages in half lengthwise and then cut into ½" halfmoons.  Add these to the pan and continue cooking, stirring frequently, until the mushrooms and sausage begin to caramelize, about 3-4 minutes more.  Remove from heat and stir in ½ cup of the scallions. Let the sausage mixture cool slightly while you prepare the eggs and crust.
Combine the eggs, heavy cream, salt, cilantro, and the seasoning packet from the noodles in a medium bowl and whisk until smooth.  Set aside.
Roll the pie crust into a 14" round and place it in a 10" pie plate, allowing the excess dough to hang over the edges.
Place half of the sausage mixture in an even layer in the bottom of the crust.  Top with the yakisoba noodles, pulling them apart with your fingers to make and even layer.  Top with the remaining sausage mixture followed by the grated gruyere cheese and 1 cup of the bean sprouts.
Whisk the egg mixture one more time to reincorporate all of the ingredients and slowly pour it into the pie plate over all of the ingredients.  Top with another ¼ cup of the chopped scallions.  Lightly press the filling ingredients into the egg mixture.
Bake uncovered for 30 minutes.  Cover with foil and bake for another 40-50 minutes until a knife inserted in the center of the quiche comes out clean.  Let set for 20-30 minutes.
Top the quiche with the remaining ¼ cup of scallions and the remaining cup of bean sprouts.
Check out Fortune Yakisoba Noodles at jslfoods.com and follow them at:
Website: http://www.jslfoods.com/
Facebook: https://www.facebook.com/JSLFoods/
Twitter: https://twitter.com/JSL_Foods
Instagram: https://www.instagram.com/jslfoods/
You can purchase Fortune products at:
Safeway, Fred Meyer, QFC, Albertson's, Associated Stores, Cub Foods, United Supermarkets, Roche Bros, Meijer, Shaw's, Stop N Shop, Price Rite, Shop Rite, Wakefern, Price Chopper, Giant, HEB, Walmart and Grocery Outlet
#cooklikeawokstar #norulestostirfry #fortunerecipechallenge
Select multiple categories to narrow your search! Want appetizers made with chicken? Just select both Appetizers and Chicken!