PEACHY PEPPER PORK CUTLETS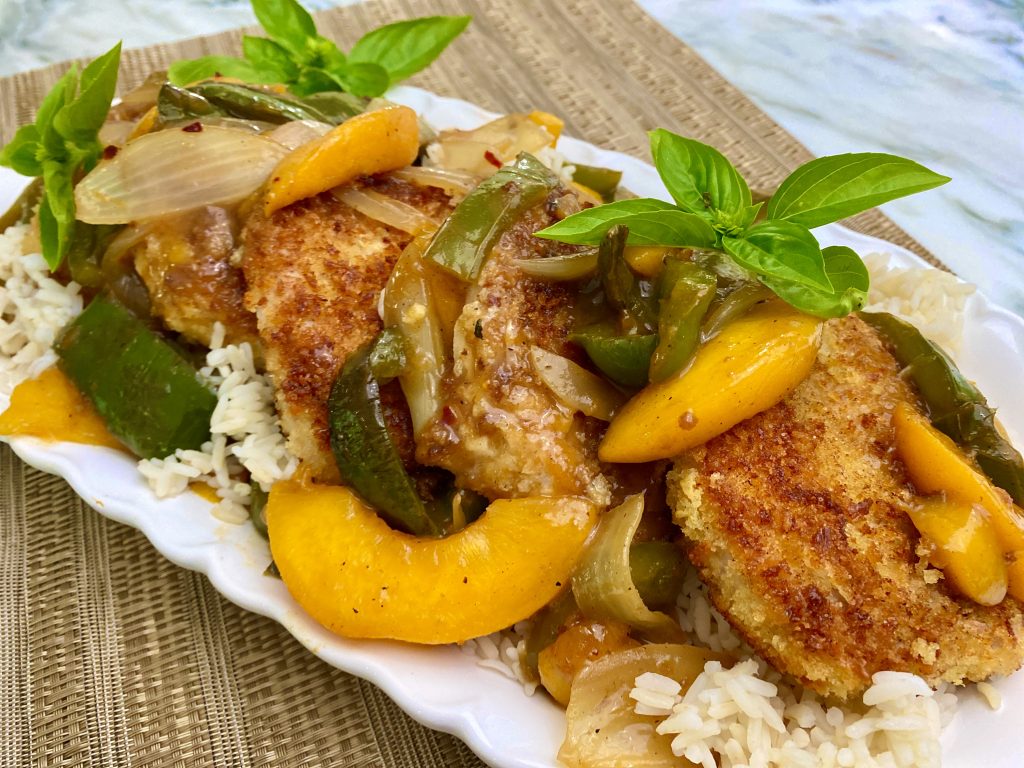 2 ½-pounds boneless pork tenderloin, sliced into 1" steaks
1 ½ teaspoons salt, divided
1 teaspoon black pepper, divided
¼ cup olive oil
2 eggs
2 cups panko breadcrumbs
2 large green bell peppers, cut into ½" thick strips
1 large onion, cut into ½" thick strips
½ cup beef stock (or chicken stock)
3 cups frozen peach slices, thawed (or 3 large fresh peaches peeled and cut into ½" thick slices)
½ cup peach preserves
1 tablespoon soy sauce
¼ teaspoon cinnamon
½ teaspoon red pepper flakes
2 teaspoons Dijon mustard
1 tablespoon corn starch (plus 1 cup water)
3 cups cooked rice
Place each pork tenderloin steak into a large ziplock bag and pound with a mallet to an even ¼"-½" thickness.  Season them on both sides with 1 teaspoon of the salt and ½ teaspoon of the black pepper.
Heat the oil in a large deep skillet over medium high heat.  Create a breading station by beating the eggs in a pie plate or shallow baking dish and placing the panko in another shallow dish.  Coat each cutlet in the egg and then press in the panko to adhere on both sides.  Place the breaded cutlets in the hot oil and cook for about 2-3 minutes per side until golden and just cooked through in the center.  Remove from the pan and tent with foil to keep warm while you prepare the sauce.
Add the sliced green peppers and onion to the pan drippings.  If the pan is very dry, add another tablespoon or two of olive oil.  Cook the peppers and onions, stirring frequently, until they start to soften, about 3-4 minutes.  Pour in the beef stock and stir to pull up any brown bits in the bottom of the pan.  Cover and cook for another 3-4 minutes, stirring occasionally until the onions and peppers are very soft.
Remove the cover and add the peaches, preserves, soy sauce, cinnamon, red pepper flakes, Dijon, and remaining salt and pepper.  Cook, stirring, until the peach preserves are melted and everything is evenly coated.
Dissolve the corn starch in the 1 cup of water and add it to the pan.  Continue cooking until a thick, glossy sauce forms.
Serve the cutlets on top of the rice. Top with loads of the delicious peachy pepper sauce!
Select multiple categories to narrow your search! Want appetizers made with chicken? Just select both Appetizers and Chicken!