WHITE CHOCOLATE RASPBERRY BREAD PUDDING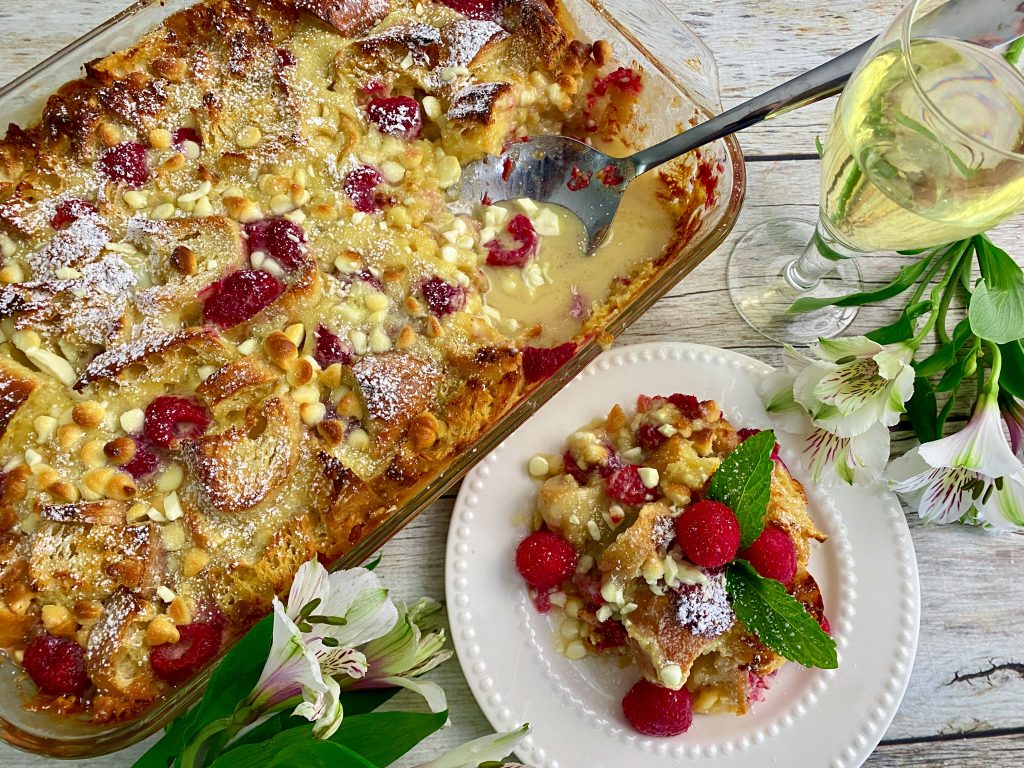 1, 1-pound loaf French bread, cut into 1 ½"-2" cubes (about 8-10 cups)
1 ½ cups fresh raspberries
1 cup white chocolate chips
1, 14-ounce can sweetened condensed milk
½ cup brown sugar, packed
5 eggs
1 cup heavy cream
1 ½ cups light cream
2 teaspoons vanilla
½ teaspoon salt
Preheat oven to 350 degrees.
Spread the bread cubes on a foil-lined baking sheet.  Bake for 6-8 minutes until the bread is toasty and golden, but still soft in the center.  Remove and cool to room temperature.
Place the bread cubs in a 9" x 13" baking dish that has been coated with non-stick spray.  Spread the raspberries and white chocolate chips evenly over the top of the bread.
Combine the condensed milk, eggs, heavy cream, light cream, vanilla, and salt to the bowl and whisk for 1-2 minutes until everything is very well combined. Pour this mixture over the bread in the casserole, pressing down gently with your hands to ensure that everything is covered.  Cover with plastic wrap and refrigerate for at least 4 hours or overnight.  Let the casserole come to room temperature while the oven preheats.  Press the bread down again gently into the liquid before baking.
Preheat oven to 350 degrees.
Bake for 30 minutes until browned and bubbly.
Remove and let cool and set for 20-30 minutes.  Dust with powdered sugar and garnish with a few more fresh raspberries and mint leaves.
Select multiple categories to narrow your search! Want appetizers made with chicken? Just select both Appetizers and Chicken!