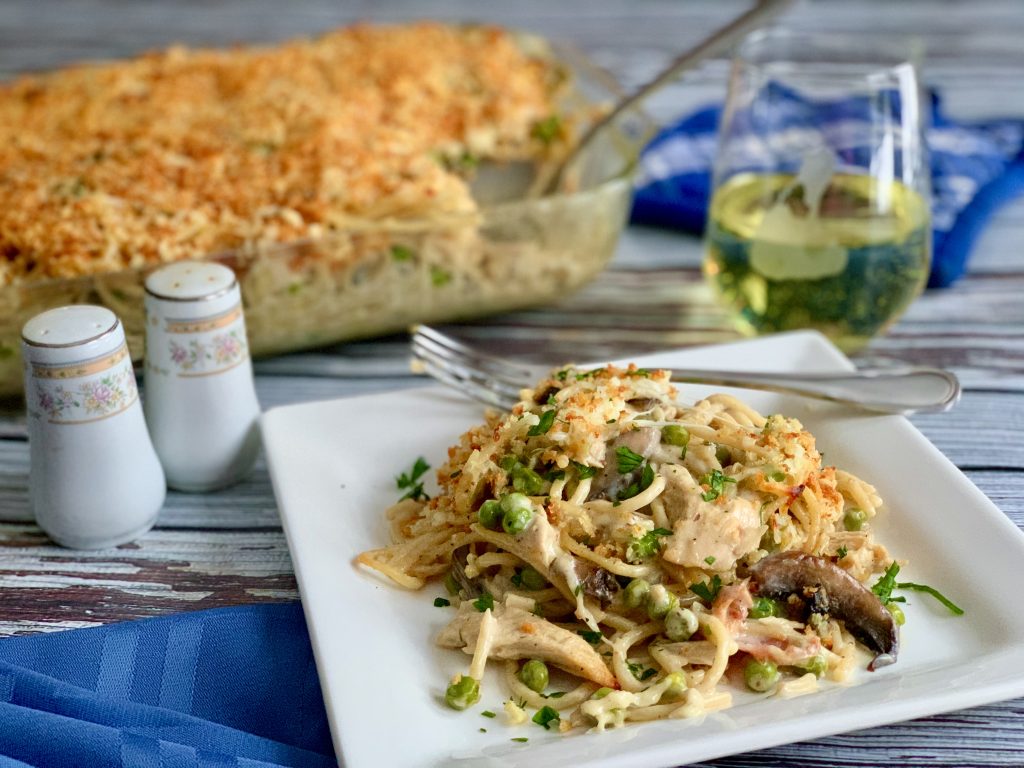 6 tablespoon butter (divided)
1 large onion, chopped
6 garlic cloves, peeled and chopped
1 small green bell pepper, finely chopped (about 1 cup)
8 ounce mushrooms, sliced
1 ½ teaspoon black pepper
4 tablespoon flour
½ cup dry white wine
2 cups chicken stock
8 ounce cream cheese, softened
1 cup heavy cream
1 teaspoon salt
1 teaspoon Dish off the Block Ciao Bella Italian Spice Blend
4 cups cooked turkey meat, shredded into bite-size pieces
2 cups frozen peas
8 bacon strips, cooked crisp and chopped
½ cup parmesan cheese
2 cups shredded mozzarella cheese
1 pound spaghetti, cooked al dente
1 cup panko breadcrumbs
Preheat oven to 375 degrees.
Melt 4 tablespoons of the butter in a large deep skillet over medium high heat.  Sauté onions, garlic, and green pepper until soft and fragrant.  Add mushrooms and black pepper and continue to cook, stirring frequently, until mushrooms are soft and begin to lightly brown.  Add flour and stir until it well combined and all moisture is absorbed.
Add the white wine and continue to stir until even consistency and then add chicken stock and continue stirring until a thick gravy forms, about 3 minutes.  Cut the cream cheese into chunks and add to the sauce, stirring until it melts.  Add heavy cream, salt, and Italian seasoning and continue to cook at a low boil as sauce thickens.
Add the turkey, peas, bacon, parmesan, and ½ cup of the shredded mozzarella to the sauce.  Stir to combine and turn off the heat.
Spray a 9" x 13" baking dish with non-stick cooking spray.  Spread the pasta and sauce in the pan and top with the remaining 1 ½ cups of the mozzarella.  Bake for 10 minutes and remove from oven.
While the pasta is baking, melt the remaining 2 tablespoons butter in a large sauce pan and add the panko.  Cook, stirring until lightly browned.  Top the casserole with the crumbs and place back in the oven.  Cook for another 10 minutes until bubbly and browned.
Cut into squares and serve hot.
You can also make this casserole a day in advance.  Bring to room temperature before baking and cook and additional 5-10 minutes until hot in the center.
Select multiple categories to narrow your search! Want appetizers made with chicken? Just select both Appetizers and Chicken!