TURKEY CROQUETTES WITH MUSHROOM GRAVY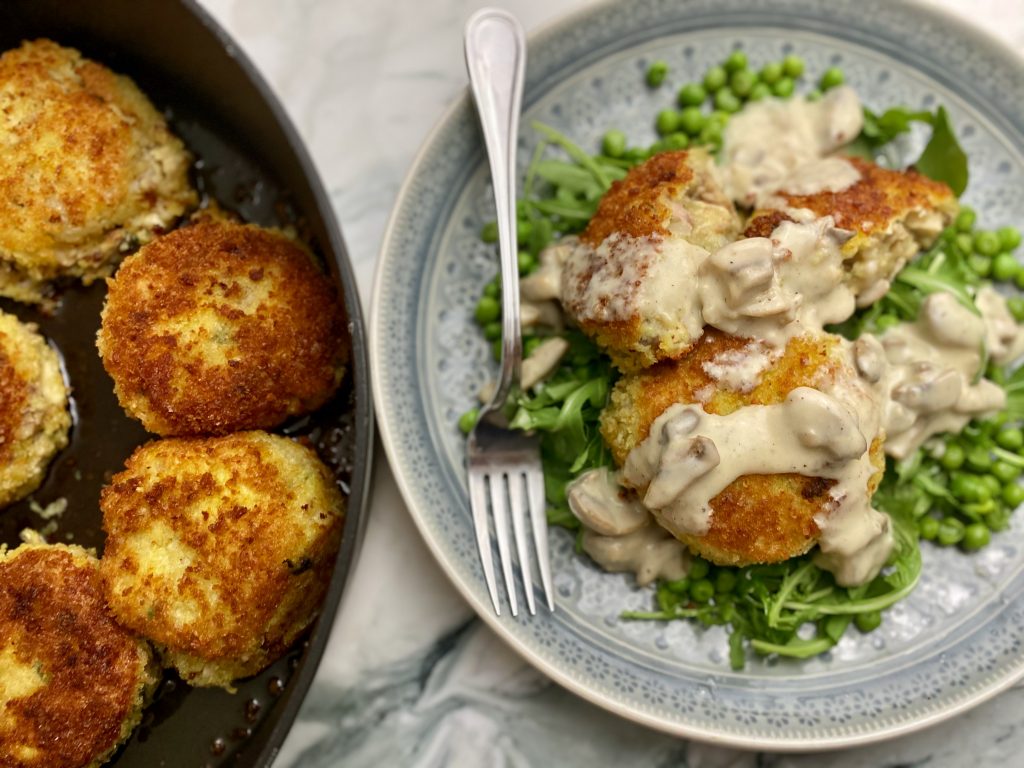 Croquettes:
3 tablespoons butter
1 medium onion, chopped
2 tablespoons fresh sage leaves, chopped
3 cups leftover turkey (white and dark meat), chopped into small pieces
½ teaspoon salt
½ teaspoon black pepper
2 tablespoons flour
⅓ cup heavy cream
1 cup leftover mashed potatoes, cold or room temperature
2 eggs
½ cup flour
1 cup panko breadcrumbs
2 tablespoons olive oil
2 tablespoons vegetable oil
Mushroom Gravy:
4 tablespoons butter
1 pint mushrooms, sliced and rough chopped
½ teaspoon salt
½ teaspoon black pepper
3 tablespoons flour
⅔ cup heavy cream
1 cup chicken or turkey stock
2 cups arugula leaves
1 cup frozen peas, cooked to package directions
To make the croquettes, melt the butter in a large deep skillet over medium high heat.  Cook the onions and sage until soft and fragrant, about 3-4 minutes.  Add the turkey, salt and pepper to the pan and stir to coat.  Add the flour and cook for 1 more minute, stirring.  Add the heavy cream and cook for 2-3 minutes until all of the liquid is absorbed and turkey is coated.  Remove to a large bowl and set aside to cool for 10 minutes.
Add the mashed potatoes and 1 beaten egg to the bowl and mix to combine.  Place this mixture in the freezer for 15 minutes to set (or in the fridge for at least 30 minutes).
Dust your hands with flour and form the turkey/potato mixture into 6 thick patties.  Dip the patties in flour to coat all over.  Place floured patties on a foiled lined baking sheet or pan, coated with nonstick spray and place in the freezer for 30 minutes.
While the croquettes set in the freezer, make the mushroom sauce. Melt the 4 tablespoons of butter in the same pan you cooked the turkey mixture in.  Add the mushrooms and cook for 5-6 minutes, stirring frequently, until lightly browned.  Add the salt, pepper, and flour to the pan.  Cook for another minute stirring to coat the mushrooms.  Add the heavy cream and stock to the pan and cook, whisking, until a rich thick gravy forms, about 5 minutes.  Set aside and keep warm.  If the gravy gets too thick, stir in a little more heavy cream before serving.
Remove the croquettes from the freezer.  Beat the remaining egg in a small bowl and place the panko breadcrumbs in another bowl.
Heat the olive and vegetable oils in a large skillet over medium high heat (oil should be about ¼" in the bottom of the pan).
Dip the croquettes in the egg and then coat in the panko, pressing to adhere.  Add the croquettes to the hot oil and cook until golden brown, about 3-4 minutes per side.
Serve the hot croquettes over arugula leaves and warm peas and top with the mushroom gravy.  DEVOUR.
Select multiple categories to narrow your search! Want appetizers made with chicken? Just select both Appetizers and Chicken!