TOURNEDOS ROSSINI – BEEF TENDERLOIN, WITH FOIE GRAS, PORT WINE DEMI-GLACE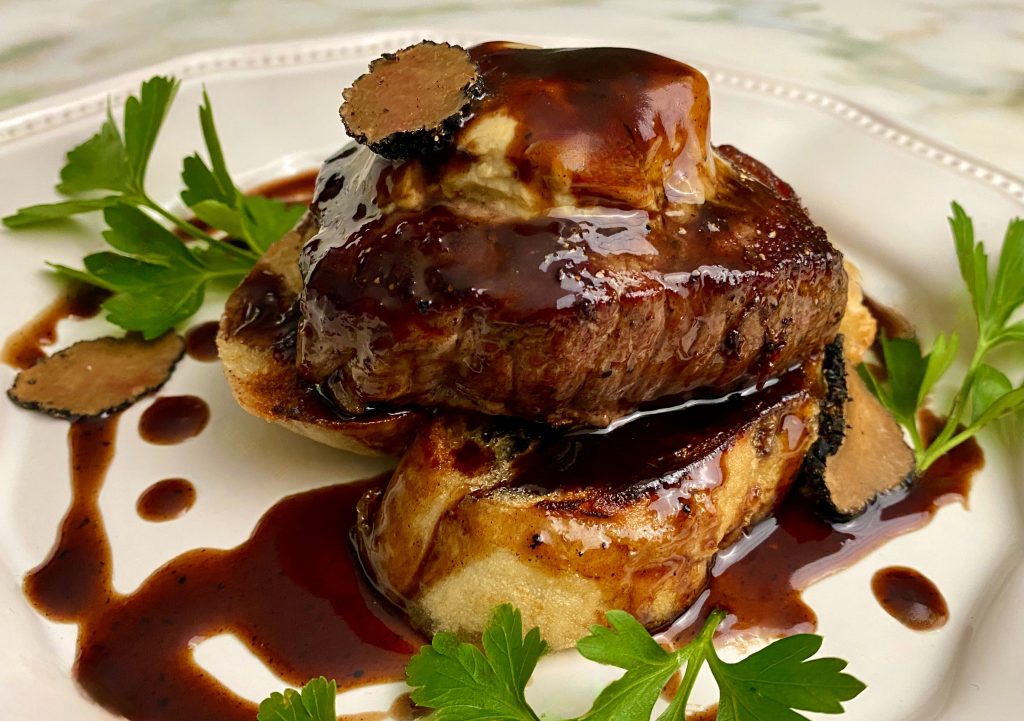 10 tablespoons butter, divided (keep 6 tablespoons cold in the fridge until the last step of making the sauce)
8, ½" thick slices French baguette
4, 1-1 ½ ounce foie gras medallions, cold
1 teaspoon salt
½ teaspoon black pepper
2 tablespoons olive oil
4, 4-6-ounce beef tenderloin filets, about 1 ½-2" thick
2 tablespoons shallot, finely chopped
1 cup port wine
2 cups veal or beef stock
4-ounces veal demi-glace
1 black truffle, very thinly sliced (optional)
Parsley for garnish
Preheat oven to 300 degrees.
Melt 3 tablespoons of the butter in a large cast iron skillet over medium high heat.  Add the baguette slices and cook for about 2 minutes per side until they are toasty and golden brown.  Remove and place on a rimmed baking sheet lined with foil.  Place the baking sheet in the oven to keep warm.
Season the foie gras medallions on both sides with about ¼ teaspoon of the salt and 1/8 teaspoon of the black pepper.  Add them to the drippings in the hot skillet and sear for about 1 minute on the first side until browned and then flip and cook for 30-45 seconds on the second side.  Add them to the baking sheet with the bread and place back in the oven to keep warm.  (Note – if you are using a foie gras pate rather than fresh whole foie gras, skip the searing step and just place a slice of the pate on the hot steaks when you are ready to serve.)
Add the olive oil to the pan drippings and bring the pan back up to medium high heat.  Pat the filets dry with paper towels and season them on both sides with the remaining salt and pepper. Place the steaks in the hot skillet and sear on each side for 4-5 minutes until caramelized and browned and the internal temperature registers 125 degrees for medium rare.  Remove from the pan and let rest, tented with foil, while you make the sauce.  Note – it is very important to let them rest for at least 10-15 minutes, even if you are not making a sauce.
Add 1 tablespoon of the remaining butter to the pan drippings and cook the shallots for 1 minute.  Add the wine and stock to the pan and bring to a boil. Cook stirring and scraping up any brown bits on the bottom of the pan.  Let boil for 8-10 minutes until the liquid is reduced by a little more than half.  Stir in the demi-glace and cook for 2 more minutes.  Turn off the heat.  Cut the remaining COLD butter into pats and whisk, 2 at a time, it into the pan until a rich, glossy sauce forms.
To Serve, place 1 or 2 pieces of the toasted baguette (you want the bread to be about the same size as the beef) on a plate and top with 1 filet, 1 piece of foie gras, and pour the luscious port wine sauce over the top.  Shave several slices of truffle over the top and garnish the plate with parsley leaves.
Select multiple categories to narrow your search! Want appetizers made with chicken? Just select both Appetizers and Chicken!