TACO'BOUT STUFFED ZUCCHINI BOATS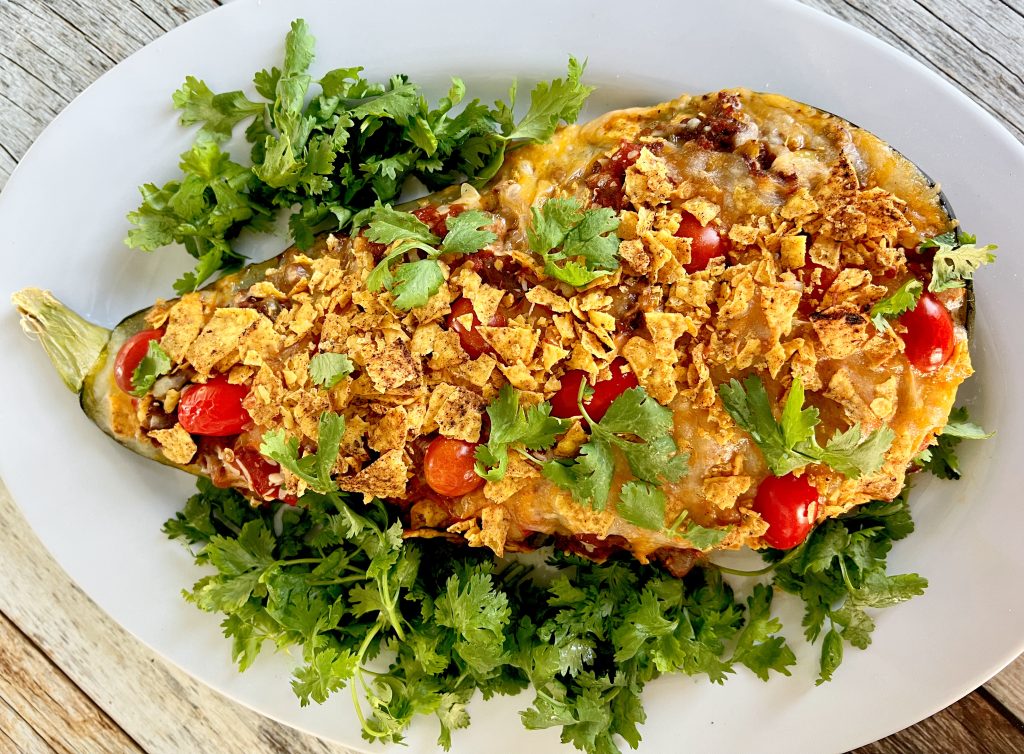 1 large zucchini 12-14" or 2 medium zucchinis 8-10" (about 3.5 pounds total)
3 tablespoons olive oil
1 large onion, chopped
1 jalapeno pepper, chopped including seeds
1 small red bell pepper, chopped
1 small yellow bell pepper, chopped
1 small orange bell pepper, chopped
2 ½ pounds ground beef (85/15)
2 teaspoons salt, divided
1 teaspoon Dish off the Block Ragin' Cajun Spice Blend
2, 1-ounce packets taco seasoning mix
1 cup frozen corn, thawed
½ teaspoon black pepper
4 cups shredded Mexican blend or cheddar jack cheese
1 cup medium spicy salsa
1 cup grape or cherry tomatoes, cut in half
½ cups Doritos, crushed to crumbs
¼ cup cilantro leaves
Fill a large pot with water and bring to a boil (the water should be deep enough to cover the length of the zucchini).  Slice zucchini(s) in half lengthwise and immerse in the boiling water.  Let cook until tender when pierced with a fork, about 15-20 minutes depending on the size.  Remove from water and let cool, cut-side-down, on paper towels.
Preheat oven to 375 degrees.
When the zucchini is cool enough to handle, use a spoon to scoop out the pulp from each zucchini half, leaving enough inside so the shell keeps its shape.  Drain the pulp and press with paper towels to remove most of the moisture.  Chop pulp into bite size pieces and set aside.
Heat the olive oil in a large deep skillet over medium high heat.  Cook the onions, jalapenos, and the bell peppers, stirring frequently, for 4-5 minutes until they are soft and fragrant.  Add the ground beef, 1 ½ teaspoons of the salt, the Ragin' Cajun, taco seasoning, and the chopped zucchini pulp to the pan.  Cook, breaking the beef up with a spatula until the beef is cooked through, about 6-8 minutes.  Remove from heat and stir in the corn.
Line a large baking sheet with foil and coat with non-stick spray.  Place the zucchini shells on the foil, cut-side-up, and dab any excess moisture out of the inside of the shells with paper towels.  Season the insides with the remaining ½ teaspoon of salt and the black pepper.
Spread 2 cups of the shredded cheese in the bottoms of the zucchini shells and top with the beef mixture.  Spread the salsa over the beef mixture and top with the remaining cheese.  Gently push the tomatoes, cut side down, into the cheese all of the tops.  Finish by topping evenly with the crushed Doritos.
Bake for 20-30 minutes until the cheese is melted and the tops are lightly browned.  Garnish with the cilantro leaves.  Cut into slices and devour.  Optional, serve sour cream on the side.
Select multiple categories to narrow your search! Want appetizers made with chicken? Just select both Appetizers and Chicken!