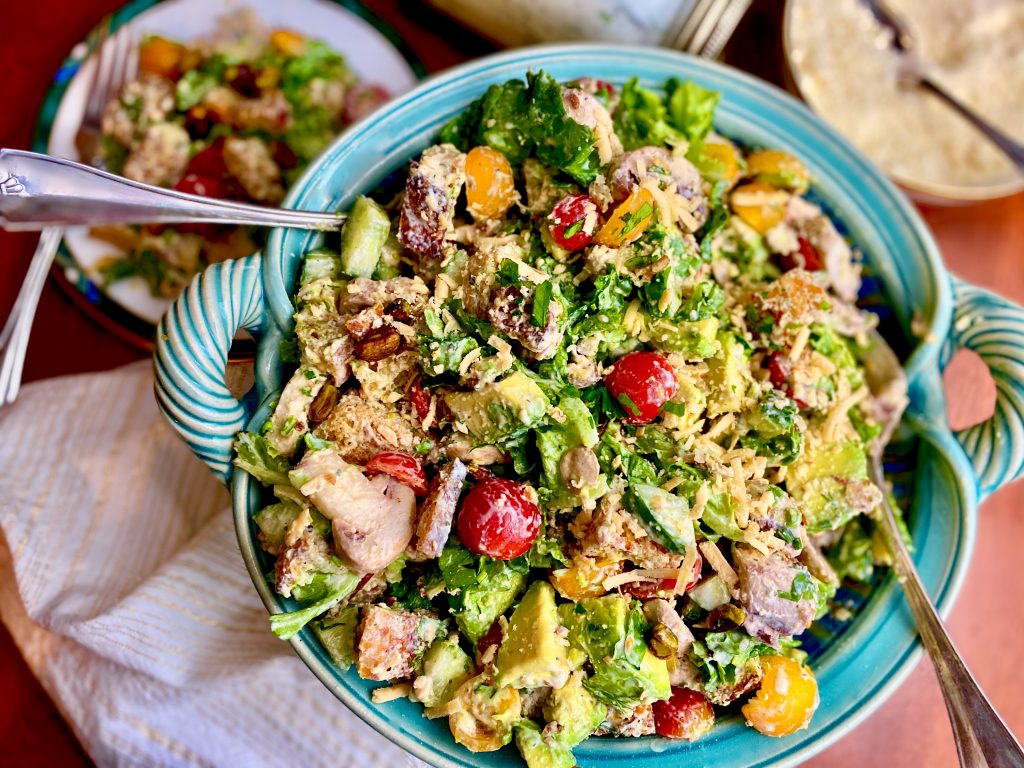 7-ounces mixed greens or 1 head romaine lettuce, chopped
1 pint cherry or grape tomatoes, cut in half
1 ½ cups English cucumber, chopped into ½" pieces
1 pint white mushrooms, sliced
1 cup smoked gouda cheese, shredded
1 ½ cups croutons (recipe below)
¼ – ½ cup Ranch dressing (recipe below)
2 avocados, pitted and chopped into ½" pieces
½ cup pistachios, shelled
CROUTONS
1 loaf sour dough or other crusty white bread, cut into 1" cubes
1 tablespoon Dish off the Block Ciao Bella Italian Spice Blend
⅓-½ cup olive oil
½ cup grated or shredded parmesan cheese
RANCH DRESSING
½ cup sour cream
½ cup Hellmann's Light Mayonnaise
1 cup buttermilk
½ teaspoon Worcestershire sauce
2 tablespoons fresh chives, chopped
1 tablespoon fresh dill, chopped
1 tablespoon Dish off the Block Ciao Bella Italian Spice Blend
½ teaspoon black pepper
½ teaspoon salt
Combine the greens, tomatoes, cucumbers, mushrooms, shredded gouda, and croutons in a large bowl.  Toss with ¼ cup of the dressing.  Add the avocado and more dressing, if desired and gently fold the avocado into the salad. Sprinkle the pistachios over the top.
CROUTONS
1 loaf sour dough or other crusty white bread, cut into 1" cubes
1 tablespoon Dish off the Block Ciao Bella Italian Spice Blend
⅓-½ cup olive oil
½ cup grated or shredded parmesan cheese
Preheat oven to 400 degrees.  Place bread cubes on a foil lined cookie sheet.  Sprinkle the Italian Seasoning over the bread and drizzle with the olive oil.  Toss with your hands until the bread is evenly coated all over.  Sprinkle the parmesan cheese evenly over the top.  Bake for 10 minutes.  Toss the croutons again and bake for another 10-15 minutes until browned all over and crispy.  Store for up to 1 week in a large ziplock bag.
RANCH DRESSING
½ cup sour cream
½ cup Hellmann's Light Mayonnaise
1 cup buttermilk
½ teaspoon Worcestershire sauce
2 tablespoons fresh chives, chopped
1 tablespoon fresh dill, chopped
1 tablespoon Dish off the Block Ciao Bella Italian Spice Blend
½ teaspoon black pepper
½ teaspoon salt
Combine all of the ingredients together in a large jar and shake, shake, shake!
Dressing will keep in the fridge for 1-2 weeks.
Select multiple categories to narrow your search! Want appetizers made with chicken? Just select both Appetizers and Chicken!