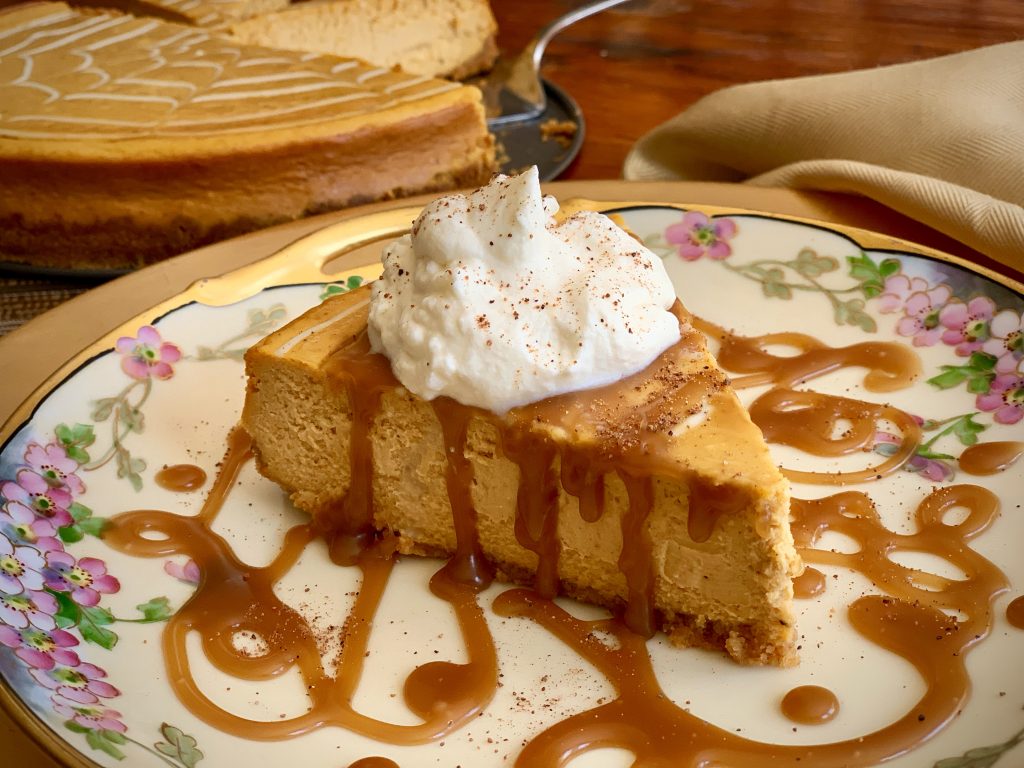 5 tablespoon butter, melted
1 ¼ cup graham cracker crumbs
2 cups sugar
4, 8 ounce bars cream cheese, very soft
3 tablespoon flour
1 teaspoon cinnamon
½ teaspoon nutmeg
⅛ teaspoon ground cloves
½ teaspoon salt
1, 15.5 ounce can pumpkin puree
1 tablespoon vanilla
4 large eggs
½ cup sour cream (optional)
Whipped Cream
1 cup heavy cream
2 tablespoon powdered sugar
½ teaspoon vanilla extract
Caramel Sauce
½ cup brown sugar, packed
¼ cup heavy cream
2 tablespoon butter
2 teaspoon vanilla
Preheat oven to 350 degrees.
Combine the melted butter, graham cracker crumbs, and ¼ cups of the sugar in a large saucepan until well combined.  Press this crumb mixture into the base of a 9" spring-form pan pushing the crumbs about ½" up the sides of the pan.  Bake for 10 minutes.
Combine the cream cheese and remaining 1 ¼ cups sugar in a large bowl and beat with an electric mixer on low speed until just combined.
Combine the flour, cinnamon, nutmeg, cloves, and salt in a small bowl and then add to the cream cheese mixture along with pumpkin and vanilla.  Mix on low until just combined.  Turn the mixer to medium and add the eggs one at a time, beating until combined after each.  Scrape the edges of the bowl with a rubber spatula to ensure everything is incorporated and beat for another 15 seconds until well mixed.
Pour the filling on top of the crust and let settle.
Optional – Put the sour cream in a squeeze bottle or pastry bag with a thin tip.  Beginning in the center, pipe concentric circles.  Using a toothpick or the tip of a steak knife, gently pull lines from the center to the edge of the pan about the distance of pie slices, creating a web-like design.
Place the pan on a rimmed baking sheet and place in the 350 degree oven.  Immediately turn the heat down to 300 degrees and bake for 45 minutes. DO NOT OPEN THE DOOR.  After 45 minutes, turn off the heat and let the cheesecake sit in the oven for 2 hours (do not open door).
Let come to room temperature and then refrigerate for 3-4 hours or overnight.
Serve in wedges drizzled with caramel, topped with whipped cream, and dusted with nutmeg.
Whipped Cream
Place all of the ingredients in a blender and pulse several times until the cream thickens.  Push down the sides and continue to pulse until you reach the desired consistency.  You may have to scrape the sides a few times before the cream is whipped to your desired thickness.
Select multiple categories to narrow your search! Want appetizers made with chicken? Just select both Appetizers and Chicken!