PULL APART CHRISTMAS TREE MOZZARELLA BREAD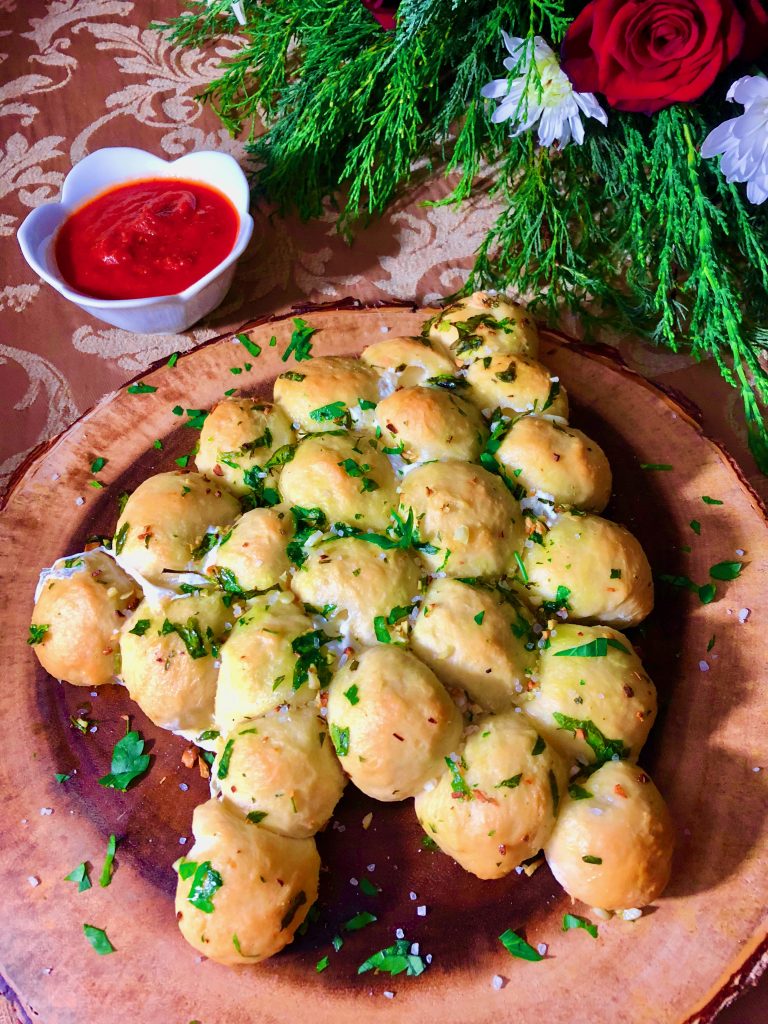 1-pound pizza dough (store bought or recipe below)
24, 1" mozzarella balls
6 tablespoons butter
6 large garlic cloves, chopped
2 teaspoons sea salt
2 tablespoons fresh parsley, chopped
1 cup spaghetti sauce
Pizza Crust
2 tablespoons olive oil (plus 2 teaspoons to oil the bowl)
1 tablespoon honey
1 ½ cups warm water (115 degrees)
1 packet yeast
2 teaspoons salt
3 ½ – 4 cups flour
Preheat oven to 400 degrees.  Prepare a cookie sheet with non-stick spray or parchment paper.  A sheet with no sides is preferable so you can easily transfer your tree to a platter.
Cut the dough in half, then cut each half in half and continue this process until you end up with 24 even pieces of dough.  Flatten each piece with your hands and place one mozzarella ball on the dough.  Seal the dough around the ball carefully to tightly pinch any open edges together or they will burst and the cheese will seep out in the oven.
Place the dough balls, seam side down in the shape of a Christmas tree (triangle) on the cookie sheet.
Melt the butter in a sauce pan with the garlic cloves cook stirring for 2 minutes until garlic is fragrant.  Brush the 'tree' with the garlic butter all over and sprinkle with the sea salt.  Bake for 15-20 minutes golden brown.
Transfer to platter and garnish with chopped parsley and serve with warmed spaghetti sauce.
Pizza Dough
Place olive oil, honey, and water into the bowl of a stand mixer.  Stir to dissolve honey into the water (so it doesn't stick to the bottom of the bowl).  Sprinkle the yeast on top of the liquid mixture, stir, and let sit for 5-10 minutes until yeast becomes foamy.  Add salt and 2 ½ cups of the flour.  Mix using the dough hook attachment.  Gradually add as much of the remaining flour as needed until a ball forms.  Empty dough onto a floured countertop and knead for 10-15 minutes until dough is smooth and elastic adding flour as needed if sticky.
Place dough in a greased bowl and cover with a clean kitchen towel.  Let rise in a warm spot for 1 hour until doubled in bulk.  Knead dough briefly and divide into 2 equal parts and form balls.  Let rest for 30 minutes under a clean kitchen towel.  If you are not using both balls, refrigerate each ball in a plastic bag sprayed with cooking spray for up to 5 days.
*Makes dough for 2 pizzas (2 pounds ) so you only need half for the Christmas tree bread
Select multiple categories to narrow your search! Want appetizers made with chicken? Just select both Appetizers and Chicken!