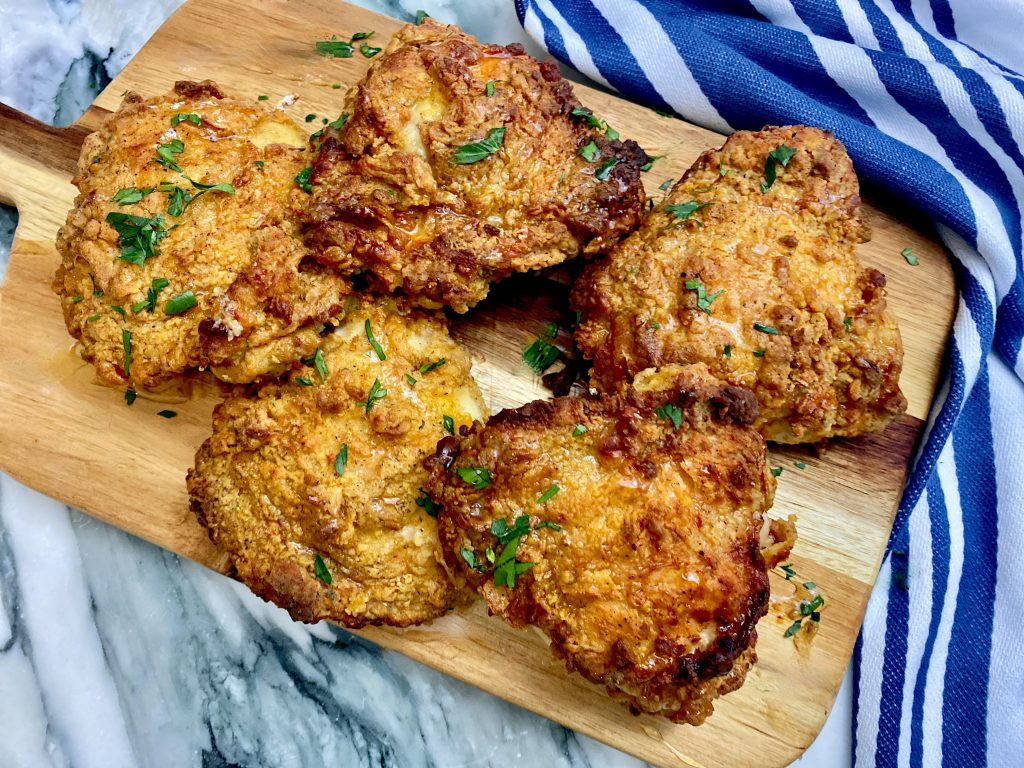 Spice Blend:
1 teaspoon dried thyme
1 teaspoon dried basil
1 teaspoon dried oregano
3 teaspoons salt
2 teaspoons celery salt
2 teaspoons black pepper
2 teaspoons dried ground mustard
1 ½ tablespoons paprika
1 tablespoon garlic powder
2 teaspoons ground ginger
1 tablespoons ground white pepper
3 ½ – 4-pounds bone-in, skin-on chicken thighs (or cut of your choice)
2 cups buttermilk
1 egg
1 ½ cups flour
1 tablespoon baking powder
2-3 tablespoons olive oil
2-3 tablespoons honey
Combine the thyme, basil, and oregano in a small bowl and crush them with the back of a spoon into a powder (or process in a spice blender).   Add all of the remaining spices to the bowl and whisk to combine.
Trim any excess fat off the chicken thighs.  Place the trimmed thighs in a medium size bowl and add 2 tablespoons of the spice mix.  Toss to evenly coat the thighs in the spices.
Whisk the buttermilk and egg together and pour it over the seasoned thighs.  Toss to coat.  Let marinade for at least 1 hour or as long as overnight.
Add the flour and baking powder to the remaining spice blend and whisk to combine.
Line a rimmed baking sheet with foil and place a metal cooling rack on the foil.  Spray the rack with non-stick spray.
To bread the chicken, let the excess buttermilk drip off the chicken and dip each piece in the seasoned flour, turning to fully coat.  Place the breaded chicken pieces on the cooling rack and let rest for an additional 45 minutes.
Preheat oven to 350 degrees.
Place the chicken in the oven and bake for 15 minutes.  Remove and drizzle the tops with about ¼ cup of the olive oil to cover the tops.  Bake for an additional 15 minutes and pull out again and lightly drizzle the chicken with a little more olive oil.  Bake for another 10-15 minutes until the skin is crispy, the juices run clear, and internal temperature is 165 degrees.
Let rest for 10 minutes, uncovered.  Drizzle the honey over the top and chow down!
Select multiple categories to narrow your search! Want appetizers made with chicken? Just select both Appetizers and Chicken!