MAGNIFICENT MEATLOAF/SHEPHERD'S PIE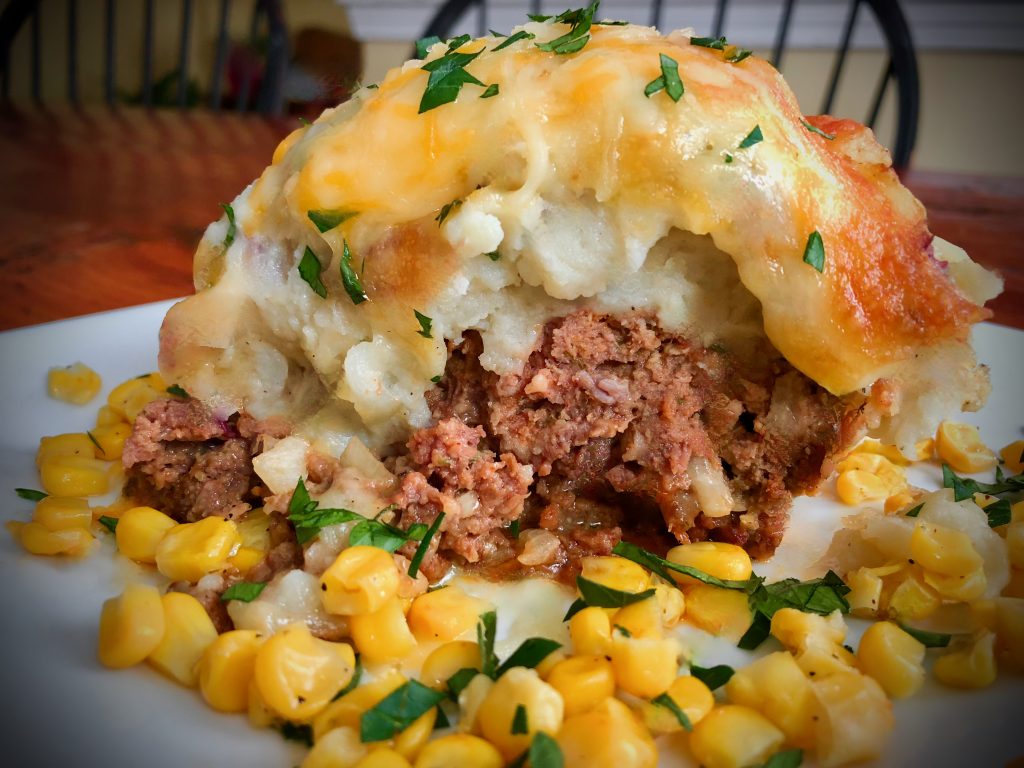 THE MEATLOAF:
3 slices white bread
1 cup milk
2 ½ – 3 pounds 80/20 ground beef
1 large onion, chopped
1 jalapeño, chopped fine
2 tablespoons fresh thyme leaves
¾ cup flavored bread crumbs
¾ cup grated parmesan cheese
½ cup ketchup
¼ cup A1 Sauce
2 teaspoons prepared horseradish
1 tablespoon Worcestershire sauce
1 tablespoon Soy sauce
1 egg, beaten
1 teaspoon salt
1 teaspoon black pepper
2 teaspoons garlic powder
FOR SHEPARD'S PIE:
3 cups leftover mashed potatoes
1 ½ cups grated cheddar or cheddar jack cheese
Preheat oven to 375 degrees
Tear the bread into small pieces and place in a small bowl with the milk.  Soak until milk is mostly absorbed.
Place the of the meatloaf ingredients in a large bowl along with soaked bread.  Mix thoroughly, kneading with your hands to ensure that all of the flavors are mixed throughout the meat.
Place the entire hamburger mixture in a large, ungreased loaf pan or small casserole dish.
Bake for 50 minutes to 1 hour or until bubbly and cooked through in the center.
For Shepherd's pie, bake meatloaf mixture in a pie plate or casserole dish for 30 minutes.  Remove from oven and top with the mashed potatoes (warm in the microwave first so they spread easily) in an even layer and cover with shredded cheese.  Bake for another 20-30 minutes until bubbly and the cheese is melted and lightly browned.
This meatloaf is a flavorful, hearty dish that reminds me of home.  This basic recipe, like many of the others in my repertoire, have been passed down through several generations.  However, with this one, each generation has added their own twist making it uniquely there own.  After all, you can never make the same meatloaf twice!
Select multiple categories to narrow your search! Want appetizers made with chicken? Just select both Appetizers and Chicken!