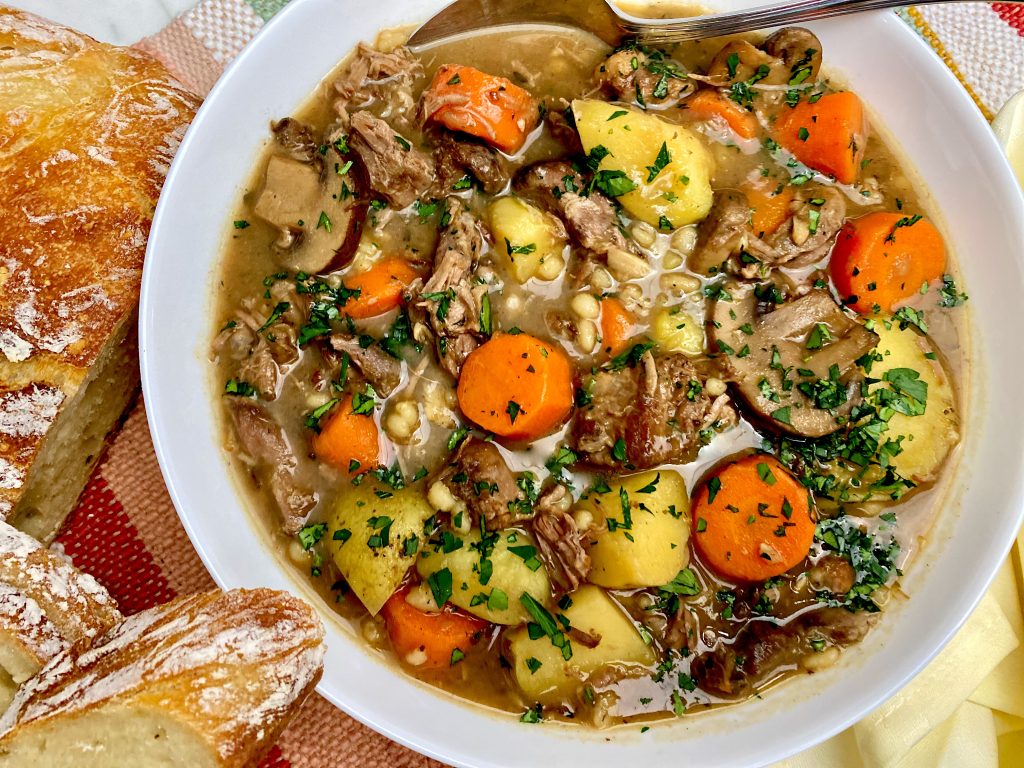 3 tablespoons olive oil
3 ½ – 4 pounds lamb shanks (or 1 leftover leg of lamb with meat still on the bone*)
1 ½ teaspoons salt, divided
1 ½ teaspoons black pepper, divided
¼ cup + 2 tablespoons flour, divided
2 large onions, chopped
6 cloves garlic, chopped
12-ounces mushrooms, sliced into ½" slices
12-15 fresh thyme sprigs, tied in a bundle with kitchen string
3 tablespoons fresh rosemary leaves, stemmed and chopped
2 cups red wine
8 cups beef stock
2 ½ cups water, divided
¼ cup raw barley
2 ½-pounds Yukon gold potatoes, cut into 2-3" pieces
5 cups carrots, cut into 2-3" pieces
2 tablespoons fresh parsley, chopped
Heat the olive oil in a large Dutch oven or soup pot (8-10 quart) over medium high heat.
Season the lamb shanks all over with the 1 teaspoon each of the salt and pepper.  Place the flour in a large ziplock bag and add the seasoned lamb.  Shake to coat, knock off excess, and place in the hot oil.  Sear well on all sides, until mahogany brown and crispy, about 2 minutes per side.  Remove from pan and set aside.
Add the onions and garlic to the pan drippings and cook for 2 minutes until soft and fragrant.  Add the mushrooms, thyme bundle, and rosemary to the pan and continue cooking, stirring frequently, until the mushrooms are soft and lightly browned.
Add the lamb back into the pan.  Cover with the wine, beef stock, and water.  Bring to a boil and, then, turn the heat to low and cover, leaving a small space between the cover and pot so some steam can escape.  Cook for 2 ½-3 hours until the meat is falling off the bones.
Remove the lamb from the pan and set aside to cool.
Skim any fat off the top of the broth with a large flat spoon.
Add the barley, potatoes, and carrots to the pot and bring to a boil. Turn the heat to low and cover, leaving a small vent.  Cook for 1 hour or until the barley is cooked and potatoes and carrots are tender.
Shred the lamb into bite-size pieces and add back into the pot along with remaining ½ teaspoon each of salt and pepper and bring to a low boil.
Combine the remaining 2 tablespoons of flour with the remaining ½ cup of water in a large jar and shake until flour is dissolved.  Add it to the pot and cook, stirring frequently, for 2 minutes until the broth thickens.  Serve hot in bowls, garnished with parsley and crusty bread on the side.
*If you are using a leftover lamb leg, you do not need to sear the cooked leg.  Instead cook the onions, garlic, and mushrooms in the olive oil and just add the leg (cut or broken in half if large, so if fits in the pot).  Then, add liquid and follow the steps as above.  You can also add a lamb shank or some cubed lamb if you do not have enough meat on the bone.
Select multiple categories to narrow your search! Want appetizers made with chicken? Just select both Appetizers and Chicken!