FUNKY PEACHY CHICKEN CHILI WITH AVOCADO AND GORGONZOLA NACHO TOPPERS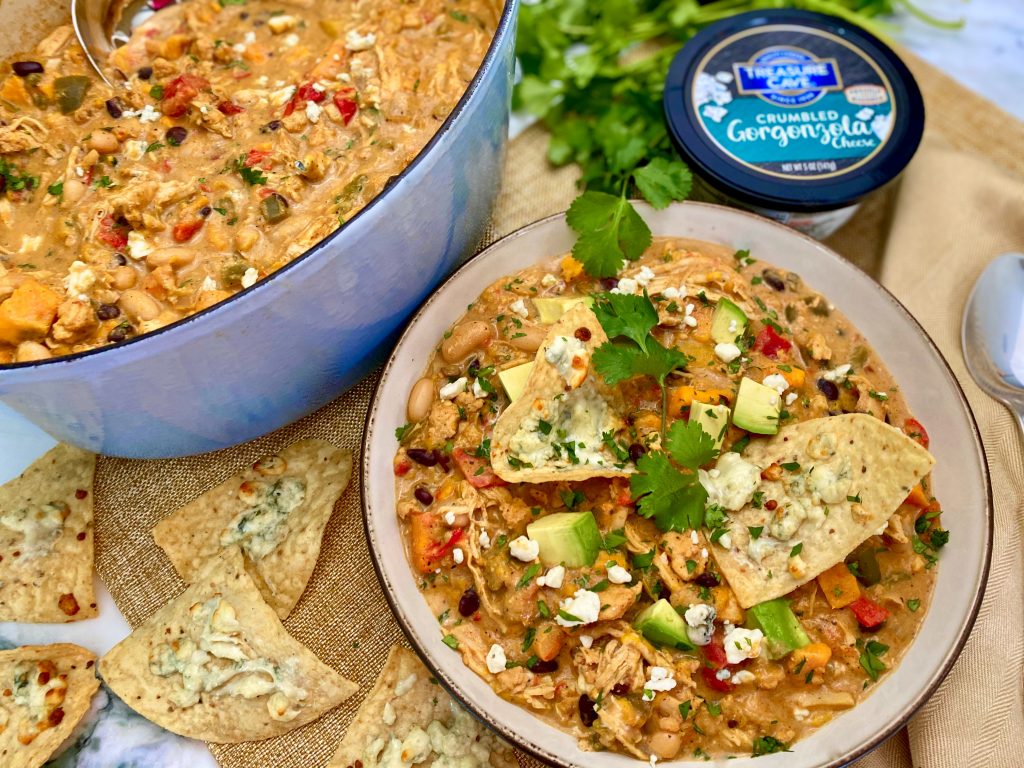 2 tablespoons olive oil
1 large onion, chopped
2 jalapeños, chopped fine including seeds
1 green bell pepper, chopped
1 red bell pepper, chopped
1 pound ground chicken
1 ½ tablespoons Cajun Spice Blend
1 tablespoon chili powder
1 tablespoon cumin
1 teaspoon salt
1 teaspoon black pepper
1, 29-ounce can sliced peaches in heavy syrup
1, 14-ounce can diced tomatoes
1 large sweet potato, peeled and chopped into ½ " dice
2 large raw boneless chicken breasts, about 1 ½ pounds
1, 8-ounce bar cream cheese, softened
1, 19-ounce can cannellini beans, drained and rinsed
1, 15.5-ounce can black beans, drained and rinsed
1 bag tortilla chips
2, 5-ounce containers Treasure Cave Crumbled Gorgonzola Cheese
1 avocado, chopped
2 tablespoons fresh cilantro leaves, chopped
Heat the olive oil in a large Dutch oven (6-7 quart) over medium-high heat.  Cook the onions, jalapeños, green bell pepper, and red bell pepper for 8-10 minutes, stirring frequently until veggies are soft and fragrant.
Add the ground chicken, Cajun spice, chili powder, cumin, salt, and black pepper to the pan.  Cook, stirring, and breaking up the ground chicken with a spatula for about 5 minutes until the chicken is mostly cooked through.  Add the peaches (with their juices) to the pan and continue to cook, breaking up the peaches with the spatula for 4 minutes more.
Add the canned tomatoes, sweet potatoes, chicken breasts, and cream cheese to the pan and bring to a boil, stirring frequently.  Reduce the heat to low and cover the pot, leaving a small opening for some steam to escape.  Cook for 1 hour, stirring occasionally, until the sweet potatoes are tender and the chicken breasts are cooked through.
Remove the chicken breasts and shred into bit size pieces with 2 forks. Put the shredded chicken back in the pot along with the cannellini and black beans.  Cook for another 5-7 minutes on a low boil, stirring frequently, to further let the flavors meld.
To make your gorgonzola nachos, preheat your oven to 400 degrees.  Spread your tortilla chips on a foil-lined rimmed baking sheet.  Top the chips with 5-ounces (one container) of the Treasure Cave Crumbled Gorgonzola Cheese.  Bake for 8-10 minutes until the cheese is melted and begins to lightly brown on the chips.
Just before serving, fold ½ of the remaining 5-ounce container of crumbled gorgonzola into the chili.  Stir gently so you do not completely break up the crumbles as you want pops of the awesome 'funky' flavor in every bite.
Serve the hot chili in bowls and top with more of the crumbled gorgonzola, a handful of the chopped avocado, and a few gorgonzola nachos.  Sprinkle with chopped cilantro to finish.  DEVOUR!
Select multiple categories to narrow your search! Want appetizers made with chicken? Just select both Appetizers and Chicken!